Become a Patreon!
---
Abstract
Excerpted From: Amanda D. Iocono, "That's the Hate They're Giving Us, Baby, A System Designed Against Us": The Restorative Justice Solution to the School-to-Prison Pipeline, 17 University of Massachusetts Law Review 183 (Spring, 2022) (215 Footnotes) (Full Document)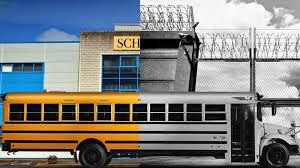 Malcolm X once said, "[e]ducation is the passport for the future, for tomorrow belongs to those who prepare for it today." Schools should be setting students up for success, but for many, schools are setting them up for a future in prison. This phenomenon is known as the school-to-prison pipeline. The school-to-prison pipeline is a culmination of national policies and practices targeting and disproportionately impacting students of color, LGBTQIA+ students, and students with disabilities. These policies, and their trickle down effects, include: 1) zero-tolerance policies that lead to suspensions and expulsions, 2) hostile school climates, and 3) educational trauma leading to a lack of academic success. This Note argues that the school-to-prison pipeline is not just a development of these factors and policies, but is an expected byproduct of how the education system functions.
As society begins to reemerge from the COVID-19 pandemic, there is a new opportunity to redefine school discipline and end the school-to-prison pipeline. Schools have faced unprecedented challenges as students have suffered educationally, psychologically, and socially during the pandemic. The National Association of School Psychologists reported, "[u]nder normal circumstances, we would expect approximately 20% of children to experience some social--emotional and behavioral concern throughout their school trajectory--we now expect these rates to double or triple after COVID."
This Note will first review the history of the school-to-prison pipeline and explore how the culmination of zero-tolerance policies have resulted in this systemic practice. In Part II, this Note will argue that this systemic practice is an inherent feature of our education system. The education system is functioning exactly as designed, and students of color are suffering because we are refusing to acknowledge and act on it. Without systemic change, the pipeline will continue. Part II will also argue that restorative justice practices must be implemented in schools to address the harm. Part III of this Note concludes by arguing that the concept of restorative justice practices can serve as a legal and social solution to the education system crisis.
[. . .]
"When children attend schools that place a greater value on discipline and security than on knowledge and intellectual development, they are attending prep schools for prison." Our schools continue to morph into miniature prisons from the continued use of zero-tolerance policies. Instead of preparing students to wear business causal work attire, schools are prepping them to wear orange jumpsuits. To end the pipeline, restorative justice, a philosophy that addresses this systemic practice, needs to be implemented for a brighter future for all students.
---
B.S., Centre College; J.D. Candidate, 2023, University of Massachusetts School of Law; M.P.P. Candidate, 2024, University of Massachusetts Dartmouth; Alumna, City Year Corps Member (2018-2020).
---
Become a Patreon!