---
Abstract
Excerpted From: Jennifer M. Keys, When They Need Us Most: The Unaddressed Crisis of Mentally Ill African American Children in the Juvenile Justice System, 2 DePaul Journal for Social Justice 289 (Spring 2009) (168 Footnotes) (Full Document)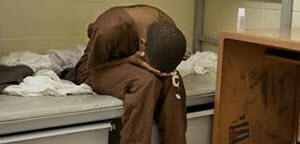 Minorities remain overrepresented in the juvenile justice system. Law enforcement continues to arrest, detain, charge and confine minority youth offenders, specifically Black children, disproportionately compared to their white counterparts. Scholars and social scientists have discussed at length this statistical disparity and have considered the causes of the overrepresentation. Mental illness within the African American community signifies one leading factor. Although the juvenile justice system claims to rehabilitate youth offenders, the institutionalization of Black children in juvenile detention centers further victimizes them because mental health issues, often triggered by poverty, family instability and racism, which put many of them behind bars, are exacerbated by their confinement due to colorblind services and in some cases the lack of any treatment at all.
Because too many Black children live without health care and come from a culture in which mental illness remains taboo, they never have the opportunity to treat their illnesses and therefore are at higher risk for juvenile confinement. While the state should provide treatment for these youth in juvenile detention centers, African American children with mental illnesses often fall between the cracks. Youth offenders in juvenile detention centers are at high risk for physical and sexual abuse by other offenders and staff members and have higher suicide rates than the general youth population. Instead of treating mental illness in youth of color, juvenile detention centers damage them further because of the chaotic environment around them. The state must take on a proactive role in changing the culture of the juvenile justice system to address the unique needs of African American children with mental illnesses. The African American community also must take responsibility to care for our children by accepting the realities of mental illness and encouraging treatment.
Section II of this article discusses the overrepresentation of African American children in the juvenile justice system. This section also examines the various causes, including poverty, lack of family structure and racism, which may explain why the juvenile justice system contains a disproportionate number of Black children.
Section III examines the intersection of mental health issues and the juvenile justice system. Statistics show that juvenile detention centers warehouse mentally ill children. Research suggests detention serves to further worsen the problems of the mentally ill. Finally, this section shows how the juvenile justice system currently fails to address the mental health needs of detained youth.
Section IV of this article discusses the intersection between mental illness and the African American community. Statistics demonstrate the prevalence of mental illness among African Americans. The environmental causes of mental illness are similar to the reasons Blacks are overrepresented in the juvenile justice system. This section also examines why mental health professionals often underdiagnose or misdiagnose mental illness among African Americans. Even if doctors diagnose Blacks with a mental deficiency, they are less likely than whites to receive appropriate treatment. This section also examines how mentally ill Blacks do not receive treatment because African Americans do not have the same access to care as whites. Moreover, Blacks less often seek treatment for mental health problems because of the stigma of mental illness in the African American community. Finally, this section analyzes how African American distrust of the health care system further alienates Blacks who need mental health treatment.
Section V offers solutions so that the juvenile justice system addresses the mental health issues of detained African American youths. Like Missouri, Illinois should mandate treatment to assist mentally ill youth of all races by using small group homes instead of massive detention centers. Furthermore, the juvenile justice system must work to improve mental health treatment specifically for Blacks. Increasing the number of African American counselors working with Black mentally ill youth provides one viable way to improve services. Prior to detention, members of the legal community must address their own biases that may lead to improper treatment or no treatment at all for Black, mentally ill minors. Finally, the African American community must be educated about mental illness to reduce stigma and improve and encourage treatment for the mentally disturbed.
Section VI offers some brief concluding thoughts.
[. . .]
Statistics and studies are clear - African American youth are more likely to be detained and receive harsher sentences for their crimes than their white counterparts. Adolescents with mental illness continue to be incarcerated in mass numbers. Black children with mental health issues do not receive the attention and treatment they need to address the reasons they are behind bars in the first place or to assist them in their rehabilitation. The consequences of not doing so will continue to haunt these children for the rest of their lives. Entering into the juvenile justice system in itself dooms children not only to later incarceration, but also to an early, violent death. The state must step up and develop more constructive efforts than confinement to protect these fragile children when they need protection the most.
---
Law Clerk to Honorable Ann C. Williams, United States Court of Appeals for the Seventh Circuit; B.A., University of Illinois at Chicago, 2001; J.D., DePaul University College of Law, 2008.
---