Abstract
Excerpted From: Donna Coker and Thalia González, A Call for an Intersectional Feminist Restorative Justice Approach to Addressing the Criminalization of Black Girls, 95 Saint John's Law Review 977 (2021) (128 Footnotes) (Full Document)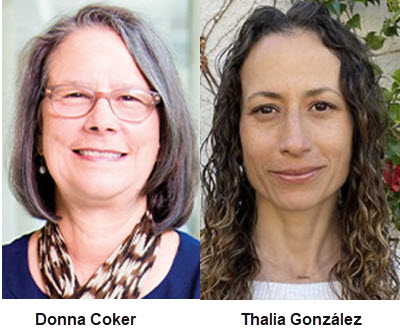 The persistent criminalization and pathologizing of Black youth in the U.S. educational system is a fundamental driver for their entry into the criminal legal system. Despite decades of evidence of the far-reaching harms of the "school-to-prison pipeline" and, more recently, demands from Black Lives Matter activists to defund school police, the role of schools in criminalizing Black girls has been left out of mainstream academic discourse. This occurs even though Black girls experience some of the most subjective and discriminatory practices in schools and evidence of an upward trend in discipline disparities since the mid-2000s. For Black girls with disabilities the data reveals an even starker picture: Black girls are five times more likely to be suspended than are white, nondisabled girls and Black girls experience the highest disparity for rates of referrals to law enforcement at six times more than white, nondisabled girls.
The absence of Black girls from the larger portrait of youth criminalization and anti-criminalization efforts is sadly not surprising. Across multiple fields, scholars and advocates, have failed to fundamentally embed intersectional approaches into their work. A rich body of literature critically explores systemic, structural, and individual drivers of disparate outcomes, but this approach is not representative of the dominant theory and research guiding practice or policy. We argue that such examinations are fundamental if one seeks to name and dismantle youth criminalization as a form of systemic oppression.
In this Article we focus our attention on school-based restorative justice ("RJ") as presenting a critical area for embedding intersectional frameworks and approaches at the levels of movement, practice, policy, and law reform. RJ is a primary intervention to prevent youth criminalization in schools. RJ has been adopted in school contexts with positive outcomes ranging from diminished reliance on punitive discipline to promoting protective health factors. Though the empirical literature is limited, this Article draws on three studies to underscore the potential of RJ to place Black girls at the center of what should be the anti-criminalization and RJ discourse. This Article concludes with a call for research that further examines the efficacy of RJ to promote the well-being of Black girls.
Simply put, this Article is a call for change, not only in the disparate impact of school criminalization practices on Black girls, but to the unidimensional approach to reform. There is an urgency to simultaneously dismantle harmful norms in schools, confront intersectional oppression, and prioritize the resilience and well-being of Black girls.
[. . .]
An intersectionality approach to research allows for a critical examination of how systems interact to create complex forms of individual and structural harm. In the case of youth criminalization vis-à-vis schools, its application brings into view the unique risks and vulnerabilities for Black girls that are often hidden when single-axis analysis--for exampe, race-only or gender-only--are applied to discipline disparities. The pathways for criminalization for Black girls are simply not isolated to the results of school discipline. Instead, discipline is interwoven within a matrix of harms that create far reaching consequences from diminished physical and mental health and well-being, to reinforcing cycles of poverty. In considering how the current education justice movement has framed discipline from outcomes (the "school-to-prison pipeline") to remedial responses (restorative justice), this Article aims to disrupt the current discourse and center Black girls.
Though there are many areas in which one can apply an intersectionality approach, this Article draws attention to the use of proactive restorative circles practices. As demonstrated in the studies described above, RJ in this form can reduce the endemic harms that Black girls face in school. The benefits range from promoting and strengthening connectedness, to providing safe spaces to confront racialized sexism, while increasing Black girls resilience and well-being. We draw particular attention to connectedness as a key protective factor for ameliorating the harms of pervasive racialized sexism and decreasing risk factors for pushout. When school communities are healthy for Black girls the benefits extend far beyond strictly educational outcomes-- their life chances are improved. We theorize that such improvements lessen their overall vulnerability to criminalization as adults.
In identifying the significance of proactive RJ as an anti-criminalization policy and practice that supports Black girls, we wish to draw attention to future direction in research. First, future work should examine the role of facilitators. As girls' experiences in McPhail's research illustrate, facilitator (circle keeper) skills are important to circle efficacy. Not only should the circle keeper insist that the values and circle processes be upheld, including taking turns talking and listening respectfully, she should also "pay[ ] attention to culture, diversity, and equity." International restorative justice scholar Christina Parker notes that this requires becoming comfortable with uncomfortable conversations, including discussions of race. Similarly, restorative justice practitioners and educators David Knight and Anita Wadhwa argue that RJ circle keepers should encourage students' critical thinking that "empower[s] students to question why the world operates as it does, and to become agents to change conditions with which they disagree."
Second, in line with González and Epstein's findings, subsequent research should explore further how RJ empowers girls to identify and confront racialized sexism, whether sharing histories of abuse with their peers or learning to stand up to a verbally abusive boyfriend. Third, scholarly attention should be paid to community-based RJ programs that serve to empower and to provide a sanctuary for racialized youth. Such programs operate adjacent to formal school programs and should be understood as part of a larger continuum of anti-criminalization efforts. S.O.U.L Sisters Leadership Collective ("SSLC"), a community-based organization with programs in New York City and Miami, provides a salient example. SSLC's purpose is to "mobilize systems-involved girls, femmes, and TGNC youth of color--Black, Brown, and Indigenous--to interrupt cycles of state violence, poverty, and oppression." SSLC's Sisterhood Academy develops youth leadership in "trauma-informed" ways that are "based in restorative practices and social justice education [and] action." Their program incorporates restorative practices and connects members to opportunities for social justice engagement.
Fourth, upcoming work should expand understandings of how RJ is a pathway to building youth leadership and engaging Black girls in defining and redefining social movements. Restorative Justice for Our Youth ("RJOY") exemplifies this idea. RJOY has launched demonstration RJ projects in schools in Oakland for more than two decades and was a prime mover for the city-wide adoption of school-based RJ. In addition to initiating school- based RJ projects, RJOY runs community-based restorative circles for youth and others. As in the case with SSLC, RJOY engages youth members to become advocates for systemic change in schools to meet the needs of the youth of color.
---
The authors are listed in alphabetical order to denote equal contributions to this Essay. Professor of Law & Dean's Distinguished Scholar, University of Miami School of Law.
Professor of Law, Harry & Lillian Hastings Research Chair, University of California Hastings College of Law; Senior Scholar, Center on Poverty & Inequality, Georgetown University Law Center.