Abstract
Excerpted From: Bradley D. McAuliff, Cynthia J. Najdowski and Margaret C. Stevenson, A Call to Dismantle Systemic Racism in Criminal Legal Systems, 46 Law and Human Behavior 398 (December, 2022) (2 Footnotes/References) (Full Document)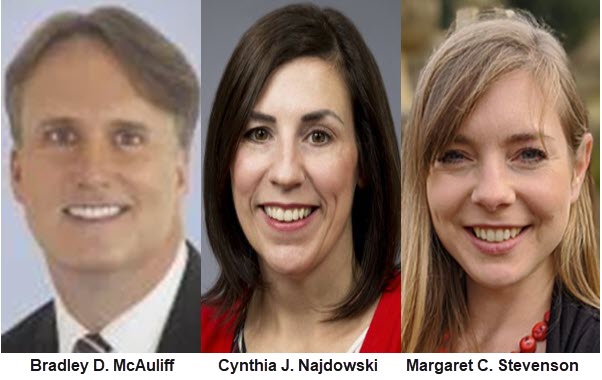 On October 29, 2021, the American Psychological Association (APA) Council of Representatives approved a resolution regarding APA's role in dismantling systemic racism in criminal legal systems as well as other critical areas (education, science, health care, work and economic opportunities, early childhood development, and government and public policy; American Psychological Association [APA], 2021e). APA adopted this resolution along with two others ("Apology to People of Color"; APA, 2021c; "Advancing Health Equity in Psychology"; APA, 2021a) to acknowledge and apologize for its role in racism in the discipline and to commit to efforts to apply psychological theory and scientific methods toward remedying systemic racism within various areas of concern. These efforts are to be realized via the development of a long-term plan that includes prioritizing, defining, and assessing progress toward meeting the goals specified in the resolutions. This long-term plan will be developed by APA's CEO alongside the APA task force on strategies to eradicate racism, discrimination, and hate and knowledgeable experts.
To inform the APA task force in its efforts, we developed the present report, in which we first describe psychological and social scientific evidence of racism within criminal legal systems, then consider that evidence in the context of research examining the underlying psychological mechanisms that explain such racial disparities, and next review the myriad consequences of experiencing racism within criminal legal systems. The picture of racial and ethnic disparities in criminalization, incarceration, and collateral consequences that emerges in this report is quite bleak and disheartening. However, we also present a series of evidence-based recommendations for APA policy to address the problem by advancing related science and practice, thereby offering a path forward for psychologists, criminal legal professionals, and policy makers to eliminate racism in criminal legal systems and realize a brighter, more equitable future. The "Criminal and Juvenile Justice Section" of the recent APA resolution succinctly reviews the science and recommendations for APA policy that were extracted from the present report.
Our work on this report and the resulting resolution began a little more than 2 years before the trio of resolutions were passed, when the then-president of the American Psychology-Law Society (APA's Division 41) invited us to draft the section of the resolution that deals with criminal legal systems. We did so with the goal of positively impacting the scientific community and affecting meaningful real-world change on the urgent social problem of racism within these arenas. Importantly, we developed the relevant section of the resolution and the current report in consultation with numerous experts in the field, including Iris Blandón-Gitlin, Jason Cantone, Preeti Chauhan, Beryl Ann Cowan, Cynthia Willis-Esqueda, Tarika Daftary-Kapur, Iva Greywolf, Jennifer Hunt, Martin Iguchi, Antoinette Kavanaugh, Margaret Bull Kovera, Karen Salekin, and Gina Vincent. On October 22, 2020, we met virtually with many of these experts to begin development of the APA resolution on dismantling racism within criminal legal systems. This plan included soliciting feedback from meeting attendees regarding critical psychological research to include in the resolution as well as clear evidence-based directions for guiding future action. We also recruited additional scholars to participate to ensure that diverse perspectives were well represented in the work, being purposefully inclusive of individuals whose expertise lies in various subdisciplines of psychology and the law (e.g., clinical, cognitive, social) as well as individuals who identify as racial and ethnic minority group members. We shared drafts and requested feedback from all of these experts multiple times as we developed the report and resolution. We also submitted drafts to APA and incorporated feedback from various APA key stakeholders. This resulted in the following report, which (a) summarizes cutting-edge psychological science showing how racism manifests and affects people of color within the criminal and juvenile legal systems and (b) elucidates evidence-based recommendations for practice to eradicate racism in these contexts--all reviewed and vetted by leading experts within the field and APA.
[. . .]
The task of dismantling systemic racism in criminal legal systems is immense and fraught with challenges, but we are encouraged by APA's recent pledge to address this urgent social issue via research, policy, and advocacy. In support of APA's resolution (APA, 2021e), this report outlines an actionable, evidence-based path forward for psychologists, criminal legal actors, and policy makers. Much more multidisciplinary theorizing and research is needed to understand the nature and degree of systemic racism, which generates racial and ethnic disparities within criminal legal systems, and its interconnection with psychological mechanisms that underlie the problem. Yet, we know enough now to make immediate, meaningful changes within policy, law, and practice that stand to reduce the harm that people of color experience as a result of U.S. criminal legal systems. The field has already generated a great deal of knowledge that can inform solutions for keeping communities' safe and achieving justice equitably and with dignity. We call on psychologists and policy makers to harness the theory and empirical research findings we have reviewed here to build on and strengthen this vital movement toward repair and healing.
---
Bradley D. McAuliff served as Action Editor.
Cynthia J. Najdowski (iD) https://orcid.org/0000-0002-3624-9188
Margaret C. Stevenson (iD) https://orcid.org/0000-0002-1613-6768