Abstract
Excerpted From: Jennifer S. Hunt and Stephane M. Shepherd, Racial Justice in Psycholegal Research and Forensic Psychology Practice: Current Advances and a Framework for Future Progress, 47 Law and Human Behavior. 1(February, 2023)(2 Footnotes/References)(Full Document)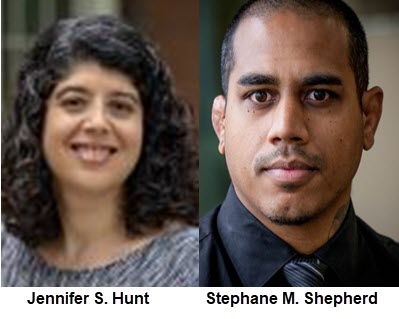 In 2020, the murder of George Floyd by a Minneapolis police officer sparked unprecedented levels of concern about racial and ethnic disparities in the criminal justice system. Millions of people in the United States participated in Black Lives Matter(BLM) protests, making BLM likely to be the largest movement in U.S. history. Similar protests occurred in many nations throughout the world. As noted by Lynsey Chutel, a journalist in South Africa, "There is a George Floyd in every country".
Indeed, racial and ethnic disparities are rampant in many nations' criminal justice, legal, and carceral systems. Across the world, racial and ethnic minorities and Indigenous people are incarcerated at rates that far exceed their representation in the population. In 2020, despite a decline in the overall prison population due to the COVID-19 pandemic, the per capita incarceration rate in the United States was 5.13 times higher for Black men, 4.25 times higher for Native American men, and 2.44 times higher for Latine men compared with White men. Racial and ethnic disparities in incarceration rates are the cumulative outcome of corresponding disparities in many other criminal justice and legal processes. Biases against Black, Indigenous, and people of color(BIPOC), including Latines, exist in policing, pretrial detention and plea offers, prosecutorial charges(Rehavi & Starr, 2014), trial judgment, and sentencing.
Not surprisingly, understanding the role of race and ethnicity in criminal justice and legal outcomes is a topic of considerable interest to social scientists in fields such as psychology, sociology, criminal justice, and empirical legal studies. This research has documented the nature of disparities; identified individual, interpersonal, and structural processes that lead to bias; and started to develop and test interventions to promote fair treatment and outcomes(see Hunt, 2023; Pryor et al., 2020, for reviews). Likewise, forensic--clinical psychologists have strived to identify potential sources of bias and to develop tools and practices that facilitate culturally responsive treatment and fair outcomes for clients involved in the criminal justice, legal, and carceral systems. This special issue on Racial Justice in the Criminal Justice and Legal Systems showcases cutting-edge research and clinical perspectives related to these goals. We hope that the articles in this issue spark an increase in scholarship and practice that includes the expanded perspectives and paradigms discussed by the authors.
We chose racial justice as the framework for the special issue because we believe that it captures critical aspects of advancing research and practice related to race, ethnicity, and law. In the sections that follow, we briefly reflect on the state of research on race in law--psychology and closely related fields. We then develop our framework for racial justice as a guiding principle for psycholegal research and forensic--clinical practice related to race, ethnicity, culture, and their intersections. We argue for the use of transparent nonobjectivity, in which racial justice is an explicit and acknowledged goal of research and practice. We use the racial justice framework as a backdrop for discussing the themes and articles in the special issue. Finally, we make recommendations for future law--psychology research and practice to facilitate the pursuit of racial justice.
[. . .]
The articles in the special issue provide valuable illustrations of the types of research questions, clinical practices, methodological approaches, and practical implications that emerge from a racial justice framework. We are heartened by the growing emphasis on racial and social justice principles in law--psychology, and we believe it may lead to a paradigm shift in the ways we carry out our work, methodologically and epistemologically. Historically, psychology has worked in tandem with institutions, including law enforcement, the courts, and corrections agencies, and thus bears responsibility for contributing to and failing to challenge racial discrimination and inequality in those institutions. An increasing commitment to racial justice is likely to broaden our efforts so that in addition to working alongside or within the system, law psychologists also will work more directly with communities, including victim/survivors, individuals with lived experience in the justice system, cultural leaders, and local stakeholders. This expansion in scope is likely to facilitate a range of positive outcomes, including the use of different lenses, viewpoints, and perspectives for approaching our work; multilevel approaches that simultaneously zoom out to understand structural issues and zoom in to understand the lives of people caught in the justice system; and a greater focus on strengths, recovery, community empowerment, local culturally informed solutions, and self-determination rather than strategies that rely on institutions to better monitor, manage, enforce compliance, and ensure containment. Working with and learning from communities affected by the justice system will enhance our discipline's visibility and credibility with underrepresented groups and promote more relevant, nuanced, and racially and culturally responsive scholarship and practice. It also will help the field attract and retain a more diverse group of scholars and practitioners. We hope that this special issue, inspired by racial justice, will engender new research and clinical practices, as well as ongoing reflection and growth, both of which are crucial to maintaining the relevance and utility of law--psychology in a diverse and changing world.
________________
Jennifer S. Hunt(iD) https://orcid.org/0000-0002-7591-4208
Stephane M. Shepherd(iD) https://orcid.org/0000-0002-3078-9407