Become a Patreon!
---
Abstract
Excerpted From: W. Kip Viscusi and Scott Jeffrey, Damages to Deter Police Shootings, 2021 University of Illinois Law Review 741 (609 Footnote) (Full Document)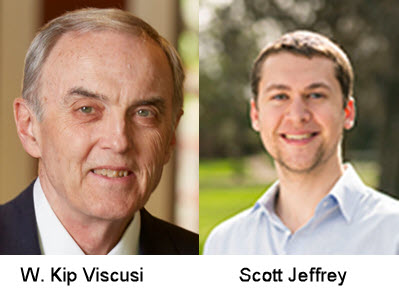 Damages awards and out-of-court settlements after police shootings have a twofold purpose. These payouts serve both to compensate the victims and to provide financial incentives to deter such police shootings in the future. This Article examines the prevalence of such fatal police shootings, the preponderance of black males among the victims of these shootings, and the level of compensation that the families of these victims receive. There is substantial variability in the treatment of these incidents, as some deaths are accorded very low compensation amounts, while others receive compensation more in line with typical wrongful death awards. More important from the standpoint of providing financial incentives for deterrence is that the level of these financial sanctions almost invariably is below the financial amount that the government believes is appropriate to spend to reduce mortality risks through government regulations. The current level of such values assigned to each expected death averted by government regulations is about $10 million, which this Article uses as the financial reference point for the appropriate level of damages to deter fatalities from police shootings. We will refer to this value as the "optimal deterrence amount."
This Article proposes that the current financial incentives shortfall be rectified and that payouts be aligned with how the federal government monetizes expected fatalities that are prevented by government policies. The courts should award damages that establish effective deterrence levels to establish incentives to avert such killings in situations in which the behavior by the police is malicious, reckless, or displays a callous disregard for the well-being of the deceased. While many potential police reforms are available for legislators to enact, this Article suggests a role for the judiciary to encourage local governments to adopt the most effective reforms while providing more adequate compensation to families of victims. highly variable and usually inadequate payouts after wrongful killings by police are exemplified by the following examples. For both settlements and court awards, the financial sanctions for wrongful killings fall short of the optimal deterrence amount except in rare instances of very prominent deaths. We consider first two cases involving out-of-court settlements, and then address two cases that led to trial verdicts. To the extent that the financial awards have generated adequate incentives to deter future police killings, it is largely because of idiosyncratic aspects of cases in which the publicity they generated led to public outrage that fostered large payments, as opposed to any distinctive nature of that particular homicide.
The best-case scenario for disincentivizing police after such killings is that of an Australian woman killed in Minneapolis after she summoned the police for a neighborhood disturbance. On the night of July 15, 2017, Justine Damond was home alone since her fiancé was traveling. She called 9-1-1 twice in eight minutes to report a possible assault in the alley behind her residence. Two Minneapolis Police Department officers responded to the calls, investigated the claim, and cleared the area as safe after finding no suspects or signs of an assault. As Officers Noor and Harrity prepared to leave, they drove through an alley with their vehicle's lights turned off. Both officers claim that they heard a loud sound, and that immediately afterward, Ms. Damond appeared at the driver's side window. Both officers reached for their guns in response. Officer Harrity initially struggled to remove his gun from his holster and did not fire; however, Officer Noor, sitting in the passenger's seat, reached one arm across the chest of his partner to make space for his other arm to point his gun at Ms. Damond. Officer Noor fired once through the driver's side open window, striking Ms. Damond in the chest. She died twenty minutes later. is no audio or video of the shooting, as the officers both had their body cameras switched off. However, it is undisputed that Ms. Damond was unarmed, and Officer Noor testified that he did not see her hands or any object in her hands, although he still believed his partner feared for his life and that his partner viewed Ms. Damond as a threat. During trial, a prosecutor asked Officer Noor, "So her whole ... her whole blonde hair, pink T-shirt, and all, that was a threat to you?" Noor replied, "That's how ... I relied on my training." killing generated substantial adverse international publicity for Minneapolis and for the United States generally. Within a week of the killing, the Chief of Police resigned at the Mayor's request. Mayor Betsy Hodges was voted out of office later that year, in part due to outcry over this shooting. Later, the city of Minneapolis agreed to a $20 million settlement with the victim's family. Officer Noor, a Somali-American, resigned from the police force upon being criminally charged. On April 30, 2019, Noor was convicted of third-degree murder and second-degree manslaughter. The charges brought a sentence of 12.5 years in prison. financial and criminal sanctions were unusually high relative to other such police shootings. While the publicity and the public outrage regarding the killing was unusual, the circumstances of the Justine Damond incident were not markedly different from other police killings.
Other victims have also been unarmed and were killed without posing a fatal threat to the police. But the fact that the victim was a white female, rather than a black male, and that the officer was a black Muslim immigrant, are distinctive among other police shootings. These differences were highlighted by many commentators as driving the disparity in the financial payout and an officer conviction between the shooting of Damond and other fatal police shootings. extent of the variability in the sanctions imposed by out-of-court settlement amounts is exemplified by considering another incident in Minnesota. On July 6, 2016, Philando Castile, a black male school cafeteria worker, was pulled over for a traffic stop by a St. Anthony, Minnesota, police officer. The Officer Yanez pulled over the car--containing Castile, his fiancée, and their four-year-old daughter--after he radioed to another officer that "[t]he two occupants just look like people that were involved in a robbery." Officer Yanez positioned himself at the driver's side window, explaining to Castile that he was pulled over because of a brake light issue, while his backup, Officer Kauser, approached the passenger's window. Officer Yanez asked for identification and proof of insurance, which Castile provided. A few seconds later, Castile calmly stated to Officer Yanez, "Sir, I have to tell you that I do have a firearm on me." Officer Yanez interrupted Castile to say, "OK," and put his hand on his gun before telling Castile, "[D]on't reach for it, then ... don't pull it out." Castile and his fiancée both assured the officer that Castile was not reaching for the gun. Officer Yanez began to raise his voice as he issued the same command, reaching his left hand into the vehicle, and with his right hand pulling his own gun out of his holster. Officer Yanez then fired seven shots into the vehicle, five of which struck Castile. cam footage from Officer Yanez's car shows that just twelve seconds elapsed from the moment Castile informed Officer Yanez that he had a gun to the moment of the shooting. In addition to the dash cam footage that captured the shooting, Castile's fiancée started a Facebook Live video immediately after the shooting that received over 2.5 million views in under 24 hours. of the added attention to this fatal shooting did not result in an inflated payout or a conviction. The family of Philando Castile settled with the city for just under $3 million, while Officer Yanez was acquitted of second-degree manslaughter charges. deaths were unnecessary, at the hands of police officers in Minnesota, settled by the families of the decedents with their respective cities, but resulted in vastly different outcomes. The family of Justine Damond received $20 million, while the family of Philando Castile received $3 million. The officer who killed Ms. Damond was sentenced to 12.5 years in prison; the officer who killed Mr. Castile was acquitted of all charges. prominent police shootings result in a payout to the family of the victim, that compensation usually occurs via settlement rather than after a jury verdict.
This emphasis on out-of-court settlements is consistent with tort liability cases generally. The criteria applied in litigation are nevertheless relevant in that they define the expectations of the parties regarding the plaintiff's prospects of success and the likely award. These expectations in turn affect how much the plaintiffs require to settle the case and what the defendants are willing to offer to resolve the case. of the pertinent criteria applied by the courts for police shootings are specific to the particular context and the legal discretion that police officers have to fire their weapons. When families in these prominent cases do take police to court for wrongful death claims, the prosecution must first convince the jury that it was unreasonable that the police officer shot his gun. This Article explores some of the criteria of what is unreasonable below. If the jury finds the police liable, any award that the jury hands down must survive the judge's discretion, including the reversal of decisions due to considerations including: the judge's belief that the award is excessive, special interrogatories that use the words of the jury against their own wishes, the judge's interpretation of qualified immunity, and a lack of proof that the decedent survived long enough after the gunshot to warrant any pain and suffering damages. Court payouts for fatal police shootings have been overturned at least as far as ten years removed from the shooting. Finally, the award will potentially face appeals from the city responsible for paying it, before the city will agree to disperse the award. following two examples address two prominent fatal police shootings that resulted in payouts not via settlement but by jury verdict. While the original compensatory jury verdicts were vastly different, the two cases are tied together through two similarities in that the victims were black and both awards were overturned by judges.
On January 14, 2014, St. Lucie County sheriff's deputy Christopher Newman responded to a noise complaint. He and another deputy arrived at the home of Gregory Hill, a thirty-year-old black father of three, who was playing music in his garage with the door closed. The two deputies knocked on the garage door, and Mr. Hill raised the garage door. After seeing it was the police, Mr. Hill, intoxicated at the time, lowered the garage door back down. Deputy Newman then fired through the door four times, striking Mr. Hill twice in the abdomen and once in the head. The incident took less than two minutes. Four hours later, the police and a SWAT team entered the garage and found Mr. Hill dead. The deputies claim Mr. Hill was holding an unloaded handgun at the time, although this fact is disputed since it was found in his back pocket when the officers entered the garage. Hill's mother filed a wrongful death lawsuit and in 2018, a jury awarded $4 to Mr. Hill's family. Specifically, the award was $1 for funeral expenses, and $1 for each of Mr. Hill's three children. The award was so small partly because the jury found that Mr. Hill was mostly responsible for his own death. Furthermore, the jurors were asked to compare the negligence of each party for Mr. Hill's death, and since the jurors decided that the deputies were only 1% at fault for Mr. Hill's death, the $4 award was reduced to four cents. This award was later reduced to nothing. On August 1, 2016, three officers from the Baltimore County Police Department arrived at the home of twenty-three-year-old Korryn Gaines to serve her an arrest warrant for a traffic violation. After knocking and receiving no response, the officers got a key from the landlord and entered Ms. Gaines' apartment and found Ms. Gaines sitting on the floor and pointing a gun at the officers. The officers fled and tried negotiating with her, but police say Ms. Gaines repeatedly refused to surrender during the six-hour standoff. While the involved officers were not wearing body cameras, Ms. Gaines began recording parts of the standoff and posting her videos to Instagram. report that eventually Ms. Gaines threatened the officers and aimed a shotgun at them. The officers then shot and killed Ms. Gaines and injured her five-year-old son. The family of Ms. Gaines filed a wrongful death lawsuit in 2016, and the jury found that the first shot fired by the officers was not reasonable and thus violated her and her son's civil rights. The family received $38.2 million in compensatory damages from the jury, though only $300,000 of which was for the estate of Ms. Gaines. A judge later overruled that jury award, however, finding that the officer had qualified immunity and thus was protected from civil liability. The judge removed all parts of the award, including the $7,000 for funeral expenses. The family stated they will appeal this decision. four examples are not rare outliers.
Police shootings have been frequent and provided much of the impetus for the emergence of the BlackLivesMatter movement in 2013. This Article examines the dimensions of the problem, the considerations that govern whether damages payments are awarded, and the level of such payments. Part II examines the specific legal criteria for when the police are authorized to shoot people. Three major U.S. Supreme Court cases have created a legal doctrine that provides little specific guidance for when police may use force, and how much force is reasonable to use. Without guidance on these core ideas, police have installed bright-line rules of their own that are often problematic, yet courts still rely on the perspective of police officers when determining what is reasonable. We analyze the limits of payouts, specifically how qualified immunity and payouts from municipalities rather than individuals influence litigation surrounding fatal police shootings. Based on the clear need for oversight of fatal police shootings, Part III considers the prevalence of these killings based on government datasets. Available data sources indicate that even though the number of these killings is substantial, there is no definitive governmental dataset that purports to keep a comprehensive annual record of these incidents. Part IV introduces The Washington Post's fatal police shootings dataset: a comprehensive data collection effort on fatal police shootings that compiles public reporting surrounding the circumstances of each shooting. Washington Post's dataset reveals nearly 1,000 fatal police shootings each year from 2015-2018, with black victims being over-represented compared to their share of the population. Part V examines the size of wrongful death awards for police shootings compared to other wrongful death claims. When payouts occur for wrongful death claims in fatal police shootings, the settlement or jury verdict amounts are highly variable, often below even a reasonable compensatory damages amount, and almost invariably short of the magnitude needed to create effective incentives for deterrence. Part VI examines the principles used to set these awards and contrasts them with the approach for deterrence-based measures known as the value of a statistical life. The economic value of the mortality costs for unwarranted killings by police over the 2015-2018 period ranges from $1 billion to $12 billion, depending on the criteria that are applied in determining which shootings are included in the assessment. If all deaths resulting from police shootings are included, the cost rises to $39 billion. Further, we discuss the deterrent effect on police officers of higher payouts from governments. Although there may be limits on the extent to which damages awards can be increased to foster adequate levels of deterrence, the economic principles for valuing mortality risks can serve as the framework for municipalities to undertake benefit-cost analyses of policies to promote responsible police behavior. Part VII outlines how these policy reforms fit into the current climate of benefit-cost analyses for policing methods. Costs to the public of police use of force have been difficult to quantify, but using the value of a statistical life allows for empirically measuring the cost of the lives of victims of fatal force. Part VIII discusses how to create more effective deterrence for unwarranted police shootings.
[. . .]
There are, of course, many situations in which police shootings are warranted. But too many police shootings are not justified. Fatal use of force against an unarmed, fleeing suspect is not justified under a constitutional test or a benefit-cost test. Black people are disproportionately victims of all fatal police shootings and comprise an even larger share of victims of unjust fatal police shootings. For a victim's family to receive any payout from a court, the court must "slosh" through the "factbound morass" of how reasonable the officer's use of force was. "factbound morass" can be vast, but documentation of key factors from Graham can help. Basic binary facts pertaining to the shooting--whether the victim was armed and whether the victim was fleeing--can inform much of the reasonability analysis. Yet whether or not force is considered reasonable under a constitutional lens, fatal force imposes costs--primarily the victim's life. These mortality costs on the victims should be treated as being just as consequential as the mortality risks that the government seeks to reduce in regulatory contexts. Police shootings impose hundreds of millions of dollars in mortality costs every year even under a very restrictive definition of determining which police shootings are not consistent with current legal guidelines. The broadest definition of police shootings results in an annual mortality cost to the victims of almost $10 billion. Even limiting the focus to victims who are unarmed and fleeing leads to an annual mortality costs of $285 million. establish meaningful incentives to deter police shootings, this Article proposes that there be recognition of the pertinent economic costs imposed by such killings. Standard wrongful death awards almost invariably fall short of the requisite economic costs of these deaths. Application of the value of a statistical life could serve to monetize these costs by providing a framework for setting punitive damages in situations where such damages are warranted. When court awards are sufficient, they in effect set the price for expected deaths that municipalities can prevent through more effective screening, training, and monitoring of the police. If the incentives provided by the legal system fall short, municipalities can nevertheless undertake assessments using the value of a statistical life to ascertain which policies should be adopted to reduce police killings. Monetizing these expected deaths does not devalue them but rather elevates them to receive the same weight as the government places on other fatality risks.
The media and national protests have rightfully brought attention to the injustice of many fatal police shootings. Many approaches for preventing such shootings exist. Directly disincentivizing fatal police shootings, and thereby incentivizing the most effective policing reforms, is one method for courts to play a role in reducing these injustices and promoting effective policing.
---
University Distinguished Professor of Law, Economics, and Management, Vanderbilt Law School, 131 21st Ave. South, Nashville, TN 37203. kip.viscusi@vanderbilt.edu.
Vanderbilt Law School, Ph.D. Program in Law and Economics, scott.b.jeffrey@vanderbilt.edu.
---
Become a Patreon!