Become a Patreon!
---
Abstract
Excerpted From: Georgetown University and The Georgetown Law Journal, Review Proceedings: Habeas Relief for State Prisoners, 49 Georgetown Law Journal Annual Review of Criminal Procedure 1069 (2020) (180 Footnotes) (Full Document)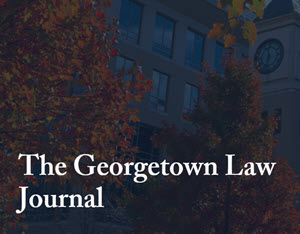 Under 28 U.S.C. § 2254, a person in custody pursuant to a state court judgment may challenge the conviction and sentence in federal court by applying for a writ of habeas corpus. Habeas corpus petitions filed by state prisoners are subject to the Rules Governing Section 2254 Cases in the United States District Courts ("§ 2254 Rules"). Section 2254 petitions must substantially follow either the form prescribed by the § 2254 Rules or a form prescribed by a local district court rule.
Custody Requirement. To apply for a writ of habeas corpus under § 2254, the petitioner must be in "custody," a term that courts have liberally construed to include not only incarceration, but also other "significant restraints on petitioner's liberty." Once a petitioner's sentence for a particular conviction has expired, the prisoner is no longer in custody under that conviction, and the sentence can no longer be challenged in an application for a writ of habeas corpus. However, so long as the petitioner was in custody when the writ was filed, the habeas corpus court has jurisdiction, which it retains pending a final disposition of the case.
In general, a petitioner may not challenge a current sentence that has been enhanced by a prior final conviction, unless the prior conviction was unconstitutionally obtained because of a failure to appoint counsel in violation of the Sixth Amendment. A conviction is final once the judgment is rendered, the defendant exhausts all direct appeals, and the time for filing a petition for certiorari on direct review lapses. A petitioner serving consecutive sentences is considered in custody under any one of them and may thus challenge any of the past or future consecutive sentences. A petitioner serving a federal sentence may even attack a consecutive state sentence that has not yet begun. However, petitioners serving concurrent sentences may not attack an expired concurrent sentence.
Cognizable Claims. Federal courts may consider an application for a writ of habeas corpus only on the ground that the prisoner's confinement violates the Constitution, laws, or treaties of the United States. Relief for a state violation of a federal statute will be granted only if the violation rises to the level of a "fundamental defect which inherently results in a complete miscarriage of justice" or is "inconsistent with the rudimentary demands of fair procedure." Violations of state law are not cognizable in a § 2254 proceeding unless such violations are of constitutional magnitude. State violations of a treaty or other international obligation are not cognizable if the treaty or obligation has not been incorporated into domestic law.
Common habeas corpus claims include Sixth Amendment claims of failure to provide appointed counsel and ineffective assistance of counsel, Fifth Amendment claims concerning statements obtained in violation of Miranda v. Arizona, prosecutorial misconduct, significant judicial error, and insufficient evidence.
Claims of actual innocence are not cognizable without an independent constitutional violation in the underlying criminal proceedings that led to the prisoner's conviction. Some circuits will look only to evidence presented at trial and erroneously excluded evidence due to a trial-related constitutional violation, while other circuits will also consider evidence that only became available after trial. Claims that evidence obtained in violation of the Fourth Amendment was improperly admitted at trial are not cognizable if the state court provided the opportunity to litigate such claims fully and fairly. Claims of ineffective counsel based on mishandling of a Fourth Amendment objection, however, are cognizable habeas corpus claims.
Section 2254(d) permits habeas relief based on claims adjudicated on the merits in state court only when the state decision was (1) "contrary to, or involved an unreasonable application of, clearly established federal law, as determined by the Supreme Court" or (2) "based on an unreasonable determination of the facts."
Federal courts apply the Brecht standard of harmless error in habeas proceedings. Under this standard, habeas relief is automatically granted for constitutional errors that are "structural defects," whereas habeas relief for constitutionally significant "trial error [s]" is granted only when the error "had substantial and injurious effect or influence in determining the jury's verdict" or when a "deliberate and especially egregious error" warrants habeas relief even without substantial influence on jury's verdict. If the judge has "grave doubt," meaning "the matter is so evenly balanced" as to whether the error had a substantial and injurious effect, the judge must find in favor of the habeas petitioner.
Under Teague v. Lane, habeas relief is generally not available if granting the relief would require the retroactive application of a "new constitutional rule" of criminal procedure that was not decided at the time the petitioner's conviction became final. There are two exceptions to the prohibition against applying new rules on habeas review. A "new rule" will be applied retroactively on habeas review of convictions that became final before the new rule was announced if: (1) the rule is substantive; or (2) the rule is a "watershed rule[] of criminal procedure" implicating fundamental fairness by mandating procedures central to an accurate determination of innocence or guilt.
The Teague nonretroactivity doctrine effectively obliges defendants to raise every novel potentially meritorious claim to the U.S. Supreme Court that the Teague doctrine may bar during habeas proceedings. Although the Teague nonretroactivity doctrine is a threshold question, which the court may raise sua sponte, the court must apply the doctrine if raised by the state. Additionally, courts must address properly raised arguments based on the Teague nonretroactivity doctrine even if the requirements of § 2254(d)(1) are met. However, Teague does not "limit a state court's authority to grant relief for violations of new rules of constitutional law when reviewing its own State's convictions;" thus, Teague does not prohibit state courts from applying a new rule to cases that were finalized before that new rule was announced.
Exhaustion Requirement. Habeas relief generally is not available unless the petitioner has "exhausted the remedies available" in state courts, which means using all procedures available under state law to raise the claim and properly pursuing a claim through the entire appellate process of the state. The exhaustion doctrine requires that the petitioner present the substance of the claim to the state courts to give those courts a fair "opportunity to apply controlling legal principles to the facts bearing upon [the petitioner's] constitutional claim." To meet the exhaustion requirement, a habeas petitioner must present material to a state court, which alerts the court to the presence of a federal claim. The petitioner may be able to satisfy this requirement even if the state court has not addressed the claim in a written opinion. In some instances, a state supreme court's refusal to rule for invalid prudential or procedural reasons on a petitioner's claim will be construed by the federal habeas court as exhaustion of the claim. The burden of proving that a federal habeas claim has been exhausted lies with the petitioner.
The state can waive the exhaustion requirement. However, "[a] State shall not be deemed to have waived the exhaustion requirement ... unless the State, through counsel, expressly waives the requirement." Although courts generally may not grant an application for a writ of habeas corpus based on unexhausted claims, courts may deny such applications on the merits, even though the petitioner failed to exhaust available state remedies.
Courts may dispense with the exhaustion requirement if further state litigation would be futile or in other exceptional circumstances, such as when the petitioner's federal claim is clearly without merit or if a miscarriage of justice has occurred. Additionally, federal courts may waive the exhaustion requirement if a death row petitioner's execution appears imminent, and the state court declines a stay of execution despite continued litigation of federal constitutional claims in state court.
Federal courts may consider habeas petitions containing both exhausted and unexhausted claims ("mixed petitions") and may deny unexhausted claims on their merits. If a federal court does not consider a mixed petition, a state prisoner may either (1) return to state courts to litigate the unexhausted claims so they can then be presented together in a single petition, or (2) amend the habeas petition to present only exhausted claims to the federal district court. The federal court may grant a petitioner a continuance to pursue unexhausted claims in state court, but it is not required to do so.
After the passage of the Antiterrorism and Effective Death Penalty Act of 1996 (AEDPA), which imposes a one-year limitation period to apply for a writ of habeas corpus, a petitioner whose mixed petition is dismissed may find the claims time- barred when attempting to return to federal court. District courts are not required to warn petitioners that their federal claims would be time-barred from federal court review if the AEDPA limitation period expires while they are exhausting their remedies.
Procedural Bar. If a petitioner has failed to present a particular claim before a state court in the manner prescribed by the state's procedural rules, a federal court will generally refuse to consider that claim on habeas review. A petitioner can overcome the procedural bar only by demonstrating either (1) cause for the procedural default and actual prejudice as a result of the alleged violation of federal law, or (2) that failure to review the claims will "result in a fundamental miscarriage of justice." To demonstrate a fundamental miscarriage of justice, a habeas petitioner may present new reliable evidence supporting a claim of actual innocence, but the petitioner "must show that it is more likely than not that no reasonable juror would have convicted him in the light of the new evidence." A petitioner can satisfy the "cause" requirement by showing, for example, that assistance of counsel was ineffective in violation of the Sixth Amendment, or that governmental interference rendered procedural compliance impracticable. A petitioner's illiteracy, pro se status, lack of legal knowledge, or reliance upon other inmates' assistance in preparing claims generally does not constitute sufficient cause to excuse a procedural default. To establish prejudice, a petitioner must show "not merely that the errors at his trial created a possibility of prejudice, but that they worked to his actual and substantial disadvantage, infecting his entire trial with error of constitutional dimensions."
Federal courts considering a habeas claim should determine whether the claim is procedurally barred before considering whether relief is precluded by Teague's rule against applying "new" rules of constitutional law. If the last state court to which a federal claim is presented ignores a potential state procedural default and reaches the merits of the claim, federal courts may consider the claim. If the last state court opinion is ambiguous as to whether it reached merits of claim or rendered its decision on procedural grounds, a federal court will presume state court reached the merits based on the last related state-court decision. However, this presumption is overcome if a state court invokes a state procedural bar that provides adequate grounds for dismissal independent of federal law, or if the last state order or opinion summarily upholds a reasoned lower state court decision that invokes a state procedural bar.
Jurisdiction and Venue. Prisoners may file § 2254 petitions in district courts either in districts in which they are incarcerated or in which they were convicted and sentenced. Transferring a prisoner without court authorization does not divest a court of appeals of jurisdiction. A petition may be transferred between courts of proper jurisdiction in "furtherance of justice" at the discretion of the district court in which the petition is filed. Prisoners in the District of Columbia are treated differently and must first bring post-conviction claims before the District of Columbia courts that imposed the sentences.
Deference to State Courts. A state court's determination of a factual issue is presumed correct and may be rebutted only by clear and convincing evidence. The Supreme Court has presumed state courts' factual findings to be correct on issues of juror exclusion for cause, juror partiality, witness identification, competency to stand trial, competency to waive post- conviction proceedings, culpability, and validity of peremptory challenges. The presumption of correctness does not apply to "questions of law" or "mixed question of law and fact." For example, although the presumption of correctness does apply to state court findings of fact underlying the voluntariness of a defendant's statements or waiver of rights, it does not apply to ultimate conclusions of law regarding the voluntariness of those statements or waivers. Similarly, although the presumption of correctness applies to state court findings of fact underlying an ineffective-assistance-of-counsel claim, it does not apply to ultimate conclusions of law regarding the ineffective assistance. Under AEDPA, state court determinations of law and mixed questions of law and fact are subject to the deferential standards of review of § 2254(d).
Evidentiary Hearings. If the petitioner has "failed to develop the factual basis of a claim in State court proceedings," the district court cannot hold an evidentiary hearing unless the petitioner shows that: (1) the claim relies on either (a) "a new rule of constitutional law, made retroactive to cases on collateral review by the Supreme Court, that was previously unavailable," or (b) "a factual predicate that could not have been previously discovered through the exercise of due diligence;" and (2) "the facts underlying the claim would be sufficient to establish by clear and convincing evidence that but for constitutional error, no reasonable factfinder would have found the applicant guilty of the underlying offense." If, however, the facts are still not developed despite the petitioner's diligence in state proceedings, then the petitioner does not need to fulfill the requirements of § 2254(e)(2) because the petitioner is not considered to have "failed to develop" the facts.
When a federal court grants an evidentiary hearing, the court may appoint a federal magistrate judge to conduct the hearing. Parties must file written objections within fourteen days of being served with the magistrate's findings in order to preserve the right of review. The district court will then consider the parties' objections and may accept, reject, or modify any part of the magistrate's report.
Right to Legal Assistance. The constitutional right to counsel in criminal cases does not apply to habeas proceedings. However, prisoners have a "constitutional right of access to the courts" that requires states to assist inmates in preparing and filing habeas petitions by providing some form of legal assistance, such as adequate law libraries or the assistance of persons trained in law. If a state has not made alternative forms of legal assistance available, it must allow inmates to assist each other in filing habeas petitions.
A court is required to appoint counsel for an indigent petitioner when an evidentiary hearing is required or when necessary for the petitioner's effective utilization of discovery. The court may also appoint counsel at any stage of the habeas proceeding when the interests of justice so require. Petitioners who proceed in forma pauperis may obtain copies of pertinent documents or portions of the record without cost.
An indigent habeas petitioner seeking to vacate or set aside a death sentence is statutorily entitled to appointed counsel, as well as expert and investigative services. Furthermore, an indigent state prisoner seeking federal habeas relief to vacate or set aside a death sentence imposed by a state court is authorized to retain federally appointed counsel in subsequent state clemency proceedings. The statutory right to counsel for indigent death row habeas petitioners attaches when a petitioner files a motion requesting appointment of counsel for a habeas proceeding.
Filing Deadlines. A pro se habeas petition is "filed" when it is given to prison authorities for forwarding to the court or placed directly into the prison mail system. Under 28 U.S.C. § 2244(d)(1), § 2254 petitions must be filed within one year from the latest of: (1) final judgment on direct review; (2) "the expiration of the time for seeking such review"; (3) removal of any state-imposed impediment that unconstitutionally prevented filing of such petition; (4) the Supreme Court's announcement of a new, retroactively applicable constitutional right; or (5) the date on which facts supporting claims presented could have been discovered through exercise of due diligence.
This one-year limitation is tolled while a properly filed application for state post-conviction or other collateral review is pending, even if that application contains procedurally barred claims. However, "an application for federal habeas corpus review is not 'an application for [s]tate post-conviction or other collateral review,"' and thus does not toll the one-year limitation for any subsequent federal habeas applications.
Dismissal of Petitions. After a state prisoner has filed a § 2254 petition, the judge assigned promptly examines it. If it appears plain on the face of the petition and all exhibits that the petitioner is not entitled to relief, then the judge is permitted, but not obliged, to dismiss the petition and notify the petitioner. If not, the judge must order the state to either (1) file a response within a fixed time or (2) take other action. The judge will order the respondent to file an answer within a fixed time. The state's answer shall indicate what transcripts are available, when they can be furnished, and what proceedings have been recorded but not transcribed. If a petitioner appeals a conviction or adverse judgment in a post-conviction proceeding, a copy of the petitioner's brief on appeal and the opinion of the appellate court, if any, shall also be filed with the answer. Petitioners may voluntarily move to dismiss their own petitions.
Second or Successive Petitions. Under § 2244(b)(2), a petitioner can file a second or successive habeas petition only after obtaining an authorization order from a three-judge panel in the appropriate federal court of appeals. In order to obtain an authorization order, a petitioner must make a prima facie showing that the claim was not presented in a previous federal habeas petition. In addition, the petitioner must show either that: (1) the new claim relies on a new rule of constitutional law that was previously unavailable, and the Supreme Court made the rule retroactive to cases on collateral review; or (2) the factual basis for a new claim "could not have been discovered previously through the exercise of due diligence" and the facts underlying the claim, if proven and viewed in light of the evidence as a whole, show by clear and convincing evidence that, but for the constitutional error, no reasonable factfinder would have found the petitioner guilty of the offense. The grant or denial of authorization by the court of appeals cannot be appealed and is not subject to rehearing or writ of certiorari. If a circuit court issues an authorization order, the petitioner may file a second or successive petition in district court, which must dismiss the petition unless the petitioner can prove that claim satisfies § 2244(b) requirements set forth above.
A habeas petition filed after the dismissal of a prior petition without prejudice is not considered "second" or "successive" for purposes of § 2244. Some circuits have held that a Rule 60(b) motion under the Federal Rules of Civil Procedure seeking relief from judgment on the basis of mistake, neglect, fraud, or new evidence is equivalent to a successive habeas petition; however, whether a Rule 60(b) motion is viewed as a second or successive habeas petition depends on the circumstances under which the motion is filed. An application is not "second or successive" where it "challenge[s] a new judgment," such as a new sentence after a resentencing.
Courts sometimes recharacterize motions filed by pro se litigants as § 2254 petitions, thereby subjecting successive petitions to stringent restrictions. However, according to Castro v. United States:
[A] court cannot so recharacterize a pro se litigant's motion as the litigant's first § 2255 motion unless the court informs the litigant of its intent to recharacterize, warns the litigant that the recharacterization will subject subsequent § 2255 motions to the law's "second or successive" restrictions, and provides the litigant with an opportunity to withdraw, or to amend, the filing.
Remedies. While a petition is pending, a federal district or appellate court may stay any state court proceeding against the petitioner. When an indigent death row petitioner files for appointment of counsel before filing a legally sufficient petition for habeas relief, the habeas proceeding has commenced for purposes of § 2251, and the federal court is consequently authorized to stay the execution. A federal court granting habeas relief has wide discretion in choosing the appropriate remedy. Courts have ordered the state to resentence a petitioner, reclassify a petitioner's conviction, or grant the petitioner a retrial on specific issues. Unconditional release of the petitioner is a remedy of last resort, generally granted only when a state has failed to comply with federal court orders specifying other forms of relief.
Appeals. A petitioner may appeal only from a final order issued by a federal habeas court. A petitioner wishing to appeal from an order denying habeas relief must apply for a certificate of appealability (COA) either from the district court judge who rendered the decision or from a circuit court judge. In the absence of a COA, a petitioner's notice of appeal of a district court order will be deemed by a circuit court to be a request for a COA. The petitioner must comply with the thirty-day deadline and other procedures that govern the filing of appeals. A district or circuit court judge may issue a COA only if the petitioner has made a "substantial showing of the denial of a constitutional right." When issuing a COA, the judge must indicate the specific issues that satisfy the "substantial showing" standard. A court of appeals will overturn factual determinations of district courts only when those determinations are clearly erroneous.
In Hilton v. Braunskill, the Supreme Court established an equitable test for determining whether to release a prisoner pending appellate review of a district court's decision to grant the writ and discharge the prisoner. The factors to be considered include: (1) whether the applicant has made a strong showing of likelihood of success on the merits; (2) whether the applicant will be irreparably injured absent a release; (3) whether others interested in the proceeding will be substantially injured; and (4) whether the public interest would best be served by release. This test requires the appellate court to accord a presumption of correctness to the district court's custody decision.
The dismissal of a habeas petition on procedural grounds does not bar issuance of a COA. When the district court denies a habeas petition on procedural grounds without reaching the underlying constitutional claim, a COA should be issued if the petitioner shows that: (1) "jurists of reason would find it debatable whether the petition states a valid claim of the denial of a constitutional right"; and (2) "jurists of reason would find it debatable whether the district court was correct in its procedural ruling."
A COA determination should be made in a separate proceeding, distinct from a decision on the merits of a petitioner's claim.
Capital Cases Under 28 U.S.C. § 2261. The § 2254 petitions brought by prisoners subject to capital sentences may be governed by a set of rules that supplement or, with respect to some procedures, replace the rules governing noncapital § 2254 petitions. These rules apply only if the state has met the requirements set forth in 28 U.S.C. § 2261. As of 2018, however, no state had satisfied all of the § 2261 requirements.
A state must meet the following elements of § 2261 before the rules apply. First, the Attorney General of the United States must certify that "[the] State has established a mechanism for providing counsel in postconviction proceedings as provided in [§] 2265." Second, counsel must have been "appointed pursuant to that mechanism," petitioner must have "validly waived counsel," "retained counsel," or have been "found not to be indigent." Third, the state mechanism must "offer counsel to all State prisoners under capital sentence[s]." Finally, the mechanism "must provide for the entry of an order" either: (1) appointing counsel to represent the prisoner upon "finding that the prisoner is indigent and accepted the offer [of counsel] or is unable competently to decide whether to accept or reject the offer"; (2) "finding, after a hearing if necessary, that the prisoner rejected the offer of counsel and made the decision with an understanding of its legal consequences"; or (3) "denying the appointment of counsel upon a finding that the prisoner is not indigent."
Should a state meet the § 2261 requirements, the provisions of 28 U.S.C. §§ 2262-2264 would apply to a § 2254 petition. Under 28 U.S.C. § 2263, a § 2254 petition must be filed in the district court no later than 180 days after the conviction becomes final. This filing deadline may be tolled by filing: (1) a petition for certiorari with the Supreme Court for direct review of the state decision; (2) the first petition for state collateral relief; or (3) a motion for extension in the district court that would have jurisdiction over § 2254 habeas application that demonstrates "good cause" for failure to file petition within filing deadline. Under 28 U.S.C. § 2264, the district court may consider only claims that have been raised and decided on the merits in state courts. Such an extension, if granted, cannot exceed thirty days. The court may consider a claim that was not properly raised in state courts only if the failure to raise the claim properly was: (1) "the result of State action in violation of the Constitution or laws of the United States"; (2) "the result of the Supreme Court's recognition of a new Federal right that is made retroactively applicable"; or (3) "based on a factual predicate that could not have been discovered through the exercise of due diligence in time to present the claim for State or Federal post-conviction review."
Under 28 U.S.C. § 2262, the order or warrant setting the petitioner's execution date is automatically stayed upon: (1) entry by a state court of an order under § 2261 (c); and (2) "application to any court that would have jurisdiction over any proceedings filed under [§] 2254." The stay of execution expires upon: (1) failure to file a § 2254 petition within the time limits prescribed in § 2263; (2) waiver of the right to file a § 2254 petition; (3) failure to make a substantial showing of the denial of a federal right in a timely filed habeas petition; or (4) denial of habeas relief by the district court or at any subsequent stage of review. If the special rules for capital cases apply and one of these four conditions has occurred, a court cannot enter a stay of execution unless "the court of appeals approves the filing of a second or successive application under [§] 2244(b)."
---
Become a Patreon!