Become a Patreon!
---
Abstract
Excerpted From: Peter Blanck, Fitore Hyseni and Fatma Altunkol Wise, Diversity and Inclusion in the American Legal Profession: Discrimination and Bias Reported by Lawyers with Disabilities and Lawyers Who Identify as LGBTQ+, 47 American Journal of Law & Medicine 9 (2021) (174 Footnotes) (Full Document)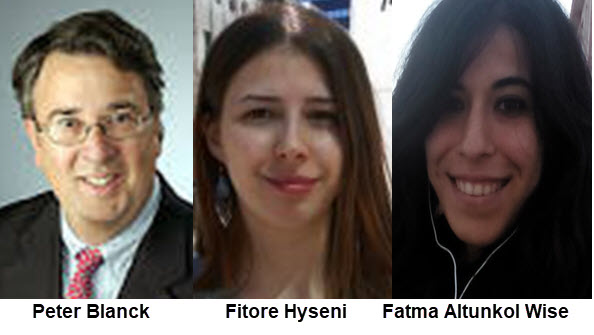 This Article is the third in a program of study, conducted in collaboration with the American Bar Association ("ABA"), on diversity and inclusion ("D&I") in the legal profession. The investigation's overarching focus is on lawyers with disabilities and lawyers who identify as lesbian, gay, bisexual, transgender, and queer ("LGBTQ+" as an overarching term). It further considers multiple individual and social intersectional identities associated with race and ethnicity, gender, and age.
Ours is not the first study to focus on the legal profession. Earlier studies of the legal profession included broad formative empirical investigations, such as the longitudinal study, After the JD, conducted from 2004 to 2019 by the American Bar Foundation ("ABF") and the National Association for Law Placement ("NALP"). Specific diversity-oriented studies from 2015 to 2020 have acknowledged that the legal profession remains among the least diverse professions in the United States, and particularly at senior and leadership levels. Despite extensive efforts to promote D&I in the profession, and existing antidiscrimination laws, reports of discrimination and bias by minority-identity lawyers are prevalent.
The existing body of study on the lack of D&I in the legal profession, while robust, has primarily focused on gender, racial and ethnic minorities, and the intersection of gender and race. Our engagement in a program of studies to extend the focus of D&I studies to include lawyers with disabilities and who identify as LGBTQ+ comes to coincide with the thirtieth anniversary of the Americans with Disabilities Act ("ADA").
In our studies, we seek to build upon the increasing recognition that, to be successful, legal organizations must seek to hire and retain diverse talent. Our body of research likewise rests on the recognition that "success" in the legal profession can be measured in a wider variety of ways than have typically been recognized, such as in diversity of personal and professional experience; work ethic and competence; emotional intelligence; and values, such as integrity, that underpin the legal profession.
As is well recognized in the legal profession, attitudinal and structural stigma and bias are antithetical to D&I, as are intentional and unintentional discrimination in the workplace. When these unjustified and harmful forces play a role in organizations, some of their members, and sometimes their organizational customers and clients, perceive other members to have qualities that are devalued--regardless of those other members' competence or other professional characteristics. This devaluation may be expressed in myriad ways, such as by overt bias, stigma, and discrimination; by subtler verbal means, nonverbal means, or both, as with "microaggressions"; or by variations of both verbal and nonverbal types of discrimination. Devaluation may also be expressed intentionally or unintentionally. This latter form often is described as implicit, or "unconscious," bias.
These forms of discriminatory expression may be conveyed, or perceived to have been conveyed, by both individuals and groups. These expressions may be internal or external to an organization's governing mechanisms and may take the form of discriminatory policies, procedures, practices, and norms (this last term is also referred to as organizational culture or climate). These mechanisms all inevitably vary as a function of context, time, group dynamics, tasks and objectives, and other characteristics of particular environments.
Stigma, bias, and discrimination, of course, are perceived, experienced, and reported differently depending upon the individuals and groups engaged in the particular interaction and circumstance. So, too, are they affected by the individual's sense of self-identity, personal and professional experience, culture, age, and myriad other factors. Their receipt is also moderated by environmental, organizational, and other contextual and temporal effects. Given the ubiquity of the terms stigma, bias, and discrimination, as expressed and received in all their forms, they are inevitably viewed and interpreted differently by researchers, lawyers, the general public, and bystanders.
The demographic, economic, and structural changes in the legal profession over the past twenty-five or so years, recently magnified due to the global health and economic emergency from the pandemic, have slowly led to recognition that D&I in the legal profession--understood, in part, as anti-stigma, anti-bias, and antidiscrimination mechanisms--is, to put it simply, important. Nonetheless, despite such commitments, corporate law firms remain dominated by non-disabled White men and are unwelcoming for many individuals with multiple marginalized and oppressed identities.
Passage of the ADA has added, or ought to have added, to the factors changing the legal profession. Because the ADA includes an accommodation principle, we have argued that the D&I objective for a culture of inclusion must include that principle. We have called the resulting concept Diversity and Inclusion plus Accommodation ("D&I+"). D&I+ includes three core elements that may be applied across settings to advance an organization's mission: (1) Diversity of talent, (2) Inclusion of talent, and (3) Accommodation of talent.
We proceed in this Article as follows: in Part II, we provide a brief overview of the studies in our investigation. We then review extant literature on forms of workplace discrimination, with a focus on forms of overt and subtle discrimination, as well as the combination of these complex processes. In Part III, we overview the methodology used to conduct our research, with mention of the participants, methods, and research questions. In Part IV, we present our findings about the extent to which individuals with minority and multiple minority identities, as compared to others, are likely to report forms of discrimination. Finally, in Part V, we discuss the implications of the findings and the limitations of the study, and we propose pathways for future research.
Purpose:
This article is part of an ongoing body of investigation examining the experiences of lawyers with diverse and multiple minority identities, with particular focus on lawyers with disabilities; lawyers who identify as lesbian, gay, bisexual, transgender, and queer ("LGBTQ+" as an overarching term); and lawyers with minority identities associated with race and ethnicity, gender, and age. The focus of this article is on discrimination and bias in their workplaces as reported by the lawyers experiencing it.
Methods:
We employ survey data from the first phase of this investigation, gathered from the survey responses of 3590 lawyers located across all states in the United States and working in most types and sizes of legal venues. The data were collected between 2018 and 2019, before the 2020 pandemic. We estimate differences across three categories of discrimination reported--subtle-only discrimination, overt-only discrimination, and both subtle and overt discrimination. We estimate the nature and magnitude of associations among individual and organizational variables, and we use multinomial logistic regression to illustrate relative risks of reports of discrimination for intersecting identities.
Results:
As compared to non-disabled lawyers, lawyers with disabilities show a higher likelihood of reporting both subtle and overt discrimination versus no discrimination. Similarly, lawyers who identify as lesbian, gay, bisexual, and queer ("LGBQ") show a higher likelihood of reporting both subtle and overtdiscrimination, and subtle-only discrimination, as compared to lawyers who identify as straight/heterosexual. Women lawyers and lawyers of color are more likely to report all three types of discrimination. In general, younger lawyers are more likely to report subtle-only discrimination when compared to older lawyers. Lawyers working at a private firm are less likely to report all types of discrimination, while working for a larger organization is associated with a higher relative risk of reporting subtle-only discrimination versus no discrimination.
[. . .]
This study examined discrimination and bias reported by lawyers with multiple marginalized identities in a conceptual framework of enhanced D&I+ practices in the legal profession. The body of study considers the dynamic and multidimensional experiences of people with disabilities and those who identify as LGBTQ+, along with other identities across race/ethnicity, gender, and age.
Future articles in this series will examine considerations over time associated with how identity disclosure, stigma, and reported discrimination and bias play out in the legal workplace. The longer-term objective is to contribute to efforts to mitigate bias and discrimination facing persons with minority identities and to further a culture of inclusion--D&I+, as we call it--in the legal profession.
---
University Professor & Chairman, Burton Blatt Institute ("BBI") at Syracuse University.
---
Become a Patreon!