Abstract
Excerpted From: Waruguru Gaitho, Challenging the Single Axis from the Nexus: Operationalizing Intersectionality in International Human Rights Law to Adequately Address the Corrective Rape of Black Lesbians in South Africa, 31 Tulane Journal of Law & Sexuality 1 (2022) (188 Footnotes) (Full Document)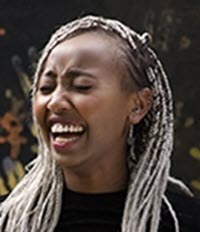 Fifteen years ago, in the early evening of February 4, 2006, Zoliswa Nkonyana, a proudly out nineteen-year-old lesbian in Cape Town, was bullied out of a tavern she frequented. A row had erupted between Nkonyana and a group of nine men who challenged her and her friends' use of the ladies' bathroom "while pretending to be tomboys" and they were asked to leave. The group of young men followed her, and launched an assault. They stoned her and then took turns stabbing her with the same knife to "finish her off." The bodies of Sikazele Sigassa and Salome Massoa were discovered less than a year later, having been gang raped and shot execution style, in a field close to the Johannesburg suburb in which they resided. However, it was only in 2008, when Eudy Simelane--a famed lesbian player for South Africa's national soccer team--was found, brutally murdered, naked and face down in a ditch in a Gauteng township, that the term "corrective rape" was coined.
In its original conception, corrective rape was used to refer to rape or sexual violence against women "who are, or are perceived to be, lesbians in order to 'fix' them by making them heterosexual." While lesbians - especially "butch" lesbians who are hyper visible and continue to be especially vulnerable to corrective rape, as reports emerged, it became apparent that this hate crime was not limited to them; the corrective rape of transgender men, bisexual women, transgender women, gay men and asexual women have all been documented. At its core, corrective rape is an avenue via which anyone who steps out of their assigned roles in the system of cisheteropatriarchy, either via gender presentation/expression, sexual or romantic attraction, or gender identity, is violently reminded of, and brought back to, their "proper place." Cisheteropatriarchy is a system of oppression based on dominance over, and oppression of, women and LGBTQIA+ individuals by men who are cisgender and heterosexual. Cisheteropatriarchy thus positions straight cis men as superior as well as the default, and establishes acceptable attraction, behavior, gender expression, roles and norms relative to them through the lens of the gender binary. Accordingly, over the course of two decades, the definition of corrective rape has evolved to broadly encompass "the rape of any member of a group that does not conform to gender or sexual orientation norms where the motive of the perpetrator is to 'correct' the individual." It may also be referred to as "homophobic rape," "punitive rape," or "curative rape."
Because corrective rape is fueled by prejudice against an individual for their specific identity, it constitutes a hate crime that is the product of gender-based violence and homophobic violence. Additionally, in the South African context, this violence intersects with systemic racism, producing a disproportionate impact on Black women. As recently as 2020, a Black lesbian woman in Cape Town was on her way to a shop when she was attacked by three men who gang raped her, claiming to be doing so in order to "correct her sexuality." This was ironically shortly before the city's denizens celebrated the Cape Town Pride festival. While there is no definitive data on the prevalence of corrective rape globally or in South Africa, some sources on the latter, including a qualitative study and an NGO report, have suggested that at least 10 women are correctively raped each week on average, or at least 500 annually. However, this number is likely a gross underestimate, both because of severe underreporting, as well as flawed documentation that is characteristic of the criminal justice system. The seemingly unchanged lived realities of Black queer womxn in South Africa, particularly visibly out lesbians, prompts an assessment of the role of international human rights law in addressing this egregious violation of rights.
In fleshing out this role, this Article delves into the theoretical underpinnings of intersectionality, before framing it within the international human rights law framework. Critically, this Article grapples with the incongruence of the traditional single-axis model around which discrimination in international human rights law (IHRL) is built and the overall protective function and intent of IHRL. The following Part examines which fundamental rights are implicated specifically under the core IHRL treaties before proceeding to explore what opportunities exist for increasing protections for individuals facing compounded oppression and intersectional discrimination. The exploration builds on the seminal works of legal scholars such as De Beco and Truscan, who imagine an international human rights law framework that is adaptive to the nuanced, multi-faceted experiences of individuals. Ultimately, these strategies are teased out further and applied to corrective rape in a bid to establish the feasibility of expanding frameworks in IHRL to adequately address the corrective rape of Black lesbians in South Africa.
[. . .]
This Article interrogated intersectionality under IHRL in a bid to argue for its indispensability in the protection of Black lesbians in South Africa from corrective rape. The discussion made apparent the myriad overlapping and distinct rights in the international human rights law corpus that corrective rape violates. As signatory to these treaties, South Africa therefore bears responsibility, inter alia, under the principle of due diligence. With that linkage firmly established, intersectionality's theoretical underpinnings, as well as its contemplation in the IHRL sphere thus far, were explored. The analysis illustrated that while IHRL has earned the criticism of being too "single-axis" and has often failed to capture the nuance and synergistic nature of compounded oppression, it has also gradually evolved towards recognizing the multi-faceted experiences of marginalized individuals. As a result, intersectionality in IHRL has garnered substantive value beyond rights discourse that is theoretical. Building on ideas initiated by several scholars, this Article explored the ways in which this substantive value could grow, and in particular, how this transformation could be wielded in service to Black lesbians in South Africa who were especially vulnerable because of their multiple intersecting identities in this specific context. While by no means an exhaustive list, intersectional mainstreaming and joint interpretive instruments offer compelling arguments for the feasibility of an intersectional international human rights law system at both the procedural and substantive level. If implemented carefully, consistently and collaboratively, present a powerful justice avenue for Black lesbians in South Africa.
---
Waruguru Gaitho, (she/they) is a human rights lawyer, researcher and lecturer of law at Leiden University's Van Vollenhoven Institute of Law, Society and Governance.