Abstract
Excerpted From: Khaled A. Beydoun and Nura A. Sediqe, The Great Replacement: White Supremacy as Terrorism?, 58 Harvard Civil Rights-Civil Liberties Law Review 69 (Winter, 2023) (213 Footnotes) (Full Document)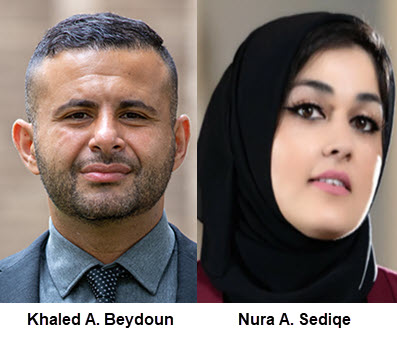 The Tops Friendly Market Store transformed a community. Opening its doors to the predominantly Black community located on the eastside of Buffalo, New York in July of 2003, Tops brought a full-line grocery store to a food desert. More than a grocery store, the Tops location instantly emerged into a "village watering hole," where indigent and working class Black Buffalonians deepened personal relationships and forged news ones. Seemingly overnight, Tops became an epicenter of community, and a standing symbol of Black Buffalo.
The Blackness of Tops--and the neighborhood that it wrapped its arms around-- is precisely why it was targeted on May 14, 2022. Payton S. Gendron, an eighteen-year-old white supremacist and ethno-nationalist, parked his car outside of Tops on Buffalo's eastside, home to a population that is approximately 73% Black. Clad with what seems to be the customary uniform of his ideological ilk--a military grade helmet mounted with a camera, body armor, and a modified Bushmaster XM-15 rifle with slurs written across it and "white lives matter" emblazoned on the car--Gendron swung open its doors and marched into Tops at 2:30 pm to carry out what he came to do. was finally time, that spring afternoon, to convert the musings of dark imagination into twisted reality. Gendron plodded methodically through the common areas and aisleways of Tops. Then, he opened fire on anybody and everybody Black. The majority of Tops shoppers, like the Kingsley neighborhood that surrounds it, were Black. In the midst of his murder spree, Gendron apologized to a white victim he shot in the leg, sparing his life in the process of killing more Black people. the anti-Black massacre would not be confined to Tops's walls. Gendron's ideological motive fueled a grander, more gruesome aim: satiating the mounting white supremacist elements that shared his worldview. He recorded the massacre and livestreamed it on his Twitch account, where his followers watched Black body after Black body shot and killed in real time. After the final round of fire, ten people laid dead. Every single one of them was Black, bringing the white supremacist's morbid designs into a stark and stunning reality.
In just six minutes, Tops was transformed from a site of Black possibility into the latest landmark of anti-Black murder. Gendron gunned down nearly two decades of old, entrenched relationships and new ones forged inside the walls of the institution.
The Tops Market of yesterday was no more. Its doors shuttered and the memories that were buried deep on the eastside of this Buffalo community, ravaged by poverty, had to rally closer together to strengthen the roots of its community. Those same roots summoned the vile imagination of a gunman who exacted the aims of a mounting white anxiety, and its accompanying terror, towards Black people on account of their Blackness. Gendron walked into Tops alone on May 14th, he followed the marching orders of a movement that adapted the very white supremacy that, centuries earlier, created this nation. The "Great Replacement" theory fueled his massacre, with its conclusions of a "white genocide" unfolding with the influx of immigrants and rising influence of Black culture as root causes. The white anxiety and rage that swelled across the United States were fueled by the fear of racial "replacement". According to Renaud Camus, Black and Brown, Muslim and immigrant people represent the war on whites.
Following the dictates of Camus, who brought cogence in the early 2010s to a preexisting ideology with the publication of The Great Replacement, Gendron did his part in reversing the distorted narrative of white genocide. Camus wrote, within the context of western Europe, that, "[whites] are being reverse colonized by Black and Brown immigrants, who are flooding the Continent in what amounts to an extinction-level event." Gendron, like Dylan Roof, Brenton Tarrant, and a motley crew of white supremacist gunmen before him, converted vile words into violent action, adapting Camus's conclusions to the American context. Although distinct--Tarrant massacred Muslims in New Zealand on their holy day while Roof and Gendron gunned down Black churchgoers and shoppers nonetheless targeted Muslim and Black people as well as Jewish and Latinx people. These are groups of people who are racially and religiously distinct but oriented as the demographic enemies of the "whiterace" and their mounting vigilante calls. Gendron's ideology drove his actions--meeting the disparate definitions of terrorism spread across the American legal code. However, the racial form Gendron presented clashed with the racialized realpolitik that still prevails today, which conflates terrorism and the threat of it almost exclusively with Muslim identity. The War on Terror, protracted over two decades, veritably enshrined this conflation. "Terrorism" and "Islam" were made inextricable by the shared force of law and propaganda, and as a result, were politically and popularly understood as synonyms. Shifting cultural tides, sparked by the Black Lives Matter (BLM) Movement, disrupted this conflation by branding white supremacy as terrorism. The string of mass shootings unleashed by white men converging with the BLM Movement gave legs to this (re)framing, gradually dislodging the perceived Muslim monopoly over a form of violence that the state has strategically crafted since the 9/11 terror attacks. "White supremacist terrorism" entered the discursive and political lexicons after the January 6th "insurrection" on the Capitol in Washington, D.C., and it finally commanded the attention of the state. At least, and initially, this happened by way of rhetoric.
The upstart Biden regime oriented "white supremacist terrorism" as a primary national security threat following the disparate movement galvanized and trumped up by the previous administration. President Biden sought to redirect the state's established counterterror resources toward combating the white supremacist terrorist threat, drawing on the very infrastructure and tools used to police and punish Muslim communities. This was the rhetoric ringing from the White House, which was refreshing for advocates and scholars that have long lobbied for a neutral reframing of terrorism and policing strategies stripped of racist and Islamophobic enforcement. Yet, for critics, plans to counter white supremacist terrorism were riddled with serious concerns, and spurred conclusions that new racial labels would serve the same old racist counterterror enforcement aims.
This Article analyzes another great replacement standing atop "The Great Replacement" ideology that drives white supremacist terror. Specifically, the Biden Administration's renewed mandate to direct state antiterror tools, with counter-radicalization as the principal policing tool, to counter white supremacist terrorism in replacement of Islamic terrorism. Counterradicalization, the "signature antiterror program" adopted federally by the Obama Administration in 2011 and later adapted by President Donald Trump when he entered the presidency six years later, focused wholly on "policing radicalization" within Muslim communities inside the United States. It conceptualized radicalization, like its mother phenomenon of "terrorism," almost exclusively to Muslim subjects.
The events of January 6th--and the tentacles of white supremacist violence that preceded and followed it--drummed up support for an unprecedented shift in counterterror philosophy and enforcement. This included reconfiguration of counter-radicalization to fixate centrally on the oldest form of American terror that took on a modern form: white supremacy. However, a myriad of critics raised practical and political concerns around a counter-radicalization regime focused on white supremacist terrorism, with others opposing the view that white supremacy should be labeled "terrorism" at all. The majority of these critiques center on fears that white supremacist terrorism would extend, direct, or spur collateral harms on overpoliced communities of color, namely the principal targets of the War on Terror counterterror establishment: Muslims in the United States.
This Article identifies and interrogates these critiques, contributing a cogent analysis of the coming white supremacist counterterror strategy to the literature. In addition to surveying existing critiques made by law scholars, advocates, and activists, this Article also presents novel concerns with the formation of counter-radicalization policing strategies targeting white supremacists. The replaced focus on white supremacists, instead of Muslims as the primary subjects of counterterrorism, does little to change the cultures of white supremacy embedded within the policing agencies tasked with carrying it out. The institutionalization of white supremacy and Islamophobia within the federal and local law enforcement agencies tasked with enforcing counter-radicalization against white supremacist elements will likely: (1) derail the very possibility of carrying forward such a program; (2) drive underpolicing of white supremacist groups; (3) enable the continuance of Muslim over-policing; and (4) entrench and expand community surveillance after a violent attack involving a Muslim culprit.
These predictable outcomes, tied to the weight of history and the deeply institutionalized concern with Muslim terrorism, drive our conclusion that replacing "counter-radicalization of Muslims" with "counter-radicalization of white supremacists" will do more harm than good for overpoliced communities of color. Framing white supremacy as a menace that exists beyond the bounds of the state, and the very agencies tasked with countering terrorism, overlooks its institutional entrenchment on the federal and local levels, and the salient role the various stratas of the state play in perpetuating it.
This Article will proceed in three parts. Part I will survey counter-radicalization policing targeted toward Muslims and the distinct iterations of it enforced by the Obama, Trump, and finally the Biden Administration, which is poised to refocus on white supremacists.
Part II will examine the scholarly and grassroots concerns with marshalling established counterterror tools against white supremacist violent actors. It leads with historical contextualization of the embedded nature of white supremacy, and then articulates the theoretical reservations of orienting white supremacist violence as terrorism. This is followed by the practical critiques of deploying counter-radicalization policing against white supremacists.
Part III engages with the critical observations in Part II and presents the likely effects of a relapse in white supremacist counter-radicalization regime upon Black, Brown, and Muslim communities--who were once the primary targets of the state and white supremacist violent actors. In particular, this section will discuss three potential scenarios where such a relapse could occur: a likely state-oriented relapse, if there is a shift in a presidential administration with differing political motivations; circumstantial relapse, if there is a Muslim culprit, how these policies would be used to further target Muslims; and structural relapse, taking into account the disjointed nature of local law enforcement equitably following through with federal agency orders.
[. . .]
For more than two decades, the American War on Terror oriented Muslims as the embodiment of terrorism. This racialization, rooted in longstanding misrepresentations of Islam and valorization of whiteness, planted the false flag that Islam was the enemy and that national security mandated foreign wars and domestic crusades against Muslims. War on Terror fixation on "Islamic terrorism" enabled white supremacist organizations and networks to organize in the shadows before the Trump Administration galvanized them toward horrific and bloody action, as scores of incidents in the past several years have illustrated, including the events in Buffalo, New York.
The Tops Friendly Market Store had served as a community space for Black possibility. The transformation of the community site from a place of interconnections to a site mired with memories of white supremacist violence will continue to haunt the community. Civil rights advocates have advocated for a future where the possibility of equity and justice is available for all communities. Yet, the embedded nature of white supremacy harms this potential. Our analysis highlights the ways that the tentacles of white supremacy remain and may increase their hold because of the way that President Biden's designation of white supremacy as domestic terrorism currently stands: a designation that limits the definition of terrorism and also increases the powers of the national security apparatus.
The institutionalization of white supremacy within the very federal and local law enforcement agencies tasked with enforcing counter-radicalization against white supremacy (1) derails the possibility of carrying forward such a program; (2) will drive under-policing of such groups; (3) enables the continuance of Muslim over-policing; and (4) after a violent attack involving a Muslim culprit, would entrench and expand Muslim community surveillance.
Biden's policy, while important in trying to hold white supremacist violence accountable, falls short of achieving its mission. More urgently, it places the lives of marginalized communities at stake by increasing the power of the national security apparatus--the very institution that has turned a blind eye to using enforcement mechanisms equitably and has utilized these tactics to further target communities of color. Moving forward, the future of this policy remains questionable and requires more interrogation to empirically assess how local partnerships with federal agencies will act with these shifts and evaluating the repercussions of this policy on marginalized communities.
---
Harvard University, Scholar-in-Residence, Berkman Klein Center for Internet & Society, Initiative for a Representative First Amendment (IfRFA). Associate Professor of Law, Wayne State Univ. School of Law; Co-Director, Damon J. Keith Center for Civil Rights.
Princeton University, Postdoctoral Fellow, School of Public & International Affairs; Michigan State University, Assistant Professor of Political Science and Public Polic