Become a Patron!
---
Excerpted From: Elizabeth Pendo, Robert Gatter, and Seema Mohapatra, Resolving Tensions Between Disability Rights Law and Covid-19 Mask Policies, 80 Maryland Law Review Online 1 (2020) (53 Footnotes) (Full Document)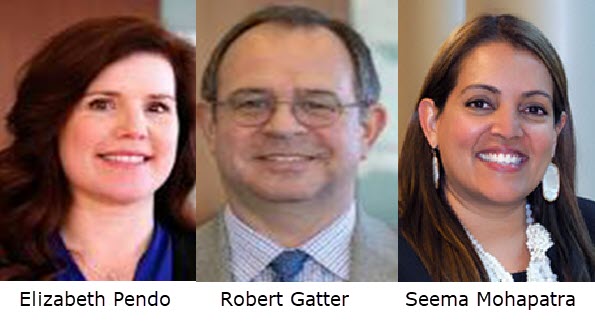 Public health measures to stop the spread of the coronavirus, such as mask-wearing, stay-at-home orders, and physical distancing, have the potential to greatly benefit people with disabilities, who are particularly vulnerable to the impact of COVID-19. But certain disabilities may make it difficult or inadvisable to wear a mask. In fact, the Centers for Disease Control and Prevention ("CDC") advise that face coverings should not be used by anyone who has trouble breathing, or is unconscious, incapacitated, or otherwise unable to remove the cover without assistance.
Federal laws like the Americans with Disabilities Act ("ADA") prohibit discrimination on the basis of disability and require appropriate modification of public and private mask-wearing policies to accommodate the needs of individuals with disabilities. These laws, like other civil rights statutes, remain in force during the pandemic and should operate as a check against any discrimination that might result from a mask requirement. Contrary to the assertions of some anti-mask activists, mask policies can be *3 implemented in a manner consistent with the ADA and the Rehabilitation Act. However, widespread lack of knowledge of and noncompliance with these laws raise serious concerns.
Consider a recent lawsuit challenging the mask requirement of a grocery chain in Pennsylvania. On May 26, 2020, Kimberly Pletcher filed a lawsuit claiming that a Pittsburgh-area grocery chain, Giant Eagle, discriminated against her on the basis of a respiratory condition that prevents her from safely wearing a mask, in violation of Title III of the ADA. The State of Pennsylvania's order requiring businesses to adopt mask requirements for customers provides an exception for individuals who cannot wear masks due to medical reasons (including children under two) and states that exempt individuals may enter the premises and "are not required to provide documentation of such medical condition." According to the complaint, Giant Eagle instituted a stricter policy that required all customers to wear masks, without exception, while on the premises of its Pennsylvania stores. Pletcher alleged that the owner of one Giant Eagle store posted publicly that the company decided against including a medical exception for safety reasons because "[i]t's too easy to make up an excuse not to wear a mask." She also reported inaccurate legal statements by Giant Eagle employees and security guards, including that an exception was not needed because customers who cannot wear masks can access goods through home delivery or curbside pickup. Additionally, Pletcher alleged that security guards verbally harassed and physically threatened customers with removal and arrest for trespass.
We, as experts in disability law and public health law, provide analysis of the federal disability law framework that applies to mask policies issued by state and local officials, as well as by stores, restaurants, and other businesses that serve the public.
We also offer recommendations for implementing mask policies in a manner that accommodates both the rights of people with disabilities and developing scientific knowledge of efforts to slow the spread of COVID-19.
[. . .]
It is not an obvious decision whether to require or merely to recommend mask use by apparently healthy people when they are out of their homes and indoors with others. On the one hand, masks are likely effective at preventing the spread of the virus, which weighs in favor of requiring them. On the other hand, we have already seen examples of unreasonable and even illegal enforcement of mask requirements against those who are uniquely burdened by this pandemic, including--as noted above--people with disabilities, and this weighs against requirements and in favor of recommendations. We conclude that, on balance, mask recommendations are the better answer for now.
Too many state officials, local officials, and store representatives remain ignorant of limits the law places on questions they may ask people who say they cannot wear a mask due to a disability. Consequently, those with non-obvious disabilities will be burdened with potentially inappropriate questions and, as we have seen, even threats if they choose to go out in public without a mask. This situation is made more likely given that some political activists, who associate mask-wearing with governmental oppression or disloyalty to President Trump, have encouraged their followers to misrepresent themselves as disabled so as to confound mask requirements. Mask recommendations, unlike requirements, should eliminate the need for an enforcement mechanism and thereby substantially reduce the risk that a person with a non-obvious disability is faced with inappropriate or intrusive questioning.
Mask recommendations must be coupled with education on the substance of overlapping government orders and institutional policies as well as the requirements of the ADA. Recall, for example, that employees and security personnel at one store in the grocery chain sued in the Pletcher case erroneously claimed that Pennsylvania's order permitted the store to refuse entry to a person unable to wear a mask because of a disability so long as the store provided access through home delivery or curbside pickup. As this pandemic plays itself out, orders and policies are likely to change many times as science learns more about the virus and as jurisdictions proceed (and/or back-track) through the phased re-opening of businesses. These periodic changes will increase the opportunity for officials and store employees to misunderstand the rules and any exceptions when enforcing mask requirements against people with disabilities. Again, mask recommendations, even ones that change routinely, will not put officials or store employees in a position to misinterpret standards as will requirements.
Mask recommendations will harness at least some of the public health benefit of a requirement while giving public health officials and store owners an opportunity to better prepare for widespread mask-wearing. Public health officials and regulators need to assure that police as well as retail outlets are better educated about public orders and the applicable requirements of the ADA (for example, what questions may be asked and when alternative means of providing access are appropriate). Furthermore, some of the tensions between customers with disabilities and retail employees and security personnel could be lessened by clearly communicating policies to customers in advance, including exceptions and alternative means of accessing goods and services. Employees and security personnel should also be educated on the specifics of mask-wearing policies that apply to customers, and the applicable requirements of the ADA. Under the circumstances, then, it would appear reasonable for a retail employee to ask a customer if there is a *12 disability-related reason for not wearing a mask as otherwise required and, if not wearing a mask is a legitimate safety issue under the circumstances, to offer alternative methods of providing services if necessary. Similarly, educating the public about disability-related exceptions to state and local policies, including questions that police or other representatives may ask, would be helpful.
Agencies, organizations, researchers, and others have documented that the ADA and Rehabilitation Act are underenforced, which suggests that these laws will not be an effective check on discriminatory enforcement of mask requirements against people with disabilities. Moreover, even when disability discrimination claims are brought, they may not be well received in federal courts. Two of us have noted elsewhere that victims of racial discrimination during this pandemic are likely to find that courts are less accessible, that judges are deferential to those attempting to serve the public's health, and that courts are adopting lenient standards of review on the rationale that, during a pandemic, "civil liberties take a back seat to civil order." The same may be true for victims of disability discrimination.
We recognize that mask recommendations are unlikely to result in the same degree of mask-wearing as would mask requirements and, therefore, that mask recommendations are not as likely to slow the spread of the virus as would mask requirements. Nonetheless, the risk of uninformed and discriminatory enforcement of mask requirements against people with disabilities undercuts the justification for mask requirements, at least until we are better prepared.
---
Elizabeth Pendo, Professor of Law, Center for Health Law Studies, Saint Louis University School of Law; B.A., University of California Los Angeles; J.D., University of California Berkeley School of Law.
Robert Gatter, Professor of Law, Center for Health Law Studies, Saint Louis University School of Law; B.A., Johns Hopkins University; J.D., University of Pennsylvania Law School; M.A. (Bioethics), Medical College of Wisconsin.
Seema Mohapatra, Associate Professor of Law and Dean's Fellow, Indiana University Robert H. McKinney School of Law; B.A. (Natural Sciences), Johns Hopkins University; J.D., Northwestern University School of Law; M.P.H. (Chronic Disease Epidemiology), Yale University School of Public Health.
---