Become a Patreon!
---
Abstract
Excerpted From: Lua Kamál Yuille, The Watcher's Paradox: Bearing Witness/Racial Voyeurism, 51 Southwestern Law Review 218 (2022) (35 Footnotes) (Full Document)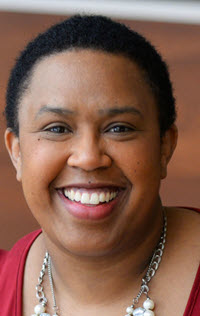 A few years ago--no, I remember the date precisely--September 7, 2018. A Friday. My Twitter feed had not yet begun to buzz with the news that the previous evening Amber Guyger had murdered Botham Jean while he enjoyed ice cream in his own home. I had to walk across the sprawling campus of the flagship state university where I was staring down the barrel of mandatory review for promotion to tenure. The campus was hilly, and I was in no mood to brook either the stares of contempt my lumbering body would receive if I walked my own California-casual pace or those of pity I would get if I were to adopt the brisk midwestern pace that infected the campus and its concomitant, for me, breathlessness. In any event, it had begun to rain, and I am not a rain person. So, I caught the campus bus. At least twenty young-looking people with backpacks--students, no doubt--huddled impatiently, awaiting the same bus. I stepped to the back of the bunch. By the grace of some now-forgotten scheduling miracle, I was not in a rush. "They probably have class." The bus arrived and the students rushed seamlessly aboard. Click, click, click; the driver counted his passengers. The stream slowed to a trickle, and then, it was my turn. As I stepped up, a lanky young guy charged past me, knocking me back. Before I could recover my footing, several more students clamored around me, audibly annoyed that I was occupying space on their bus. I stepped back to let them pass more easily. Click, click, click. With no one left but me, I tried again. "ID please," the driver said pointedly before I had two feet on board. And I felt tired, and I knew I would remember.
I harbor the tiniest bit of guilt for holding on to this moment. After all, it is just one of a million little things that have happened to me--tiny, insignificant frustrations that I have experienced. It is not as if I were gunned down by those privileged assumptions that delayed my boarding the bus, and it seems like Botham Jean's murder, which I would learn about that same day and which shows just how dangerous privileged assumptions can be, should stand out a little bit more. Well, not so much the privileged assumptions, but the people empowered by them. They can be deadly. But this, my experience, was not that, right? The countless, persistent, subtle, daily slights and offenses to which I am treated are, indeed, markers of my own privilege. It is something of a privilege that I am a lettered academic. It is a privilege that I do "belong," even if no one recognizes it. So, no, it is not the same. But my experience does help me understand viscerally the desperate resignation Botham Jean must have felt in those last moments of his life--unsafe even though all the rules promised that he was master. And maybe that is why I remember. Because that is what happened to me that day; I was unsafe, even though all the rules promised that I was master.
You see, universities generally (and law schools especially) are terribly hierarchical places, where face-to-face students are obsequiously respectful of the venerated professoriate. I should have been able to count on everyone's obeisance. I should have been able to magnanimously reject their deference, jovially renounce the rights of my rank and title, and take my pick of seats on the crowded bus. But those students did not see me as a professor, so no one offered me a seat and I got knocked about. And city buses, like the one I caught, are free on campus, but that bus driver knew I was not a campus rider, so I would have to pay. (He bristled with annoyance and rolled his eyes when I told him that I was riding on campus, and so the ride was free and identification unnecessary.)
I was on my way to hear the wonderful Edwidge Danticat, a globally renowned Haitian-American author, discuss her book, Create Dangerously. It was, I seem to recall, one of those special invite conversations, not some two-thousand-seat public lecture. You had to be somebody (whatever that means) to be there. And I was that (law) somebody. (If you did not read that line to the tune of Aaliyah's 1998 bop, Are You That Somebody?, then you did it wrong.) As it turned out, just one other rider was taking this particular path to the Danticat event, though I did not realize it at the time. At some point, though, that other rider must have seen me. And I mean he saw me. He followed almost awkwardly close as I walked through the student union to the art museum venue where the talk was being held. About twenty feet before the entrance, the young man bounded around me. Before I had a chance to feel annoyed--"not again!"--he opened the door and held it there. As I hesitated, he nodded obsequiously, saying "Professor," as he motioned with his hand that I was to enter before him.
I had never seen that young man in my life, but he saw me. And I carried that experience back across campus into the diversity committee meeting, the student interviews, and the check-in with my tenure committee that would occupy the rest of my day. Because sometimes, it is nice to be seen. And, sometimes, I want you to know.
Yes, I have stories. I am fat. I am a religious minority. When I began teaching law, I was years shy of the average age of the student body. I am a black female law professor. I am the presumed incompetent paradigm. Of course, I have stories. I am an infinite well of them. And my stories, like those analyzed by Meera E. Deo in Unequal Profession, form part of a long and important history of knowledge construction--consciously raced and gendered knowledge production--by women of color.
Sojourner Truth's vivid imagery of the hard labor of enslavement--"Look at my arm! I have ploughed, and planted, and gathered into barns, and no man could head me! And ain't I a woman?" the Black woman as a cognizable subject. Ida B. Wells-Barnett's columns and pamphlets laid bare the truth of the American epidemic of White violence. Fannie Lou Hamer's painful testimony before the United States Congress recounted, in the language of Black America, the price extracted for the right to vote. When Rigoberta Menchú explicó cómo nació su consciencia revolucionaria con el asesino brutal de su hermano. Audre Lorde refusing to "pluck out" some one aspect of herself. When Gloria Anzaldúa and Cherríe Moraga gave space for radical women of color to speak in their own voices in This Bridge Called my Back. When Akasha Gloria Hull, Patricia Bell-Scott, and Barbara Smith gathered Black women to take the controversial political stance that "black women exist--and exist positively" in All the Women Are White, All the Blacks Are Men, But Some of Us Are Brave. When bell hooks kills rage born of a thousand assaults (or, as she calls them, "racialized incidents")--on planes, in classrooms, on television. Margaret Montoya, traversing fronteras with her máscaras y trenzas. Patricia Williams emerging from the "murk of unreality" to trace the map of law onto a raced and gendered existence. Saru Matambanadzo's searing mirror of the fourth trimester.
The list is long: Angela P. Harris, Stephanie A. Shields, Angela Mae Kupenda, Mari Matsuda, Carmen R. Lugo-Lugo, Delia D. Douglas, Sherrée Wilson, Kimberly R. Moffitt, Najarian Peters, Cyra A. Choudhury, Heather E. Harris, Diane A. Forbes Berthoud, Carliss Chatman, Linda Trinh Võ, Deirdre M. Bowen, Cerise L. Glenn, Angela Onwuachi-Willig, Serena Easton, Sylvia R. Lazos, Grace Chang, Margalynne J. Armstrong, Stephanie M. Wildman, Audrey McFarland, Michelle M. Jacob, Michelle A. Holling, Anita Hill, May C. Fu, Roe Bubar, Kari Lerum, Beth A. Boyd, Francisca de la Riva-Holly, Constance G. Anthony, Ruth Gordon, Yolanda Flores Niemann, Jamila Jefferson-Jones, Adrien K. Wing, Elvia R. Arriola, Jessica Lavariega Monforti, Mary-Antoinette Smith, Sherri L. Wallace, Sharon E. Moore, Linda L. Wilson, Toni Cade Bambara, Brenda G. Hart, Kelly Ervin, Gabriella Gutiérrez y Muhs, Carmen G. González, Jacquelyn Bridgeman, Lolita Buckner Inniss, Penelope Espinoza, Pamela Hoff, Cynthia Lee, Jessica Lavariega Monforti, Melissa R. Michelson, Jemimah Li Young, Dorothy E. Hines, Donna Castañeda, Athena Mutua, Yvette G. Flores, Lynn Fujiwara, Laura M. Padilla, Desdamona Rios, Jamiella Brooks, Amelia Ortega, Susie E. Nam, Sahar F. Aziz, Sarah Amira de la Garza, Jennifer M. Gómez, Rachelle A. C. Joplin, Marcia Allen Owens, Nellie Tran, Julia H. Chang, Meredith D. Clark, Grace Park, Yessenia Manzo, Melissa Michal Slocum, Stacey Patton, Rachel Tudor, Taja-Nia Henderson, Sheila I. Velez. Each of Deo's sixty-three women of color respondents. All these women of color continue the vital work of self-referential, self-validating, knowledge production. Our experiences. Our understanding. Our language. Our knowledge. Our truth. For us. By us.
Such epistemic work is intrinsically valuable. The experiences of women of color are routinely excluded from, or misconstrued and distorted in, what counts as knowledge. "Because elite White men control Western structures of knowledge validation, [and] their interests pervade the themes, paradigms, and epistemologies of traditional [thinking]." Even where the topic is women of color, "We become objects of study where we are authorized to be the story but have no special claim to decoding that story. We can be, but someone else gets to tell us what we mean." Defying this status quo, the "watchers" self-consciously center the knowledge of women of color, co-constructing that knowledge using dialogic narratives of the concrete lived experiences of themselves, their families, their friends, their neighbors, and their people. Their knowledge is not merely "anecdotal." Their knowledge does not lack rigor. Rather, it applies alternative standards for assessing truth; standards that are widely accepted in their epistemic communities. The watchers bear witness, defining, interpreting, and impacting their own realities on their own terms.
The constructivist epistemologies of women of color also have ontological implications. Indeed, they are fundamentally ontologically grounded. That is, the raw material out of which the raced and gendered knowledge is built is the lived experience and understandings of the knowledge producers it legitimizes. The being and the knowing are inextricably linked.
The knowledge created by the watchers, likewise, has performative content. It is not constructed in isolation but in dialogue that occurs in a wide range of spaces not traditionally sanctioned as sites for formal or academic knowledge construction--grassroots political work, music, poetry, film, beauty salons, kitchens, and other feminized spaces. Through dialogic processes, the ontological criteria are tested, and the constructed knowledge is disseminated and legitimized. Most often, the process is not one of raising consciousness; it "affirms, rearticulates, and provides a vehicle for expressing in public a consciousness that quite often already exists."
The performative content of this testimony is, moreover, not purely evidentiary. It is also an act of resistance. In creating knowledge and meaning for themselves, women of color "skillfully deflect the[] psychological attacks on their personhood, their adulthood, their dignity, the[] attempts to lure them into accepting definitions of them as inferior" that flow (intentionally or not) from their experiences as objects and not subjects of knowledge production. Paulo Freire describes this process--this reading of the world--as humanization, as the very meaning of freedom: "To exist, humanly, is to name the world, to change it."
In this paradigm of knowledge production, my stories--for I too am a watcher; I too bear witness--are not for the hegemonic white masculine gaze. The knowledge generated by my stories is not meant to be measured or qualified by the epistemic demands of white masculinity. Indeed, ideas, meaning, and interpretations may be fundamentally altered in the attempt to so translate and validate them. Our experiences. Our understanding. Our language. Our knowledge. Our truth. For us. By us.
Yet, spreading the stories--collecting them, memorializing them for mass consumption, cataloging them, and interpreting them through the valence of dominant epistemologies--is and has been the currency of change. Sojourner Truth delivered that speech to a crowd of white women as the only black woman in attendance. Fannie Lou Hamer testified before a white male Credentials Committee at Democratic National Convention. Ida B. Wells pushed her work to white people, with parallel printings in white newspapers and speaking tours for white audiences. This Bridge Called My Back was expressly envisioned for a large, mainstream audience. "Let the people see what they did to my boy," Mamie Till uttered when her son was brutally lynched. The stories, packaged for mass consumption, are the rhetorical fuel of interest convergence. Engaging the experiences, the suffering of others, "in all its real-life perplexities, compromises, and difficulties is ... an indispensable component of the quest for social understanding." And thus, translation and sharing feel urgent and necessary.
But still, it is dangerous. "It seems that the appetite for pictures showing bodies in pain is as keen, almost, as the desire for ones that show bodies naked." And our stories, our experiences, our language, our knowledge, our truth can morph imperceptibly into spectacle. Racial voyeurism. Marginalization pornography. "Eating the Other." Women of color become fountains of wisdom about alterity. Stripped of agency, we no longer name the world; we are objects in it. "We can be, but someone else gets to tell us what we mean."
This is the paradox of the watchers, and Unequal Profession sits at its heart. Deo presents the knowledge of sixty-three women of color in legal academia on their own terms, in their own voices. She places their experiences in dialogue and tests them by their own measure. I saw myself on each page. I heard my voice in each story. I was reminded of commiseration in the infamous LatCrit hospitality suite. I heard echoes of conversations I had at the Lutie A. Lytle Black Women Law Faculty Workshop. I saw reflections of wisdom I first learned at the Jerome Culp Colloquium. I read stories reminiscent of those shared at the Midwest People of Color Conference. I knew those women. I knew their stories. My experience was not one of realization; Unequal Profession did not raise my consciousness. Rather, it "affirmed, rearticulated, and provided a vehicle for expressing in public a consciousness that already exists."
[. . .]
But Unequal Profession also catalogs and interprets and validates that familiar consciousness using mainstream, empirical methods. Our experiences. Our understanding. Our language. Our knowledge. Our truth. By us. For them. In this vernacular, the call for radical systemic change in the institutional practices and cultural norms of the legal academy feels urgent and necessary. But the stories feel real and raw and, yes, a little bit voyeuristic. And that makes it dangerous
[. . .]
I have stories. I am a black female law professor. I am an infinite well of stories. My stories are truth. My stories are rigorous. My stories are mine and ours. My stories do not need the imprimatur of the dominant norms of knowing. But I am a watcher. I bear witness. I tell my stories. Because, sometimes, it is nice to be seen. And, sometimes, I want you to know.
---
Become a Patreon!