Abstract
Excerpted From: Sebastian O. Ross, A "Historic Westside" Story: Las Vegas Black History, Gaming Policy Effects on Black Employment, and Gaming Companies Leaving Money on the Table, 12 UNLV Gaming Law Journal 287 (Spring, 2022) (221 Footnotes) (Full Document)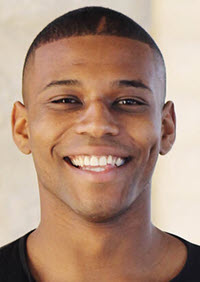 Imagine yourself as a pop-cultural music icon, with generational talent propelling you into a social class in which many others from your background could not imagine themselves in. Your talent commands societal influence over entertainment, politics, and culture. Ultimately, your intangibles and hard work land you a contract performing on the Las Vegas Strip. While hanging on each of your words, your fans are simultaneously mesmerized by your dancing. Given your seeming acceptance into society, it becomes hard to imagine the time when you were not in this social class. On a hot day in the Las Vegas desert, you decide to take a dip in a pool before hitting the stage that night. Within minutes of diving, you are pulled out to your chagrin. Shortly after, at the behest of guests, the pool water is drained and re-filled. All because of your Black skin.
This illustration reflects an account told of Sammy Davis Jr., the "Rat Pack's" lone Black member, as he jumped into a "whites-only" pool. Although the practice of de facto segregation from the early to mid-1900s is no longer prevalent in the world's "Gaming Capital," Las Vegas has a "unique" history with Black Americans. From a macro perspective, the United States has a "unique" history with Black Americans regarding injustice and a lack of equity.
A cellphone recording that captured the murder of George Floyd by a police officer during the summer of 2020 caused the United States to critically address race relations concerning Black Americans; perhaps in a generational-defining manner. What transpired, in part, was an analysis of how systemic racism has maintained its structures within corporate settings. This consideration applies to the Las Vegas gaming industry, as examples of homogenous hiring practices excluding Black Americans from "visible, upwardly mobile" roles have long been documented. Corporations are still exploring and publicizing their take on diversification solutions with annual reports such as Cultural Social Responsibility reports and Environmental Social Corporate Responsibility reports. However, some still wonder if these efforts produce any tangible effects.
This note aims to tell a story of concerted community civil rights activism and resilience that served as a proponent to the improvement of inclusive hiring opportunities for Black Americans and minorities in the Las Vegas hospitality and gaming industry. With inequitable policies in place, Black Las Vegas residents dealt with many impediments in gaining viable access to upward-fiscal mobility, including the lack of consideration for higher-paying roles in the gaming industry. Examining Las Vegas, as an example, suggests that social movements--such as the summer protests of 2020 throughout the United States--can factor into corporate hiring decisions that reflect a variety of different cultural perspectives.
This note describes the historical relationship between the Las Vegas hospitality industry and its cause-and-effect relationship with Black hospitality employees, in relation to the growth of the "Historic Westside" ("Westside"), a historically Black Las Vegas neighborhood. Later sections analyze corporate responsibility messaging that various gaming entities publish to reassure investors of their diversity and inclusion efforts. Although this messaging may seem appealing to the investor, the premise of the message is questioned when considering the lack of Black representation in corporate roles. Perhaps most important to the investor is how the lack of representation has a negative impact on business.
Although progress is displayed in the diversification of Las Vegas casinos relative to the overall workforce demographics in Nevada casinos, there is a distinction in demographics pertaining to Black American employment as property directors, board of directors, and other corporate roles for Las Vegas gaming venues. Despite improvements, Las Vegas' gaming industry has missed out on opportunities to diversify top-level corporate positions during a time when calls for diversity are increasing. Opportunities for employment diversification have persisted throughout different Las Vegas eras, each with its own unique set of challenges, yet a contemporary look at racial representation suggests the proposed changes were never made a priority.
Contributions from Black Las Vegas residents to the gaming industry have impacted the Las Vegas gaming industry's entertainment decisions, empowered the culinary union to reach a prominent level of influence, and helped state government agencies function. Although there are numerous examples of significant contributions in various gaming industry sectors, opportunities in corporate leadership roles have not been as prevalent.
[. . .]
In 2021, diversity in the Las Vegas gaming industry stands in contrast to Black entertainers--at the height of their career--being shunned from venues unless they were performing. However, one can point to objective numbers and challenge the effectiveness of diversity initiatives relating to C-suite positions. Even under adverse circumstances, Black Las Vegas residents made numerous historic contributions that had a positive impact on the gaming industry. These contributions indicate potential for Black residents (and employees) to have an even greater impact on the future of Las Vegas' gaming industry. So why not give Black candidates a chance?
Perhaps the most efficient manner for gaming companies to diversify their boards and high-level positions is a simple one: exercise gumption by making a deliberate decision to hire Black applicants. Deliberate action from gaming companies would not only position an entity to increase financial success, in an ever-growing globalized gaming economy, but it can also serve to counterbalance decades of inequitable Las Vegas policies that furthered systematic and systemic racism. And if it does not counterbalance decades of inequity, it at least serves as an effort to acknowledge the stacked odds impeding Black Las Vegas residents.
---
Editor-in-Chief, UNLV Gaming Law Journal, Volume 12. J.D. Candidate, May 2022, University of Nevada, Las Vegas, William S. Boyd School of Law.