---
Abstract
Excerpted From: Matthew L.M. Fletcher, On Indian Children and the Fifth Amendment, 80 Montana Law Review 99 (Winter, 2019) (141 Footnotes) (Full Document)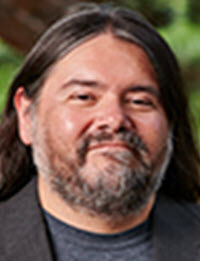 Many of my first memories revolve around my grandmother Laura Mamagona's apartment in Grand Rapids, Michigan. She shared the apartment with my uncle Crockett, who was a college student. Her apartment was the upstairs room of an old house on the side of a hill on College Street. My memories are mostly of domestic activities. Cooking. Sweeping. Sitting around. Playing with trains. Leafing through Crockett's Sports Illustrated magazine collection. Laura worked the night shift at the veteran's hospital across from Riverside Park. Early on weekday mornings, June, my mother, would drop me off at Laura's place in her VW bug, the first car I remember. I had my own crib at Laura's, one I can remember escaping pretty easily. Often, Laura would sleep most of the morning while I puttered around the house. Sometimes, Crockett would be there. Family lore tells that once, June dropped me off earlier than usual and Laura had worked a little late, so I was probably there alone for a short while. I heard the story so often growing up that I can seemingly remember that day, too. This was in the mid-1970s, before Congress enacted the Indian Child Welfare Act. Recently, my wife Wenona Singel discovered documents about Laura's childhood home life in the National Archives in Chicago. Wenona was there to research family boarding school histories. Laura's name as a young woman, Laura Stevens, was listed alongside several of her brothers and sisters as former students at Mount Pleasant Indian Industrial Boarding School. They were all born with the Pokagon surname, but Laura's dad, Peter Stevens, changed their names, thinking it would help the family blend in with white America. Laura never attended the boarding school, and instead spent those years in quarantine in a hospital in Kalamazoo. We think she tested positive for tuberculosis at the boarding school intake and was diverted to quarantine. While Laura was there in the hospital during several of her early teen years, her biological mother walked on. Laura had younger brothers and sisters in her family home in Allegan County, Michigan. So, Peter--who was single then--drove to Kalamazoo and took Laura home. As a young woman, but the oldest sibling left in the house, Laura was forced to replace her mom. The archive documents contain reports by social workers who visited the house, we think, on somewhat random occasions. They were spot checks, of sorts, by the State of Michigan, to see how this Indian family with no mother in the home was coming along.
The social workers detailed every aspect of the Stevens' home in the reports. They noted how many Bibles were in the house and where they were placed. They noted how many portraits of Jesus Christ there were and the location each was hung. They reported Laura's younger siblings were all dressed for company and quietly studying. They focused especially on teenaged Laura. There she was, sweeping the kitchen. There she was, cooking dinner. There she was, folding clothes. The social workers were impressed. Well, they were barely impressed. Laura was, after all, still an Indian. Reading the reports, one can't help but think that young Laura Stevens was the only thing stopping the State from taking Peter Stevens's kids away from him. Imagine if she had been out shopping on the day of the spot visit. The little Stevens kids would have been home alone, dishes in the sink and dirty clothes on the floor. Laura might have come home from shopping, and then later Peter from work, to find a home stripped of its children. However, this never came to be. Perhaps out of sheer luck, Laura was always home when the social workers showed up.
Laura walked on in 2001, but her relations (and mine) are enrolled with Michigan Indian tribes such as the Pokagon Band of Potawatomi Indians (Pokagon) and the Match-E-Be-Nash-She-Wish Band of Pottawatomi Indians (Gun Lake). Some of us are enrolled with the Grand Traverse Band of Ottawa and Chippewa Indians (GTB), our enrollment deriving from my grandfather David Mamagona's line and other relatives on Laura's side. The federal government did not recognize those tribes back when Laura was young. GTB was recognized in 1980, Pokagon in 1994, and Gun Lake in 1998. Federal recognition means that a tribe is eligible to receive services from the United States. Most tribes administer their own services in an arrangement rooted in self-determination where Congress appropriates funds to tribes, with the tribes acting as their own service providers. In other words, the tribes are government contractors. Tribes spend federal money, commingled with their own funds, to provide health care, housing, social services, public safety, education, and other services.
Federal recognition also means that a tribe is eligible to take advantage of the Indian Gaming Regulatory Act. All three of these tribes participate in gaming activities on their lands. In 1984, GTB was one of the first tribes in the nation to operate a reasonably successful gaming operation. Pokagon and Gun Lake were forced to litigate for many years before they could break ground on their gaming operations. Gun Lake was dragged to the Supreme Court twice. But now, all three tribes generate governmental revenue to fund tribal services from their gaming operations.
Indian people of these tribes, including my relations, have moved from abject poverty to lower middle class, in large part because of federal recognition. My mother, June Mamagona Fletcher, retired a few years ago. As a tribal citizen, she is eligible for health care services from her tribe, Gun Lake. All of her cousins, most of whom are of retirement age, finally have some semblance of stability. They have health care from the tribes. They have income assistance from tribal per capita payments. Laura's generation didn't have these benefits, and even my mother's generation didn't have them until they reached middle age or later.
I shudder to think about what would have happened to Laura's siblings had she not been there one day when the state social workers showed up. There was a good chance the State would have declared Peter Stevens to be an unfit father and taken his youngest children away. We know from the legislative history of the Indian Child Welfare Act that approximately one-quarter to one-third of all Indian children were taken from their homes in the middle decades of the twentieth century.
Laura and her younger siblings were lucky, sort of. Mount Pleasant Indian boarding school closed in 1934. They narrowly avoided removal by the State. But they would be forced to wait another half-century and more before GTB, Pokagon, and Gun Lake would finally be federally recognized.
My wife's family was not so lucky. Wenona's people are from northern lower Michigan. She is a citizen of the Little Traverse Bay Bands of Odawa Indians (LTBB), and a descendant of the Little River Band of Ottawa Indians (LRB), the Burt Lake Band of Ottawa and Chippewa Indians, and the Grand River Band of Ottawa Indians. LTBB and LRB were federally recognized the same day that Congress recognized Pokagon Band in 1994. But Burt Lake and Grand River still are not, despite being signatories to ratified treaties with the United States.
The State of Michigan removed Wenona's mother and all her aunts and uncles from their parents Hank and Lorraine Shananaquet, who lived in Emmet County, back in the 1950s. These Indian children were dispersed to non-Indian families around the country. Wenona's mother, my mother in law, Loretta, and her sister were placed with a non-Indian family in Detroit by Catholic Social Services.
When Wenona was four, her two-year-old sister Christina was taken by church officials in southeast Michigan and marketed to a non-Indian couple for adoption. Wenona's earliest memories are not like mine of bland domestic bliss, but instead she remembers missing Christina. Her memories are of pain, of not understanding why the most important person in her life was suddenly gone. Wenona eventually located her sister, who was living in Columbus, Ohio, where she grew up with the adoptive family. Wenona's sister is not enrolled at LTBB, even though she is eligible. Accordingly, tribal services are not available to her. She isn't part of the tribal community here in Michigan. She is a lost bird.
Wenona and I didn't know each other growing up. I grew up in Allegan County. She grew up in Wayne County. We went to college and law school in different states. We came together because we shared a client, the Grand Traverse Band, that was involved in gaming-related litigation in federal court. We eventually married and became parents. We have two boys, Owen and Emmett. After Owen was born, we knew that he was eligible for citizenship with as many as 6 of the 12 federally recognized tribes in Michigan. We joked that if we had enough kids, we could enroll them throughout Michigan and attend tribal membership meetings all year around. For one year we thought about where to enroll Owen. We eventually settled on GTB, my tribe. Some days we regret our decision, and some day Owen or his brother Emmett might try to change their enrollment. But it was a choice we made as parents. A political choice.
In Brackeen v. Zinke, a federal judge held that federal laws like the Indian Child Welfare Act (ICWA) that benefit Indian people who are not tribal citizens but merely eligible for enrollment, must be held to a strict scrutiny analysis under the equal protection component of the Fifth Amendment. This holding means that prior to their formal enrollment with GTB, any government services that GTB or the federal government provided to Owen and Emmett because of their relationship to their tribal citizen parents or their eligibility for citizenship at GTB and other tribes, are probably unconstitutional. The court held that ICWA, a statute that applies to all Indian children who are tribal citizens or eligible for enrollment with a federally recognized tribe, created legal classifications based on race, which triggered strict scrutiny analysis under the equal protection component of the Fifth Amendment's Due Process Clause. Until this decision, the courts had held that when a federal statute creates legal standards for Indians, Congress is acting in accordance with its political relationship with Indian tribes, irrespective of race. The court nevertheless concluded that any federal statute that establishes legal standards for Indian children who are not citizens of federally recognized tribes creates a classification based purely on race. And because ICWA applies to tribal members and non-enrolled persons eligible for membership, the court decided the entire statute was unconstitutional.
[. . .]
Reading the Brackeen ruling made me think of that night. Owen was less than two weeks old. There was no chance we could have enrolled him in such a short time frame, especially since we were moving from North Dakota to Michigan. If, for some impenetrable political reason, Minnesota child welfare officials took Owen, placed him in emergency care, and applied that decision, our Indian families would have lost a critical legal tool to bring him back. I find it unimaginable given the history of Indian removals in our families that the Indian Child Welfare Act, at least as interpreted by that federal judge in Texas, would not help. Indian people have come to depend on ICWA, even when it doesn't work as well as it could or should.
But it wasn't so long ago that there was no Indian Child Welfare Act. I think of Laura cleaning house and cooking for her family, carefully dusting the portraits of Jesus and placing Bibles around the house. I think of how close the Stevens family must have come to losing everything. I think of Wenona and Christina that day when the church took Christina and gave her away to a white family, how close Wenona might have been to suffering that same fate. It's such a thin line, the line that Indian people walk between safety and disaster.
---
Professor of Law & Director of the Indigenous Law and Policy Center at Michigan State University College of Law. Miigwetch to Greg Ablavsky, Barbara Creel, Kate Fort, Diane Humetewa, Anthony Johnstone, Monte Mills, Frank Pommersheim, Angela Riley, Neoshia Roemer, Wenona Singel, Rebecca Tsosie, Brian Upton, Monica Williamson, April Youpee-Roll, and Jennifer Shannon and the rest of the Montana Law Review editors. \