Become a Patreon!
---
Abstract
Excerpted From: Willie J. Epps, Jr., Resignation in Protest: Judge William Hastie's Uncompromising Battle Against Discriminatory Treatment of Blacks in the Armed Forces, 90 UMKC Law Review 549 (Spring, 2022) (210 Footnotes) (Full Document)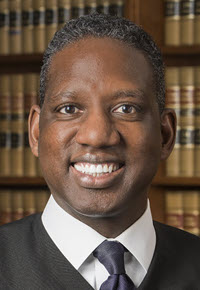 In November of 1940, less than a year before the attack on Pearl Harbor, Judge William H. Hastie was appointed to a prestigious position in the War Department to advise on policy concerning Blacks in the armed forces.
Judge Hastie found the status of Black officers had improved since World War I but remained "far from what it should be." He viewed reducing--or eliminating--segregation of the military as his primary mission, thus hoping "to change the status and institutional rejection of black soldiers." Yet, "the War Department and the Army's top brass made Hastie's work ineffective as they deliberately waged a campaign to dishearten him." In late 1942, Judge Hastie learned the Air Corps planned a segregated training installation for Black officers and ground crew at Jefferson Barracks in St. Louis, Missouri. Judge Hastie vociferously opposed the plan, which was modelled on the segregated Tuskegee air base in Alabama. His entreaty fell on deaf ears, as had his earlier complaints about segregated facilities. This incident was the last straw. In early 1943, in the midst of World War II, Judge Hastie "took the unprecedented step" of resigning in protest, creating "consternation in official Washington" and setting a new standard of "character, conduct and courage." "Never before--or since--had a Black resigned a post on his level to protest racism." Hastie was the highest ranking Black civilian in government, and, as reported by NAACP Secretary Walter White, confusion swept Washington at "a Negro giving up a fat salary and the prestige which goes with a high War Department post solely as a matter of principle." "[A]ll the more bewildering to the leaders of the government was that Hastie was not a wild-eyed radical. The grandson of slaves and the son of a government bureaucrat, he was, in fact, the epitome of the Black Establishment."
Judge Hastie was a trailblazer of many accomplishments--he was the first Black federal judge, the first Black governor of the Virgin Islands, the Dean of Howard University School of Law, and a member of President Franklin D. Roosevelt's "Black Cabinet." "But overshadowing all of these accomplishments was his partnership with Charles Houston and Thurgood Marshall in the most important lawyers' endeavor since the establishment of judicial review: developing the strategy and launching the litigation that, four years after Hastie was named to the Third Circuit, led to the overthrow of Plessy v. Ferguson."
This Article, however, is primarily about Judge Hastie's appointment, service, and resignation as Civilian Aide to the Secretary of War, and his fight to end segregation in the armed forces. Part II provides a biographical sketch of Judge Hastie. Part III examines the military service of Blacks from independence to the beginning of World War II. Part IV focuses on Judge Hastie's appointment and service as Civilian Aide to Secretary of War Henry L. Stimson. Part V, the bulk of the Article, details Judge Hastie's resignation from his Pentagon post. Finally, Part VI explores the impact of Judge Hastie's resignation.
[. . .]
Judge Hastie had an impactful, storied, and uplifting career as a public servant. His time within the War Department was no exception. As a Civilian Aide to the Secretary of War, he chiseled away at segregation that was imposed long before his arrival, but which would crumble within years after his departure. Judge Hastie's principled resignation sent tremors throughout the government and the public that helped crack, and eventually demolish, official segregation in the military. Judge Hastie's commitment to Black servicemembers--who themselves suffered during an era of racial terror yet doggedly fought at home for what they helped achieve abroad--contributed to the spirit that would launch the Civil Rights Movement, and to the courage to sustain that movement through years of violent and entrenched opposition. Although perhaps not as famous nor as celebrated as others, Judge William H. Hastie influenced generations of civil rights activists and truly served the public with uncanny excellence, unwavering discipline, and unshakable perseverance.
---
United States Magistrate Judge for the Western District of Missouri. A.B., 1992, Amherst College; J.D., 1995, Harvard Law School.
---
Become a Patreon!