---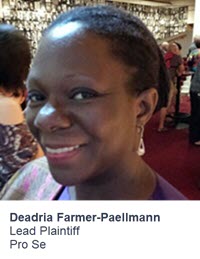 In re: AFRICAN-AMERICAN SLAVE DESCENDANTS LITIGATION DEADRIA FARMER-PAELLMANN, Timothy Hurdle, et al., Plaintiffs-Appellants, v. BROWN & WILLIAMSON TOBACCO CORPORATION, et al., Defendants-Appellees., Nos. 05-3265, 05-3266. (2005) Appeal from the United States District Court for the Northern District of Illinois, Eastern Division, No. 02 C 7764. The Honorable Charles R. Norgle, Sr., Judge Presiding. (United States Court of Appeals, Seventh Circuit.)
Attorney List (Omitted)
TABLE OF CONTENTS
PRELIMINARY STATEMENT
STATEMENT OF JURISDICTION
ISSUES PRESENTED FOR REVIEW
STATEMENT OF THE CASE
A. PROCEDURAL HISTORY
1. Dismissal on Standing Grounds
2. Dismissal because of "Political Question" Doctrine
3. Dismissal based on the Statute of Limitations
4. Dismissal based on Failure to State a Claim
STATEMENT OF FACTS
Representative Plaintiffs
Plaintiffs who are the living children of pre-1865 slaves
Plaintiffs in other degrees of descent from enslaved African Americans
Plaintiffs who were enslaved in the Twentieth Century
Corporate Defendants
Transportation Companties
Insurance Companies
Financial Institutions
SUMMARY OF ARGUMENT
ARGUMENT
STANDARD OF REVIEW
1. IN FINDING THAT PLAINTIFFS LACK STANDING TO BRING THE ACTION (AND THAT IT WAS BARRED BY STATUTES OF LIMITATION), THE COURT IGNORED THE INHERENTLY EQUITABLE NATURE OF THE CLAIMS THAT COMMAND A FLEXIBLE APPROACH TO SUCH CONCERNS
A. The Court misconceived the nature of the claim which, sounding in the equitable remedy of "disgorgement", is "fairly traceable" to defendant's actions
B. The Plaintiffs meet the Supreme Court's Lujan requirements for standing, despite the Court's erroneous holdings to the contrary
i. The Plaintiffs' SCAC alleges injuries in fact in line with Lujan and Supreme Court jurisprudence
ii. The Plaintiffs' SCAC alleges a causal connection between the injuries in fact and the defendants' complained of conduct in line with Lujan and Supreme Court jurisprudence
iii. The Court below failed to apply the proper standard for review on a motion to dismiss under Rule 12(b)
2. IN FINDING THAT PLAINTIFFS' ACTION IS BARRED BY STATUTES OF LIMITATION, THE COURT IGNORED THE INHERENTLY EQUITABLE NATURE OF THE CLAIMS AND THE UNIQUE CIRCUMSTANCES THAT COMMAND A FLEXIBLE APPROACH TO SUCH CONCERNS
A. Our nation's history mandates that the statute of limitations be tolled
B. Based on these unique circumstances, the statutes of limitation should be deemed equitably tolled and the plaintiffs be deemed to have standing to proceed.
C. Plaintiffs timely filed their complaints within two years of the disclosure and admission by defendants of their slave trading background
D. The State Consumer Protection claims were timely filed
3. THE DISTRICT COURT ERRED IN FINDING PLAINTIFFS' FUNDAMENTAL CLAIMS BARRED UNDER BAKER V. CARR LIMITATIONS
A. As Plaintiffs' Claims Arise Under Well-Known and Familiar Judicial Concepts of Equity, Unjust Enrichment and State Statutory Law, the Political Question is Not Implicated
i. The Court's Broad Power in Equity Supports the Fundamental Judicial Nature of Plaintiffs' Claim for Unjust Enrichment
ii. The Elements Necessary to Bring State Consumer Protection Statutes are "Well Developed" and "Familiar."
B. There has been no "textually demonstrable commitment" of the issue of reparations to the legislative branch
i. The Court Mischaracterized Plaintiffs' Claims as Sounding in a Legislative Remedy of Reparations Rather Than Unjust Enrichment
ii. Congress has not acted at all, much less with the "finality of action," Baker v. Carr at 210, required to find a "commitment" of the issue to the legislative branch
iii. The question of reparations has never been committed by the Constitution to the legislative or executive branches
C. The remaining factors under Baker v. Carr do not admit of a "political question"
D. The Court's procedural errors in assessing political question doctrine require remand
CONCLUSION
CERTIFICATE OF COMPLIANCE

Table of Authorities (Omitted)

PRELIMINARY STATEMENT
The case before this Court seeks to hold numerous corporate defendants liable for disgorgement of their profits earned and retained from profiteering, trading and financing American slavery, and, separately, for their current day misrepresentations to plaintiff consumers regarding their history in and involvement with the Slave trade. Plaintiff putative class representatives include: 1) the still living named children of persons enslaved prior to 1865; 2) persons enslaved in the American South in the 20th Century and their children and descendants; 3) other descendants in differing degrees of consanguinity to former slaves and; 4) plaintiff customers of defendants, harmed by defendants' current-day misrepresentations as to their prior involvement in slavery in violation of state consumer protection acts. Under theories long available in equity plaintiffs seek to have the defendant corporations disgorge any profits into a common benefit fund or public trust to be used for the benefit of all African-American slave descendants. Separately, plaintiffs seek damages for violation of their respective states' consumer protection laws.
STATEMENT OF JURISDICTION
The District Court had subject matter jurisdiction over plaintiffs' claims pursuant to 28 U.S.C.§§ 1331, 1350. These appeals are filed pursuant to the F.R.C.P. 54 providing for an immediate appeal from the court's July 6, 2004 Dismissal Order. Plaintiffs filed a timely Notice of Appeal on August 3, 2005.
ISSUES PRESENTED FOR REVIEW
1. The District Court erred in applying a heightened standard of pleading to plaintiffs' standing allegations in a Rule 12(b) motion to dismiss.
2. The District Court erred in finding no standing for: a) the living children of persons enslaved prior to 1865 who seek disgorgement of their parents' stolen earnings as the legal representatives of their parents' estates and; b) for other plaintiffs in different degrees of descent.
3. The District Court erred in finding no standing in connection with the state consumer protection claims.
4. The District Court erred in constructing its own factual/historical record to support its dismissal on political question grounds.
5. The District Court erred in applying the political question to bar the action.
6. The District Court erred in applying the political question bar to the current day consumer protection claims.
7. Alternatively, the District Court erred in finding that private compensation for slavery was an issue committed to Congress.
8. The District Court erred in dismissing the claims on Statute of Limitations grounds where: a) all claims were filed within 2 years of defendants' disclosure of their slave activities or; b) limitations do not bar equitable claims or; c) complaint alleged facts supporting the application of tolling theories.
9. The District Court erred by finding that the complaint did not plead a sufficient nexus between plaintiffs and defendants for purposes of a Rule 12(b) motion to dismiss.
10. The District Court erred by finding that the plaintiffs' allegations failed to state a claim for unjust enrichment.
STATEMENT OF THE CASE
A. Procedural History
From March 2002 until January 2003, nine actions were filed in five jurisdictions around the country. For purposes of coordinated and consolidated pretrial proceedings, all cases were consolidated before the Northern District of Illinois, Eastern Division on October 25, 2002. Subsequently, all plaintiffs filed a consolidated complaint and the defendants filed a joint motion to dismiss the complaint. This motion was granted without prejudice. In re African Slave Descendants' Litig., No. 1491, 304 F.Supp. 2d 1027 (N.D. Ill. 2004). Thereafter, the plaintiffs were granted leave to file a Second Consolidated Amended Complaint ("SCAC"). On July 6, 2005, the Court granted defendants' motion to dismiss with prejudice. (JA103). Plaintiffs' timely filed their notice of appeal.
The Court dismissed the complaint on four primary grounds.
1. Dismissal on Standing Grounds.
First, the Court concluded that none of the plaintiffs on any of the claims had a "sufficient stake in the matter to invoke the judicial process" (JA35) in that "merely alleging some genealogical relationship to African-Americans held in slavery over one-hundred, two-hundred, or three-hundred years" ago did not confer a sufficient personal injury and that by attempting to litigate the issue of slavery rather than personal injuries, plaintiffs also failed to show an injury "fairly traceable to the conduct of the defendants." (JA51)
2. Dismissal because of "Political Question" Doctrine.
Second, the court concluded that the complaint presented a non-justiciable political question on the grounds that: 1) the question of "reparations" for former slaves had been "committed to the Representative Branches of the federal government" (JA68); 2) there were no "judicially discoverable and manageable standards" as issues "involve too broad a span of conduct over too broad an expanse of time to be susceptible to any manageable judicial standard for resolution" (JA69); 3) that the "events surrounding slavery and the Civil War are so deeply rooted in our Nation's history," rendering judicial resolution impossible; 4) resolution of the case would require the Court to question legislative action spanning more than a century. (JA72).
3. Dismissal based on the Statute of Limitations.
Third, the Court concluded all claims were time barred in that: a) the plaintiffs did not allege sufficient factual allegations to sustain defenses under multiple tolling theories including continuing violation doctrine the discovery rule, equitable estoppel or equitable tolling and; b) the present day consumer protection claim did not allege "material" misrepresentations.
4. Dismissal based on Failure to State a Claim.
Fourth, the Court concluded that each of the plaintiffs' claims as to each plaintiff failed to state a claim as follows: The complaints failed to allege members of the conspiracy and their roles (JA28). The claim of replevin failed in that plaintiffs could not identify specific or tangible items. Plaintiffs' claims for negligent and intentional infliction of emotional distress fail where there is no identifiable duty of care that defendants owed plaintiffs. The state consumer protection claims failed where the pleadings did not allege harm or an ascertainable loss as a result of a breach of the statutory standard nor where plaintiffs failed to allege false representations related to a product or service.
STATEMENT OF FACTS
Representative Plaintiffs
Plaintiffs who are the living children of pre-1865 slaves.
Plaintiff representative Hannah Hurdle Toomey is the youngest surviving daughter of Andrew Jackson Toomey, who was born in 1845 and was a slave until the age of 16 years. SCAC80. She has petitioned the Circuit Court of Cook County Illinois to be appointed the independent administrator of her father's estate.
Plaintiff representative Julie Mae Wyatt Kervin is the daughter of Jake Wyatt and Louise Wyatt who were slaves in Wharton County, Texas until they were freed on June 19, 1865. SCAC88.
As the children of persons enslaved prior to 1865, plaintiffs Hannah Hurdle Toomey and Julie Mae Wyatt Kervin are their parents' legal representative and have asserted standing on the basis of their right to recover on behalf of their deceased parents' estates for the value of the lost wages and earnings taken from their parents and the lost profits consequently gained by defendants.
Plaintiffs in other degrees of descent from enslaved African Americans.
Edlee Bankhead was born in 1883, only 20 years after the Emancipation to parents who were both enslaved. Bankhead passed away during the pendency of the litigation. Bankhead described the life of his parents, "back then, black folks was no more than animals. They were just bought and sold." Bankhead himself saw a hard life of physical labor. He further described sharecropping where each family under a boss was given a pack of meal and a pound of meat per week:
We worked. Harvest time come and then we didn't have nothing. They [the landowners] would take everything. Many of them got sick doing that...
SCAC75.
Plaintiff representative Deadria Farmer-Paellmann, the lead originating plaintiff in these actions, is the great-great granddaughter of Clara and Abel Hinds, African Americans enslaved on a South Carolina sea island rice plantation. On the eve of the Civil War, they ran from their slave master. SCAC65. Defendant Aetna has acknowledged holding an insurance policy on the slave Abel, the name of Farmer-Paellmann's ancestor from the same geographic region. Defendant's record of the policy notes that the policy was "paid" thereby linking it directly to Farmer-Paellmann's ancestor Abel who fled his master, an event that would trigger payment under a slave insurance policy. SCAC65.
Richard E. Barber Sr. is the grandson and great-grandson of enslaved Americans. His great-grandfather, Peter Barber was born into slavery in 1820 in Trenton, North Carolina. His grandfather, William Mae Barber was likewise born into slavery in 1840 along with his three sisters, Anna, Hula and Julia and his two brothers, John and Seth. Peter Barber was a farmer and William Mae a master carpenter. William Mae Barber built many of the stately homes that still stand along Route 58 in Trenton, North Carolina. The plaintiff recalls delivering newspapers, cutting lawns and raking leaves of many of the residents of the homes his grandfather built. Richard Barber's father, John, was s sharecropper.
Plaintiffs who were enslaved in the Twentieth Century.
Cain Wall, Sr. is a resident of Louisiana who was enslaved through the 1960's. His father and grandfather were formerly enslaved. His seven living children, also plaintiffs in the litigation, were former enslaved. He and his children were subject to forced labor without compensation. Mr. Wall and his family were forced to live in the slave quarters of a plantation that grew numerous agricultural crops such as cotton and rice and sugar. His trips with the master took him to drop off bales of cotton, next to train tracks that ran through Mississippi and/or Louisiana. He also dropped bales of cotton off at the cotton mills. Mr. Wall and his family experienced the horrors of slavery first hand, including, the murder of relatives by a slave master, physical beatings and physical intimidation purposely designed to prevent him from running away. During the time the Mr. Wall was enslaved, one or more of the defendants were doing business in Mississippi or Louisiana. Some of the defendants had reason to know of the enslavement of Cain Wall and yet failed to take steps to eliminate same, while they continued to inure benefits from the illegal, but sanctioned system of servitude post-emancipation.
Corporate Defendants
Banks
The complaint alleges certain defendants helped finance the slave trade. For instance, FleetBoston (currently Bank of America), the successor in interest to Providence Bank, was founded by businessman John Brown, who engaged in the transatlantic slave trade and was convicted in federal court of illegally participating in the trade. Upon information and belief, Providence Bank lent significant funds to Brown while knowing that he was participating in the trade, thus profiting from the illegal trade. FleetBoston through its predecessors also collected custom fees due from ships transporting slaves, when such was illegal under Rhode Island law.
Moreover, when FleetBoston was approached by various members of the general public to verify its historical connection to slavery, it denied such a connection. For instance in an article appearing in the Hartford Courant dated March 10, 2000, a FleetBoston spokesman was quoted as saying that it appears that there is no connection to Brown's bank, though FleetBoston doesn't have records that date back 200 years. SCAC200 FleetBoston knew while it was making this statement that it was misleading and/or untrue. In fact, in 2004, Bank of America admitted slavery ties.
Transportation Companies
Certain transportation defendants either profited by transporting slaves or from the use of slave labor to construct train lines. For example, CSX, a train company, and its predecessor entities utilized slave labor in the construction of trucks and operation if its trains. It also transported enslaved Africans and leased and maintained ownership and control of enslaved Africans. SCAC 129-131
Insurance Companies
Certain insurance companies profited from insuring the lives of slaves knowing full well the nature of the horrors of slavery. For instance, defendant Aetna's predecessor in interest facilitated the instrumentality of slavery by underwriting insurance policies for slave owners for the loss of their African slaves. Aetna knew well the horror of slave life as evidenced by a rider through which the company declined to pay the premiums for slaves who were lynched or worked to death or who committed suicide. Aetna routinely insured the lives of enslaved Africans who worked in the agricultural industry in which many of the plaintiffs and plaintiffs' ancestors were enslaved.
Financial Institutions
Defendant financial institutions either brokered in slave-grown crops, or provided loans to those it knew were active participants in the slave trade. In some instances they acquired plantations and slaves when loans were foreclosed.
For instance, Defendant Brown Brothers Harriman, a financial institution founded by James and William Brown, built their merchant bank by lending to southern planters, brokering slave grown cotton and acting as a clearinghouse for the South's complex financial system. It earned commissions arranging cotton shipments from southern ports to mills in New England and Britain and loaned millions directly to planters, merchants and cotton brokers throughout the South. When those planters or their banks failed, Brown Brothers used its local agents to run repossessed plantations that included enslaved Africans. Louisiana court records dating back to the 1840s reveal the firm's ownership of at least two plantations totaling 4,614 acres and 346 slaves. On or about September 30, 2002, Brown Brothers' partner, Donald Murphy emailed this statement to the News Network, "today's firm has no capital or earnings connection with the Browns of the 19th Century." Brown Brothers knew while making this statement that it was misleading or untrue. SCAC145-153, 248.
Defendant JP Morgan Chase's two predecessor banks were a consortium formed to raise money to insure slavery. Morgan Chase attempted to deny its association with slavery in the press in or about January 2003 after other evidence, including a circular, showed information to the contrary. SCAC181 In multiple statements, on January 21, 2003, September 4, 2002 and February 21, 2002, JP Morgan Chase representatives made reference to an examination of their archives failing to produce evidence of predecessor banks ever profiting from slavery. SCAC235-38 JP Morgan Chase, knew that they were misleading or untrue. In or about June 2005, JP Morgan acknowledged that two of its predecessor entities had profited from the slave trade.
SUMMARY OF ARGUMENT
In reaching the extraordinary conclusion that no claim could proceed toward discovery, the Court below applied a heightened standard of justiciability essentially finding that Article III standing required proving to a "certainty" the equivalent of pleading and a conclusion wholly inconsistent with the law in this Circuit and of the Supreme Court. The Court misapplied the facts undergirding its justiciability determination of the slavery era claim to the modern day claims of breach of consumer protection.
Factually, the Court below did not recognize the separate grounds of standing of several plaintiffs, the actual first generation living children of persons enslaved prior to 1865 who indisputably would have standing under state laws to represent the estates of their parents.
The Court further misapplied the political question doctrine, mistakenly finding that because an issue could be resolved in a political forum, the Court was precluded from addressing it in a judicial forum. The Court's reliance on its own historical account of Civil War history to support was in error where this historical account was not part of the record below and involved disputed questions of fact which were improperly decided on a motion to dismiss; the Court's historical analysis is inherently subjective and inappropriate as a basis on which to conclude a lack of standing.
The Court's dismissal on statute of limitation grounds was premature on a motion to dismiss where there were equitable tolling arguments raising factual issues that in this early phase typically involve an opportunity for discovery and factual development.
The Court misapplied a heightened pleading standard to each count of defendants' complaint where this Circuit consistently requires notice pleading.
ARGUMENT
STANDARD OF REVIEW
As to all issues below, a Court's dismissal for failure to state a claim upon which relief may be granted is reviewed de novo, assuming all factual allegations in the complaint to be true and drawing all reasonable inferences in the plaintiff's favor. Boim v. Quranic Literacy Institute and Holyland Foundation for Relief and Development, 292 F.3d 1000, 1008 (7th Cir. 2002). Dismissal should be affirmed "only if it appears beyond doubt that the plaintiffs can prove no set of facts in support of their claim that would entitle them to relief." Boim, 292 F.3d at 1002, citing Slaney v. The International Amateur Athletic Federation, 244 F.3d 580, 597 (7th Cir. 2001).
1. In finding that Plaintiffs lack standing to bring the action (and that it was barred by statutes of limitation), the Court ignored the inherently equitable nature of the claims that command a flexible approach to such concerns.
A. The Court misconceived the nature of the claim which, sounding in the equitable remedy of "disgorgement", is "fairly traceable" to defendants' actions.
The Court below seemed inclined to dismiss the insidious evil of American slavery and the wrongful retention of corporate profits derived from slave interests, with the simple and deceptively comforting language of judicial complacency:
Plaintiffs' complaint can be reduced to the following syllogism: Defendants or their predecessors allegedly profited from the unpaid labor of former slaves, and Plaintiffs are descendants of former slaves, therefore, Plaintiffs are entitled to some of Defendants' profits. Dismissal78.
With this neat algebraic analysis, the Court ignores the well-stated gravamen of the complaint that retained earnings from slave trading and financing still held by defendants should be disgorged as improperly attained, "ill-gotten" gains. SCAC278-279, 289. Nowhere do the plaintiffs make the claim that they "are entitled to some of Defendants' profits". Dismissal75. Rather, their claim is that the defendants who attained ill-gotten profits through enslavement should not, under equitable principles, be permitted to retain such earnings that should be deposited into a public trust under cy pres principles. Disgorgement, being directed to depriving "wrongdoers of ill-gotten gains," CFTC v. Hunt, 591 F.2d 1211, 1222 (7th Cir. 1979), is "not [intended] to compensate the victims..." Estate of Pidcock v. Sunnyland America, Inc., 726 F. Supp. 1322 (S.D. Georgia, 1989); and plaintiffs make no such claim.
B. The Plaintiffs meet the Supreme Court's Lujan requirements for standing, despite the Court's erroneous holdings to the contrary.
In Lujan v. Defenders of Wildlife, 504 U.S. 555, 560 (1992), the Supreme Court set forth the three components of Article III standing:
First, the plaintiff must have suffered an injury in fact -- an invasion of a legally protected interest which is (a) concrete and particularized (the injury must affect the plaintiff in a personal and individual way) (b) actual or imminent, not conjectural or hypothetical. Second, there must be a causal connection between the injury and the conduct complained of -- the injury has to be fairly traceable to the challenged action of the defendant, and not the result of the independent action of some third party not before the court. Third, it must be "likely," as opposed to merely "speculative," that the injury will be "redressed by a favorable decision. Lujan, 504 U.S. at 560-561. (Citations and quotations omitted).
i. The Plaintiffs' SCAC alleges injuries in fact in line with Lujan and Supreme Court jurisprudence
Contrary to the Court's findings in support of its dismissal of all of plaintiffs' claims, allegations of misrepresentation and deception made by the plaintiffs against these defendants were adequately pled - general factual allegations of injury resulting from the defendants' conduct suffice on a motion to dismiss where the court "presume[s] that general allegations embrace those specific facts that are necessary to support the claim." Lujan, 504 U.S. at 561. The complaints contain express allegations that: 1) defendants' economic activities have caused the theft of the plaintiffs' ancestors earnings that have been unjustly retained by defendants and; 2) that defendants concealed their slave financing and trading history from consumers, a direct violation of the various consumer fraud statutes in New Jersey, New York, Texas, Louisiana and Illinois (and, as discussed in the separately filed brief, California). These assertions meet the criteria for notice pleading to survive a motion to dismiss.
Standing is not a rigid, inflexible doctrine and "often turns on the nature and source of the claim asserted." Warth v. Seldin, 422 U.S. 490, 500 (1975); see also Allen v. Wright, 468 U.S. 737, 751 (1984)(standing, even in light of "prudential" concerns, is a highly variable concept that must be tailored to the nature and character of the particular action, not employed as a reflexive instrument of dismissal).
Standing is inherently keyed to the particular nature of the interest asserted in the complaint. Japan Whaling Association v. American Cetacean Society, 478 U.S. 221 (1986). Plaintiffs therein challenged the manner in which the government was to monitor Japanese whale harvests under the International Convention for the Regulation of Whaling. The Court held that the plaintiffs had standing "in that the whale watching and studying of their members will be adversely affected by continued whale harvesting..." Japan Whaling at 230.
Japan Whaling upheld standing not upon a concrete injury suffered by plaintiffs, but based upon the possibility that the government's monitoring procedures could result in a future diminution of the stock of whales. Plaintiffs had no ownership interest in the targeted animal herd, had no ownership interest in the venue of the hunt nor could they declare as a factual matter that their future interests would be injured by the deaths of whales. Despite this, the Court recognized their representative capacity to speak for the future interests of their whale-watching members. Therefore, the concept of a "concrete and particularized" injury must be considered in context of the inherent nature of the claimed damages/remedy.
The instant action, in part seeking disgorgement of improperly attained slave-era earnings, is not a mere "generalized grievance ... common to all members of the public," but is a particularized claim relating directly to descendants of enslaved Africans who stand in a far stronger analytical position than the members of the whaling watching groups in Japan Whaling. In contrast to the relatively inchoate claims in Japan Whaling, plaintiffs here assert a demand for disgorgement of profits based upon wages that were undeniably stolen from their ancestors, whose enslavement is not disputed and whose underlying claims are ripe under prevailing principles of equity.
In Richardson, standing was denied because of the generalized nature of the claim that was uniform to all members of the public and which had no particularized factual nexus to a discrete and given minority. Richardson at 171, 176-177 (taxpayers lack standing to challenge government's failure to disclose the expenditures of the Central Intelligence Agency). In contrast, the very basis of the instant action is the plaintiffs' descent from enslaved Americans whose labor was stolen, a far-from-generalized grievance and one that cannot be shared by persons not members of this discrete class of the citizenry.
An injury in fact "requires that the party seeking review be himself among the injured." Lujan, 504 U.S. at 563. Since plaintiffs have been denied the ability to inherit the lost wages and earnings of their parents (and other ancestors), they have a concrete interest in the fund of ill-gotten profits held by defendants that satisfies the reduced evidentiary burden for establishing standing at the pleading stage. See Lujan, 504 U.S. at 561, citing Lujan v. National Wildlife Federation, 497 U.S. 871, 883-889 (1990). Separately, as current day consumers, Plaintiffs have specifically alleged that they have been clients and customers of defendants and have been denied accurate information as to defendants' past involvement in slave trading, financing, insuring and employment of slaves in violation of the various state consumer fraud statutes, further satisfying Lujan's pleading/standing requirements as to the state consumer fraud claims.
The Court's conclusions that the "injuries alleged in Plaintiffs' status as consumer of defendants do not establish a legally cognizable injury" and "[a]side from alleging a general state of confusion, the Plaintiffs fail to allege any injury- in- fact that has come about as a result of that confusion," Dismissal49, is belied by the allegations under each state claim that the "Continued Intentional Misrepresentations were a direct, foreseeable, producing, and proximate cause of monetary and other economic damages to Plaintiffs and the other members of the Class ...." SCAC321, 331,339,348,357,365 (emphasis added). Likewise, under the Illinois UDAP statute, all the plaintiff need allege is that he/she is "a consumer" for the Court to confer standing. Illinois UDAP § 505/2. Similarly, the Court's discussion on constitutional standing has no application given the allegations where the plaintiffs have precisely alleged harm, but even where it true that a state statute that dispenses with the requirement that an injury be alleged does not, and cannot abrogate constitutional limitations imposed by Article III..." Dismissal48 cannot be a basis to dismiss the SCAC on a separate ground, as the defendants have wisely not argued that the state statutes are unconstitutional in this regard, nor have the defendants pointed to a consumer protection statute that has been voided on such a ground.
Standing doctrine is not intended to bar access to the courts, but to define cognizable legal interests. In Griswold v. Connecticut, for example, the Court recognized the right of physicians to challenge a state law prohibiting sale or distribution of contraceptives to married persons. "We think that appellants have standing to raise the constitutional rights of the married people with whom they had a professional relationship...". 381 U.S. 479, 481 (1965). Griswold is significant in that there was no reason the married persons themselves could not have brought the action, yet the representative plaintiffs were accorded standing. See also Eisenstadt v. Baird, 405 U.S. 438, 446 (1972) (distributor of contraceptives was granted standing to assert rights of unmarried persons denied access to contraceptives under Massachusetts law.)
It is no bar to standing that the plaintiffs have no "certainty" that they would have inherited the stolen wealth of their ancestors, as the Court opined. Dismissal42. In Regents of the University of California v. Bakke, 438 U.S. 265 (1978), the Supreme Court recognized standing in a plaintiff who claimed he was illegally denied admission to a medical school because of racial quotas even though he could make no showing that he would have been admitted in the absence of the challenged affirmative action program. Id. at 280-281. Just as Bakke was denied the opportunity to compete for a place in the medical school, plaintiffs, some of whom are the living children of former slaves, assert that they have been denied the opportunity to inherit their parents' stolen wealth - indeed, their claim to standing is stronger than Bakke's since their parent's wealth would normally have flowed to them as the heirs of their parents while Bakke's admission to the medical school was wholly speculative. As the district court recognized in Rosner v. United States, 231 F.Supp. 2d 1202, 1208 (S.D. Fla. 2002), the well-pleaded complaint itself is sufficient to address standing concerns. Rosner, 231 F.Supp. 2d at 1205; see also Metropolitan Washington Airports Authority v. Citizens for the Abatement of Aircraft Noise, Inc., 501 U.S. 252, 264-265 (1991)(citizens' group granted standing based on their allegations of potential harm from change in airport administration.).
Plaintiffs' claims embrace "distinct and palpable" grounds of redressability, Whitmore v. Arkansas, 495 U.S. 149, 155 (1990), far more specific and concrete than were available to any of the plaintiffs in the aforementioned actions, many of whom could lay no claim at all to a personal adverse relationship with the defendants. If environmentalists may assert the rights of whales and doctors their patients, Griswold, supra, then the actual living children (and descendents in other degrees of former slaves) must be deemed to have standing to assert a claim for disgorgement of the stolen wealth of their parents and ancestors. Assuming that ill-gotten profits have been retained as alleged, there can be no one with a greater or more concrete interest in seeking the disgorgement of such monies than the descendants of former slaves.
ii. The Plaintiffs' SCAC alleges a causal connection between the injuries in fact and the defendants' complained of conduct in line with Lujan and Supreme Court jurisprudence.
Critical to the Lujan analysis is the Supreme Court's teaching that the injury has to be "fairly traceable to the challenged action of the defendant and not the result of the independent action of some third party not before the court". Lujan at 560 (emphasis added). But instead of applying this standard, that the injury must be "fairly traceable" to the defendants, the Court below held that the plaintiffs had failed to prove "to a virtual certainty" a causal connection between the alleged injury and the defendants' complained of conduct. Dismissal42. Nowhere does Baker or its progeny, including the most recent pronouncement in Lujan, make or impose a standard of "virtual certainty" to establish mere standing, but only that the "injury be fairly traceable" to the defendants' actions. Baker v. Carr, 369 U.S. 186 (1962), Lujan at 560-561 [emphasis added]. The sole authority cited by the Court for this gross departure from the Supreme Court's teaching in Lujan is a single law review article, hardly a basis for departing from a plainly stated Supreme Court teaching and decades of consistent dismissal standard jurisprudence. Regardless of all other issues, this matter should be remanded to the District Court for review of the standing question using the correct [Lujan] test.
Plaintiffs more than adequately satisfy Lujan's "fairly traceable" test. Plaintiffs allege injuries related to the defendants' acquisition of profits through the financing of slave purchases. The Plaintiffs allege that the defendants engaged in slave financing, insuring and employment that led to the acquisition of unjustly attained profits. In fact, three defendants, Aetna, J.P. Morgan and FleetBoston (now Bank of America) have already admitted their involvement in slavery prior to filing their answers in this case. The defendants' unjust enrichment is thus "causally connected" and "fairly traceable" to the factual predicates of the complaint.
Plaintiffs need not allege "but for" causation to establish standing. The courts have fashioned numerous theories around a rigid interpretation causation where the ends of a traditional test would be to thwart justice. Bryne v. Boodle, 159 Eng. Rep, 299, 300 (Ex. 1863) (earliest case utilizing res ipsa loqitur); Summers v Tice, 33 Cal. 2d 80, 86-88 (1984)(enterprise theory); Hall v. E.I. Dupont De Nemours, 345 F. Supp. 252, 373-374 (E.D.N.Y. 1972) (entire industry sued where children injured by blasting and could not identify manufacturers); Carabello v. Fernandez-Larios, 402 F.Supp.3d 1148 (11th Cir. 2005)(aiding and abetting theory applied to civil human rights where no direct participation by defendants) McMahon v. Eli Lilly & Co., 774 F.32 830 (7th Cir. 1985) (claims allowed of third generation plaintiffs harmed by their grandmothers ingestion of DES allowed even where plaintiffs could not identify manufacturers); James Bessemer Processing Co., 155 N.J. 279, 301-302 (1998)(court describes "frequency, regularity and proximity" test in asbestos cases in lieu of proof of direct causation).
There can be no reasonable dispute that the plaintiffs have expressly and specifically pled the required standing nexus in their claims for violations of the state consumer fraud laws.
iii. The Court below failed to apply the proper standard for review on a motion to dismiss under Rule 12(b).
Unlike the Court's approach, the district judge in Rosner, 231 F.Supp. at 1208, concerned with an analytically similar case, understood that on a motion to dismiss, where the court must accept the plaintiffs' well-pleaded allegations as true, questions of fact as to whether the named plaintiffs will be able to establish a direct link to the looted or stolen property must await an evidentiary phase. As the Rosner court stated:
As to the named Plaintiffs, it is not clear, based upon the Complaint, that their belongings were specifically identifiable Gold Train property. Plaintiffs will need to be prepared to address this issue during discovery, and if a named Plaintiff cannot demonstrate identifiable property, he or she will not be able to pursue a claim for an implied-in-fact contract for bailment. 231 F.Supp. 2d at 1205.
Rosner's approach comports with the traditional standard on a Rule 12(b)(6) motion to dismiss in which a complaint need only provide a short and plain statement of the claim and the grounds on which it rests. Conley v. Gibson, 355 U.S. 41 (1957). A court may dismiss a complaint for failure to state a claim only if it is clear that no relief could be granted under any set of facts that could be proved consistent with the allegations. Hishon v. King & Spalding, 467 U.S. 69, 73 (1984)(emphasis added). The court must accept all the complaint's well-pled factual allegations as true and draw all reasonable inferences in the non-movant's favor. Scheuer, 416 U.S. at 236. The traditional threshold of sufficiency that a complaint must meet to survive a motion to dismiss is exceedingly low. Ancata v. Prison Health Services, Inc., 769 F.2d 700, 703 (11th Cir. 1985). The test is identical on a Rule 12(b)(1) motion that makes a facial challenge to the pleading. Lawrence v. Dunbar, 919 F.2d 1525, 1529 (11th Cir. 1990).
Since no factual attack was made on the motion before the Court by means of testimony or affidavits, the motion was never converted into a Rule 56 summary judgment proceeding and the court should have applied the threshold applicable to a Rule 12(b) motion to dismiss and not subjected the complaint to a summary judgment or trial-type evidentiary test.
Numerous aspects of the Court's opinion demonstrate how far the court strayed from this prudential standard. For example, the Court observed that "there may well be no perfect method of determining exactly who is a descendant of a slave," Dismissal 16, noting the "failure" of genealogical research, blood line mapping, genetic mapping or DNA testing to determine a slave descendant's status, Id., an inquiry that was not within his purview on a Rule 12(b) motion to dismiss where the court is required to accept the plaintiffs' well-pled allegations as true. See, e.g., Scheuer, 416 U.S. at 236. Plaintiffs have expressly and specifically pled their descent from American slaves, some even alleging specifically that they are the children of pre-1865 slaves, others alleging their own actual enslavement in the 20th Century, and all have alleged with specificity their precise line of descent from named individual slaves whose place of enslavement and whose manner of termination of enslavement has also been pled with particularity. Under the standards governing a facial challenge under Rule 12(b)(1) or (6) motion, the Court was required to accept these well-pled allegations as true, Lawrence v. Dunbar, 919 F.2d at 1529; Williamson v. Tucker, 645 F.2d 404, 412 (5th Cir.), cert. denied, 454 U.S. 897 (1981), not to conclude the impossibility of managing such inquiries on the basis of pseudo-scientific inferences before discovery had even commenced or expert testimony could be presented.
Similarly, the court's conclusions as to the quality of the defendants' evidence establishing a nexus between the slaves and the defendants are also misplaced on a motion to dismiss since the plaintiffs have alleged injury by these defendants and any further testing of that evidence must be made on a motion for summary judgment or a Rule 12(b)(6) motion converted to a Rule 56 motion, neither of which were before the Court. Where "jurisdiction [is] 'inextricably intertwined' with the merits of the lawsuit the case should be "remanded for further discovery of jurisdictional facts." Lawrence v. Dunbar, 919 F.2d at 1529. See also, Eaton v. Dorchester Development, Inc., 692 F.2d 727 (11th Cir. 1982); Chatham Condominium Ass'n v. Century Village, Inc. , 597 F.2d 1002, 1011-1012 (5th Cir. 1979). Prudential concerns dictate that such premature dismissal be granted "sparingly".Hospital Building Co. v. Trustees of Rex Hospital, 425 U.S. 738, 746-47 (1976).
As an example of the factual specificity of the pleadings, at least one plaintiff, Deadria Farmer-Paellmann, has alleged direct descent from a slave whose life was insured under a slave policy by defendant Aetna and two other defendants, J.P. Morgan and FleetBoston, have also admitted their slave trading record. As in Rosner, under rules of notice pleading, such assertions must be accepted as true by the court subject to plaintiffs' later evidentiary proceedings. The Court's error was to disregard the rules of notice pleading and treat these claims as subject to the standard of proof at trial, rather than the well-pleaded complaint rule applicable to a Rule 12(b) motion. As recognized in Rosner, plaintiffs will have to meet a more stringent evidentiary test at trial or on a motion for summary judgment, but no such stage has yet been reached.
2. In finding that Plaintiffs' action is barred by statutes of limitation, the Court ignored the inherently equitable nature of the claims and the unique circumstances that command a flexible approach to such concerns.
A. Our nation's history mandates that the statute of limitations be tolled.
Perhaps the most troubling aspect of the decision below is the almost dismissive manner in which the Court assumes that conditions following the Civil War permitted freed slaves to simply commence action for reparations against those financial institutions that had enslaved them and their children and had stolen their lives' labor. One wonders just what history the Court focused upon in reaching its conclusion that freed African Americans were under no bar to bringing these actions within the statue of limitations, presumably two years following the legal termination of slavery in 1866 after the passage of the 13th Amendment.
Throughout the period of slavery right through to 1865 slaves were prohibited by law from being educated and even their owners were subject to criminal penalties if they taught a slave to read, write or understand mathematics. Virtually every slave state maintained laws that prohibited slaves from testifying in any court action against a white even where the slave was on trial in a capital case. Just how were the freed slaves -- illiterates by law, isolated peasants kept from any knowledge of the financial and business world, scorned by white society, bereft of lawyers and the resources to hire lawyers, denied by tradition of any standing in their state courts -- to have been expected to have brought action for reparation or any other claim within two years of the close of the Civil War so as to meet the Statute of Limitations? Is our law so empty as to be toyed with by such assumptions? Justice is blind only in its neutrality, not in its duty to accept reality.
The fallacy of the Court's reasoning can be seen by even the most cursory review of the history of the Fourteenth Amendment. Passed into law in 1868, it guaranteed to the freed slaves equal protection of the law, but it was not until 1954, when Brown v. Board of Education, 347 U.S. 483 (1954) was decided, ninety years after the Fourteenth Amendment was enacted, that the courts finally recognized that the Amendment barred legislative segregation of the races. In Plessy v. Fergusen, 163 U.S. 537 (1896), adjudicated in 1896 still within the lifetimes of most freed slaves, the Supreme Court assumed that the 14th Amendment permitted government sanctioned segregation, a decision that rendered impotent for another sixty years all African American claims to judicial redress for discrimination. Yet in spite of this well-known judicial history, the Court below insists that the freed slaves lived in a legal environment that would have facilitated a fair and neutral forum for the adjudication of highly complex claims for disgorgement of wrongfully obtained profits even in the face of widespread illiteracy, poverty, destitution and dependence upon their former masters.
A court in an appropriate case may temper the application of the bar of statute of limitations in exercise of its equitable powers. Cf. Catawba Indian Tribe v. United States, 982 F.2d 1564 (Fed. Cir. 1993), quoting Irwin v. Veterans Admin., 498 U.S. 89 (1990). It is clear from the history of the United States in the decades following the Civil War and, particularly after the judicial travesty of Plessy, that the living generation of freed slaves and their immediate descendants were not the parties "most likely to be the most successful ones to assert their own rights," Singleton v. Wulff, 428 U.S. 106, 113-116 (1976), burdened as they were by the scorn of society, state-imposed illiteracy, judicial hostility, lynchings (nearly 4,000 alone between 1877 and 1920), exclusion from virtually all institutions of higher education, and forced, in most cases, to struggle for bare economic subsistence. Lujan's lynchpin of "direct causal relation" between the plaintiff and the injury assumes a class of plaintiffs capable of asserting their rights and not debarred by society from seeking effective redress from the courts. As recognized in Warth v. Seldin, these are extraordinary circumstances, i.e., "countervailing considerations," that "outweigh the concerns underlying the usual reluctance to exert judicial power when the plaintiff's claim to relief rests on the legal rights of third parties." Id. As the Court below acknowledged, a claim for unjust enrichment would have been cognizable by the living freed slaves, but as the ancestors could not access the courts in any real manner to remedy such claims, "countervailing considerations," Warth v. Seldin, supra, require that the right of action by the descendants be "implied" from the common law. Id.
The Court's assumption that the freed slaves were invested with the power to seek judicial redress appears to rest on the strength of a single case, Johnson v. McAdoo, 45 App.D.C. 440, 441 (D.C. 1916). The Court below appears to accept that because this single action was filed seeking damages for enslavement, a one-off occurrence that was never repeated, that the freed slaves in toto had the general competence and capacity to do so, ignoring the dismal result of that litigation and the prevailing decision in Plessy that condemned African Americans to sixty years of judicially sanctioned discrimination and segregation.
McAdoo was a failed singularity never repeated by a class of plaintiffs too isolated, left too uneducated, too much without resources and too intimidated by forces of societal violence to assert their undoubted legal rights. In a nation that recognized the legal right of states to condemn black schoolchildren to execrable schools, that legally permitted their parents to be kept from all but the most menial labor, that segregated black soldiers and relegated them to serving other enlisted men, that denied basic due process in the criminal courts, that required the races to use separate drinking fountains, parks and trains, that kept black students from state universities that their own taxes paid for, that gave legal shelter to restrictive covenants barring blacks from white neighborhoods, that barred interracial marriage and criminalized interracial sex, that imposed the vigilante as the guardian of white sexual purity in form of the lynch mob - in the face of all this, the Court believes the ancestors should simply have retained counsel and gone to court to gain their just rewards. One might as well have asked Jews in Hitler's Germany to seek judicial protection against the Nuremberg Laws for all the good it could possibly have done our nation's black ancestors.
These plaintiffs have standing to bring these actions for the elemental reason that their ancestors did not live in a society in which it was possible to bring these proceedings during their lifetimes. As early as 1868, when the Court contends the statute of limitations should have expired, white supremacy groups throughout the South launched a wave of murders and assaults designed to keep African Americans from the polls. Price v. United States, 383 U.S. 787, 804 (1966). Professor Griffin Bell describes the freed slave as utterly without protection from the moment Union troops withdrew from the South:
In the post-reconstruction years, the law failed black people, less because it was inadequate than because when they needed it most for their physical safety, it deserted them entirely. Laws that emasculated the right to vote posed an ominous handicap to their participation in government policy-making; laws that required segregation in public facilities constituted a humiliation to the spirit. But it was the absolute refusal of the law to protect them from random and organized violence that enabled the virtual re-enslavement of a race so recently freed. Griffin Bell, Race, Racism and American Law (Aspen 2000) at 461.
Professor Alfred L. Brophy has documented the violence and oppression routinely experienced by African American residents of one state, Oklahoma, from Reconstruction through the 1920's, a period marked by the Ku Klux Klan's dominance of life in Oklahoma, its use of uncontrolled and massive waves of violence to place African American citizens in a state of suppression, and its near universal domination of the police and the judiciary. Alfred L. Brophy, Norms, Law and Reparations: The Case of the Ky Klux Klan in 1920's Oklahoma, 20 Harv. Blackletter L. J. 17 (2004). Such conditions prevailed throughout the South. See e.g., Nancy MacLean, Behind the Mask of Chivalry: The Making of the Second Ku Klux Klan (1994); C. Van Woodward, The Strange Career of Jim Crow; Glenn Feldman, Politics, Society, and the Klan in Alabama, 1915-1949 (1999). As late as 1917, up to 200 African American residents of East St. Louis, Illinois, a northern city, were killed in a massacre and 6,000 were driven from their homes. Bell at 463. Throughout the South, the Klan was so dominant that a famed liberal jurist, Hugo Black, was forced to become a member to gain political office in Mississippi. The insensitivity and blindness of the Court's suggestion that plaintiffs' ancestors should have brought these actions in their own lifetimes is belied by this simple recitation of our Nation's history.
Following the lead set by the Supreme Court in Plessy v. Ferguson, state courts routinely dismissed actions seeking injunctions or damages for redress against the murder and terrorizing of African Americans. In Wallace v. City of Norman, 9 Okla. 339 (Okla. 1900), the Oklahoma Supreme Court dismissed assertions that town officials had participated in violent attacks on African American residents in words that bespeak of the ignorant blindness of the Plessy court (or that of Chief Justice Taney in Dred Scott v. Sandford, 63 U.S. 393 (1856) sixty years earlier):
[T]hat there existed, in the minds of the inhabitants of that locality, certain prejudices against the colored people; this was a condition of the public mind, over which the corporate authorities of Norman could exercise no rightful jurisdiction. The corporate authorities of a city or village may prescribe by ordinance as to the actions and conduct of the people; but no such village has a right to legislate, by ordinance, as to the thoughts, feelings, biases or prejudices that shall exist in the minds of the inhabitants who compose that particular locality. Wallace, 9 Okla. at 346-347.
This echoes the words of Plessy, wherein the United States Supreme Court for six decades rejected any judicial role in remedying legislative discrimination against African American since it was the state legislature that knew best the "preferences" of its people:
[The Legislature] is at liberty to act with reference to the established usages, customs, and traditions of the people...Gauged by this standard, we cannot say that a law which authorizes or even requires the separation of the two races in public conveyances is unreasonable...Plessy v. Fergusen, 163 U.S. 537 (1896).
Under Plessy, freed slaves could expect no judicial intervention to remedy state sponsored discrimination; in such a climate, how could the freed slaves believe the judiciary was open to claims of private reparations? A racial minority, the Plessy court reasoned, must accept the majority's prejudice expressed through its legislative voice.
Freed slaves, even into the 20th Century, lived in a world of massive racially directed violence.
Lynchings were frequent and highly public acts of racial justice. The NAACP has documented 3,224 lynchings between 1889 and 1918. NAACP, Thirty Years of Lynching in the United States, 1889-1919 (New York: NAACP, 1919). Lynchings were routinely resorted to in lieu of judicial process. One scholar, based on newspaper and other reports, estimates 5,000 lynchings since 1859. R. Ginzburg, One Hundred Years of Lynchings (1969). See also To Secure These Rights, Report of the President's Committee on Civil Rights (1947). A well-known documentary record shows the practice of distributing body parts of lynched black men as souvenirs, as well as the nationwide distribution of post cards featuring photographs of the twisting remains of the victims hanging from a thousand southern trees.
Philip Dray has documented the public lynching of one black man, Jesse Washington, strung up before thousands in the town square of Waco, Texas, as emblematic of mob violence against African Americans:
As he was prodded and dragged along, Washington was kicked, stabbed, hit with bricks and shovels, and had most of his clothes torn off; then was forced naked onto the pyre. The chain around his neck was looped over a tree limb, and he was jerked into the air. His body was sprinkled with coal oil, as were the boxes and scraps of wood below. There was a momentary delay when it was discerned that the tree itself, which adorned the city square, would be destroyed by the fire, but by now the crowd was huge and pressing in from all sides - students from Waco High on their lunch hour, secretaries, and businessman had wandered over to take in the event - and there was no stopping what was about to occur.
Washington was lowered down one last time so that participants could cut off his fingers, ears, toes, and finally his penis, then with the crowd's delirious roar of approval, the oil-soaked boxes were lit and Washington's body began to be consumed by the flames. 'Such a demonstration as of people gone made was never heard before,' recorded the Waco Times. When Washington was dead, a man on a horse lassoed the charred remains and dragged them through town, followed by a group of young boys. The skull eventually bounced loose and was captured by some of the boys, who pried the teeth out and offered them for sale.
A local professional photographer, Fred A. Gildersleeve, had documented the lynching for the inevitable souvenir postcards. Philip Dray, At the Hands of Persons Unknown: The Lynching of Black America (New York, Random House, 2002), 218, et seq., cited in Salzberger and Turck, Reparations for Slavery (Oxford: Rowman & Littlefield, 2004).
This scene was replicated thousands of times throughout the South between the end of the Civil War and 1930, during which time the Ku Klux Klan maintained a dictatorship of violent rule that denied access even to the streets for African Americans, let alone to the courts:
Southern courts offered no protection to black men or women. Throughout the South, nightriders terrorized blacks and Republicans. Some were organized into chapters of the White Knights of the Ku Klux Klan, while others were semi-organized mobs bent on ad hoc beating, burning, or lunching.
Klan members swore secrecy and dressed in masks and sheets to conceal their identities. Their symbol was (and is) a burning cross...
The KKK might burn a cross on someone's front lawn as a warning, but their primary purpose was delivery of terror. Masked nightriders dragged whole families out of their homes, stripping and whipping their victims, from parents to young children. Homes were sometimes burned, women were sometimes raped, and victims were often killed. The KKK punished victims for 'offenses' ranging from talking back to a white man to registering to vote. Often, however, their object seemed to be maintenance of terror, rather than punishment of any specific person for a real or imagined offense.
Salzberger and Turck, Reparations for Slavery at 20. Justice Blackmun described the first 40 years of the 20th Century as the Dark Age of Civil Rights.
In such a world, the Court suggests the freed slaves should have sought redress for unjust enrichment.
B. Based on these unique circumstances, the statutes of limitation should be deemed equitably tolled and the plaintiffs be deemed to have standing to proceed.
Fortunately, our jurisprudence is not so limited and narrow in its application as the Court inferred. If ever a case existed for equitable tolling, it is the instant action. Traditionally, we recognize that if there is some genuine hindrance to a third party's assertion of his or her right, the party in court may become "by default the right's best available proponent." Singleton v. Wulff, 428 U.S. at 116. Ironically, the Court below does not deny the applicability of "hindrance" as a basis on which to grant standing, but misreads the true historical record, finding perversely, on the strength of a single failed litigation, McAdoo, supra, that the plaintiffs' ancestors had unfettered access to the courts. Dismissal53.
Plainly the jurisprudential world of the freed slaves presented a genuine hindrance to their seeking redress against defendants that requires both tolling of the statutes of limitation and a recognition that the living descendants ancestors (including the living children of former slaves) must be deemed invested with the legal capacity to bring this action. See e.g. Barrows v. Jackson, 346 U.S. 249 (1953), where the Court explained that the conditions precluding non-white plaintiffs from seeking judicial redress to challenge restrictive covenants were "a unique situation" requiring inherent flexibility in the concept of standing. Id., at 257.
Only a "rule of practice," prudential standing is not to be a barrier to essential justice. Barrows, supra.
Based upon the historical denial of effective access to the courts during the decades following the Civil War and through the holding in Brown v. Board of Education, the descendants of the freed slaves, living in the first generation in American history in which race is not a de jure debarment of legal status or of the right to practical access to the courts, are the parties who are best suited to advocate the claim of disgorgement and, as descendants of those who were enslaved, certainly assert interests "inextricably bound up with" their ancestors' losses. Singleton v. Wulff, 428 U.S. at 116.
C. Plaintiffs timely filed their complaints within two years of the disclosure and admission by defendants of their slave trading background.
As to the equitable tolling of any statute of limitations, neither the ancestors nor descendants could have brought any action against banks and others who financed their enslavement before the defendants disclosed such information. In Rosner, the court tolled the statute based upon the inability of the plaintiffs to move ahead until the government had disclosed its possession of the looted property. Rosner at 1205. As the Rosner court noted in tolling the statute,
Because of the amount of time that has elapsed, combined with the classification of many official documents pertaining to their property, most, if not all of the putative class could not have known about the facts giving rise to this lawsuit. These Plaintiffs maintain it was only in October 1999, when the Presidential Advisory Commission on Holocaust Assets released its Report on the Gold Train, that many of the facts presented in their Complaint came to light. Rosner at 1205. The same circumstances apply in even greater degree in the instant case.
In this Circuit, tolling will not lie except for good faith delays beyond the control of the plaintiff or in the presence of extraordinary circumstances. Cf. U.S. v. Marcello 212 F.3d 1005 (7th Cir. 2000), where this Court held that "[e]xtraordinary circumstances far beyond the litigant's control must have prevented timely filing." See, e.g., Coleman v. Hockaday, 2003 WL 1888840 (N.D.Ill., Eastern Division, April 15, 2003), (court equitably tolled the statute of limitations based on the respondent's extensive delay in giving petitioner material information); accord, Golden v. Oliver, 264 F.Supp.2d 701, 704 (N.D.Ill. 2003). Quoting, Miller v. Runyon, 77 F.3d 189 (7th Cir. 1996). In Hoosier Bancorp of Indiana v. Rasmussen, 90 F.3d 180, 183 (7th Cir. 1996), the court concluded that "[t]he doctrine of equitable tolling aids plaintiffs who, because of 'disability, irremediable lack of information, or other circumstances beyond his control just cannot reasonably be expected to sue in time.' Runyon at 191." (emphasis added).
In denying Plaintiffs' claim for equitable tolling, the Court below relied upon Brademas v Indiana Housing Finance Authority, 354 F.3d 681, 687 (7th Cir. 2004) for the proposition that "[t]he federal common law discovery rule does not permit the plaintiff to delay filing its lawsuit until the plaintiff discovers the predicate injury," The District Court below concluded that "[t]he predicate injury in this instance was the institution of slavery itself." Dismissal 11.
However, the issue herein is not whether plaintiffs and their ancestors knew they had been enslaved, but who were those responsible for and unjustly enriched by that enslavement. And that information, which is still far from complete, has only recently come to light in large part through the research by lead plaintiff Deadria Farmer-Paellmann that helped to identify AETNA, FleetBank and New York Life as defendants and thereby opened the door to the identification of others. A growing grassroots movement for reparations along with the research persuaded the California legislature to require that all insurance companies doing business with it must reveal their ties to slavery. In May 2002, the California Department of Insurance issued a report on their findings that had the effect of causing other corporate entities to come forward, including defendant J.P. Morgan.
The complaint was filed within two years of these corporate disclosures. While plaintiffs and their ancestors certainly knew of their enslavement, they cannot have been expected to have identified existing corporations that profited from such enslavement until the files of these entities were disclosed as they were in this century.
Because the essence of plaintiffs' claim is that defendants were unjustly enriched by the labor of Plaintiffs' ancestors, the relevant doctrine regarding the timeliness of the claim is laches rather than the statute of limitations. Holmberg v. Ambrecht, 327 U.S. 392, 396 (1946) ("Traditionally and for good reasons, statutes of limitations are not controlling measures of equitable relief."). To bar a claim on the ground of laches, a defendant must show: (1) the plaintiffs' knowledge of the defendants' misconduct; (2) plaintiffs' inexcusable delay and; (3) prejudice to the defendants. See Ikelionwu v. United States, 150 F.3d 233, 238 (2d Cir.1998).
As it was the defendants who conscionably concealed their slave histories and had exclusive control of such information, it is plain that plaintiffs could not have had prior knowledge of defendants' actions, could not have engaged in inexcusable delay and have not delayed to the prejudice of defendants.
D. The State Consumer Protection claims were timely filed.
Finally, regardless of the application of any statute of limitations to the disgorgement claim, plaintiffs have plainly sought relief within two years of the release by defendants of false statements regarding their slavery ties. As Rosner and a host of other decisions recognize, equity requires that the statute of limitations be tolled, reflecting the manifest inability of the freed slaves to bring action within the statutory period of two years following the close of the Civil War and the decades of hostility and hatred of the black American that so dominated this land and its government as to strangle their incipient rights. Justice and equity demand that these claims be heard.
3. The District Court Erred in Finding Plaintiffs' Fundamental Claims Barred Under Baker v. Carr Limitations.
A. As Plaintiffs' Claims Arise Under Well-Known and Familiar Judicial Concepts of Equity, Unjust Enrichment and State Statutory Law, the Political Question is Not Implicated.
i. The Court's Broad Power in Equity Supports the Fundamental Judicial Nature of Plaintiffs' Claim for Unjust Enrichment.
Political question doctrine was once seen as precluding judicial resolution of disputes of a "peculiarly political nature," Colegrove v. Green, 328 U.S. 549, 552 (1946). In Colegrove, the Court ruled it lacked authority to reapportion legislative voting districts as the Constitution delegated such power to Congress, a similar conclusion as reached by The Court which held that the post-Civil War amendments and related statutes gave "authority" to Congress to act in the field of slave reparations. JA63-67.
But Colegrove was repudiated by Baker v. Carr, 369 U.S. 186 (1962), wherein the Supreme Court recognized that the mere political character of a case did not render the matter non-justiciable. The critical factor in Baker was whether there existed a recognized judicial standard by which the underlying dispute could be mediated. Baker v. Carr at 226 (Plaintiffs challenging reapportionment presented a justiciable case as "Judicial standards under the Equal Protection Clause are well developed and familiar...") (emphasis added).
In this same manner, the underlying dispute can be mediated by "well developed and familiar" judicial standards governing unjust enrichment, an equitable claim and state consumer protection statutes, a law claim. The court's equitable jurisdiction is elemental, arising from Article III, §2, cl. 1 of the Constitution and in state and federal common law. In contrast to the rigid application of rules of law, equity will not suffer a wrong to be without a remedy. 27A Am Jur 2d, Equity Sec. 111. The granting of equitable relief is an ancient principle, derived from English chancery law, finding its basis in implied obligations based in conscience, natural reason and grace. Caparo v. Propati, et. al., 127 N.J.E. 419, 421-429 (1990); Fidelity Union Trust Co. v. Multiple Realty & Construction Co., 131 N.J. Eq. 527 (1942). Jurisdiction in chancery is inherent and original, comprehending every exigency of human disagreement for which there is not an adequate remedy of law. Williamson v. Berry, 49 U.S. 495, 537 (1850) Unless a statute in particular restricts a court's jurisdiction in equity, the full scope of the power is to be recognized or applied. Porter v. Warner Holding Co., 328 U.S. 398 (1996). Where a matter is a great public interest, these powers "assume an even broader and more flexible character." Id. at 398.
The expansive and flexible reach of Equity is designed to embrace the ever-changing realities of complex societies. Matter of Ahmad Mossavi, 756 A.2d at 1081 quoting Sears Roebuck & Co. v. Camp, 124 N.J. Eq. 403, 411-412 (E. & A. 1938).
The claim of unjust enrichment provides that one who has unjustly retained a benefit to another's detriment and where that retention of the benefit violates the fundamental principles of justice, equity, and conscience, the party should disgorge the benefit. HPI Health Care Services, Inc. v. Mt. Vernon Hospital, Inc., 545 N.E.2d 672, 679 (Ill. 1989)(citing Drury v. County of McLean, 433 N.E.2d 666 (Ill. 1982)) This claim has it roots in the earliest jurisprudence of the nation. As early as 1886, the Supreme Court embraced the concept that a wrongdoer who holds the fruits of another's labor is deemed to be holding the profits as a constructive trustee and has an obligation to preserve these funds in favor of those who are equitably entitled to them, even where the benefits do not flow directly from one to another. Moore v. Crawford, 130 U.S. 122, 128 (1889) (quoting 2 J. Pomeroy, Equity Jurisprudence §1053, at 628-629 (1886). Circumstances that trigger its application are: 1) for "money paid by mistake;" 2) where there is "failed" consideration; 3) where money is "got through imposition or extortion;" 4) "or oppression" or; 5) through "an undue advantage taken of the plaintiff's circumstances". Peterson v. Crown Financial Corporation, 661 F.2d 287 (3d Cir. 1981) citing Moses v. MacFerlan, 2 Burr. 1005, 97 Eng.Rep. 676, 680-81 (K.B. 1760) (Lord Mansfield). It is readily applied to disgorge unjustly acquired profits. Chauffeurs, Teamsters and Helpers Local No. 391 v. Terry, 494 U.S. 558 (1990); Tull v. United States, 481 U.S. 412, 424 (1987); Curtis v. Loether 415 U.S. 189, 197 (1974); Porter v. Warner Holding Co., 328 U.S. 395, 402 (1946); Sheldon v. Metro-Goldwyn Pictures Corp., 309 U.S. 390, 399 (1940).
The lower Court misapplied Baker which allows claims that, as set forth above, are subject to "well-defined and familiar" legal or equitable rules. The equitable claim of Unjust Enrichment and the remedy of Disgorgement fall plainly within these parameters.
ii. The Elements Necessary to Bring State Consumer Protection Statutes are "Well Developed" and "Familiar."
To suggest that the doctrine of political question bars plaintiffs' modern day statutory consumer claims is without precedent or basis in law. These claims are not based on any claim arising from plaintiffs' status as descendants of enslaved Americans - but solely from their status as consumers of defendants' products who have been denied accurate and honest disclosure of defendant's slave trading, slave financing and slave employment histories. Consumer protection statutes in each of the jurisdictions provide well-developed and familiar law, Baker, supra, that simply does not invoke political question concerns. See Argument, infra, for further discussion of state consumer protection statutes. As these are judicial remedies created by the state legislatures, it is clear that no political question is presented. The Complaint expressly alleges concealment of defendants' slave histories and that plaintiffs have patronized defendants' services under such false disclosures in violation of the state statutes. Nothing more need be pled to satisfy notice pleading. As such, the Court below erred in dismissing these claims.
B. There has been no "textually demonstrable commitment" of the issue of reparations to the legislative branch.
i. The Court Mischaracterized Plaintiffs' Claims as Sounding in a Legislative Remedy of Reparations Rather Than Unjust Enrichment.
The Court erred in its conclusion the action has been made the subject of "a textually demonstrable constitutional commitment of the issue to a coordinate political department". Dismissal61(emphasis added).
To support this application of Baker, the court reached back to the Constitution's original delegation of war making powers to the federal government, see Dismissal61, citing U.S. Const., art. I, Sec. 8 and U.S. Const., art. II, Sec 2., and the post-Civil War amendments abolishing slavery and providing for equal protection to freed slaves. Dismissal63, citing U.S. Const., Amendments 13 and 14. The Court further cites to statutory enactments providing for the confiscation of enemy property, chiefly slaves, and the formation of the Freedmen's Bureaus in the Reconstruction era. Dismissal62-63. On the basis of these enactments, the Court concluded that the political branches had made a textually demonstrable commitment of the question of slave reparations to the legislative branch.
First, rather than to presume facts as favorable to plaintiffs and to rely on plaintiffs' well-pleaded allegations only, the lower court unilaterally chose to characterize plaintiffs' claims as ones for reparations, a politically-charged and emotional term that has vastly different meanings and import among varying segments of the population. The standard Webster's dictionary of reparations as it relates to the payment of money is: "compensation in money or materials payable by a defeated nation for damages to or expenditures sustained by another nation as a result of hostilities with the defeated nation". Plaintiffs are not seeking a claim as a nation against the Confederacy (assuming it still existed) or the United States. Rather, plaintiffs seek the judicial remedy of disgorgement on a claim of unjust enrichment against private corporations where plaintiffs can establish these plaintiffs unjustly profited from the labor of their ancestors. The lower court's mischaracterization of plaintiffs' claims as sounding in "reparations," traditionally referring to the obligation of a vanquished nation to make amends for war damage, creates a prejudicial inference that these claims arise from an obligation of government and not from individual private corporate entities. Such mischaracterization was beyond the Court's competence on a Rule 12(b) motion to dismiss where it must accept the plaintiffs' well-pled allegations as true and construe all reasonable inferences in plaintiffs' favor. Further, there was no basis for such mischaracterization since the complaints expressly plead disgorgement based upon unjust enrichment, an equitable remedy, not the political remedy of reparations mistakenly inferred by the Court.
ii. Congress has not acted at all, much less with the "finality of action," Baker v. Carr at 210, required to find a "commitment" of the issue to the legislative branch.
Even assuming, in arguendo, plaintiffs' claims for disgorgement are related to historical efforts to lessen the disabilities of newly emancipated slaves, the Court itself recognized that Congress repeatedly refused to pass "reparations bills" for freed slaves, Dismissal65-68, and took no action at all to settle this issue. While the Court summarizes these legislative efforts in admirable detail, it acknowledges that none of these efforts were adopted into legislation, including the most recent effort in 1989.
A textually demonstrable commitment under the Baker v. Carr analysis arises from the prudential goal of "attributing finality to the action of the political departments." Baker v. Carr at 210, quoting, Coleman v. Miller, 307 U.S. 433, 454 (1939) (emphasis added). It is the "finality" of action that defines "commitment" of an issue to the legislative branch. Id. As the Congress has never acted to enact reparations legislation, nor pass any law regulating reparations, there is no legislative "finality of action" precluding justiciability under the Baker v. Carr test. As the New Jersey court noted, holocaust reparations claims "have always been managed on a governmental level." In re Nazi Era Cases, 129 F. Supp. 2d 370, 376 (D.N.J. 2001) (emphasis added). In contrast, no federal legislative scheme or executive order has ever addressed U.S. slave era reparations.
iii. The question of reparations has never been committed by the Constitution to the legislative or executive branches.
A "textually demonstrable commitment" of the issue refers not to affirmative acts by the legislative branch but "whether a matter has in any measure been committed by the Constitution to another branch of government." Baker v. Carr at 211 (emphasis added). Thus, the question is not, as the Court saw it, whether the Congress has taken up the issue, but whether the Constitution itself made a commitment of the issue to the legislative branch. Id.
Contrary to the Court's conclusions, Congressional action has always been in the direction of enabling and facilitating judicial remedies for remediation of African-American rights. Congress acted with the instinctive knowledge that the political branches alone were incapable of protecting the newly freed slaves, despised by both their former masters and poorer whites who could no longer maintain a legal claim to superior societal status. The early Civil Rights Acts passed between 1866 and 1875 provided for private rights of action. See e.g., The Civil Rights Act of 1875, 18 U.S. Stat. 335, §2 (1875) ("Provided, that all persons may elect to sue for the penalty aforesaid, or to proceed under their rights at common law..."). The Fourteenth Amendment, relied upon by the Court as evidence of the "commitment" of the reparations issue to Congress, has been applied almost exclusively as a means of enabling and facilitating private litigation against legislative discrimination. Brown v. Board of Education, 347 U.S. 483 (1954), imposing judicial remedy to a private action alleging state legislative discrimination. On no occasion, except for the Court's decision below, has any authority interpreted the 14th amendment as a "reparations" provision. Section 1983, whose existence is virtually co-extensive with the post-Civil War constitutional amendments, again conveys private right of action to enable judicial remedies for violations of African American rights. See 42 U.S.C. 1983, et seq. The modern civil rights acts all provide for a private of action for judicial remedies. See, e.g., Civil Rights Act of 1964, 42 U.S.C. 2000a, et. seq.; Newman v. Piggie Park Enterprises, Inc., 390 U.S. 400 (1968) (where the Supreme Court held that Title II is dependent on private litigation for its enforcement). In view of this clear Congressional policy of providing for judicial remedies and private rights of action by African Americans, the Court erred in finding that there had been a "commitment" of the reparations question to the legislative branch.
The lower court also makes a preliminary logical error: it assumes that because Congress or the Executive branch could act in the field of reparations that means that the judicial branches cannot. This is a non sequitur. That Congress could, for example, enact public or private legislation compensating individuals for tortious acts by the instrumentalities of the federal government does not mean that the judiciary is automatically disabled from hearing all claims against the federal government, as the Federal Torts Claims Act attests. Along the same lines, the "policy choices and value determinations" that Japan Whaling, 478 U.S. at 230, mentions as being committed to Congress and the executive, obviously, by the very holding of Japan Whaling, implicate claims that are simultaneously justiciable. These are not mutually exclusive categories.
The principal textual commitment that the Court cites lies in the Fourteenth Amendment and the Thirteenth Amendment. But neither of those provisions is the exclusive commitment that Baker requires. Both explicitly empower Congress, for the first time in the text of the Constitution, to enforce policies and objectives set forth in preceding sections. If the Framers had meant to make those powers exclusive, they could easily have done so. As well-known reconstruction scholars have repeatedly demonstrated, the Framers chose not to do so, relying on the federal judiciary as a coordinate partner in the enforcement of Reconstruction policy. Whatever else the Constitution might be read to mean, it cannot be read to exclude judicial power from a role in Reconstruction. Id.
The Court's conclusions are further subverted by the very text of these enactments: no provision in the Fourteenth Amendment, the civil rights laws or any of the other sections of the Constitution referred to by the Court purports to address compensation by the government or by private individuals for the labor of slaves or settle reparations claims. That men such as Thaddeus Stevens unsuccessfully sought reparations does not demonstrate a "commitment" of the issue by means of legislative "finality," Coleman v. Miller, supra, but rather that the legislative branches rejected the opportunity to occupy such field.
Beginning with its earliest post-Civil War decisions, the Supreme Court itself refused to recognize a commitment of such questions to the legislative branches. In The Civil Rights Cases, 109 U.S. 3 (1883), the Court strangled Congress' efforts to use its legislative power to promote racial equality by invalidating a section of the Civil Rights Act of 1875 that made it a crime to deny equal access to "inns, public conveyances, theatres and other places of public amusement." The Court held expressly that none of the post-Civil War amendments authorized Congress to pass a civil rights law regulating private discrimination, a finding that renders nugatory the Court's conclusion that the post-Civil War amendments somehow committed the issue of reparations to the legislature. The Civil Rights Cases, 109 U.S. at 25 ("...no countenance of authority for the passage of the law in question can be found in either the Thirteenth or Fourteenth Amendment of the Constitution".). If the amendments gave no power to Congress to regulate private discrimination, they cannot be deemed to have "committed" the issue of reparations to Congress, an issue even further removed from the text of the enactments. A further devastating blow to the scope of the post-Civil War amendments came in Plessy v. Ferguson, 163 U.S. 537 (1896), where the Supreme Court held that the Fourteenth Amendment did not protect the freed slaves from legislative discrimination.
In such jurisprudential context, it was error for the Court to conclude that questions relating to recompense for freed slaves or their descendants have been "demonstrably committed" by the Constitution to the legislative branch. It was the Supreme Court itself that denuded Congress of power to protect the freed slaves, negating any argument that such questions had been committed, demonstrably or otherwise, to the legislative branch.
C. The remaining factors under Baker v. Carr do not admit of a "political question".
The remaining Baker factors are similarly inapposite: since the matter has never been committed to the legislative or executive branches, there is neither a need to 1) to avoid a "lack of respect due coordinate branches of government" or; 2) "an unusual need for adherence to a decision already made" and; 3) no danger of "multifarious pronouncements by various departments on one question." Baker v. Carr, supra at 217.
Since no determination of this issue has ever been made (either favorably or adversely) by the legislative or executive branches, no "finality of action," Coleman v. Miller, supra, has arisen. Hence, none of the remaining Baker factors are or can be dispositive.
While such concerns may arise in the case of Japanese-American and certain Native American claims since the Congress has acted to settle such claims, see e.g., Dismissal75, no such Congressional action has ever been taken as to slave era reparations and, hence, no conflict with the legislative branch can be inferred if this case goes forward. Indeed, the only legislative enactment pointed to by the trial court concerning African-American reparations is a single Florida bill compensating African American victims of a 1923 Florida massacre, Dismissal75, hardly a demonstration of legislative "finality of action", Coleman v. Miller, supra, and one that derives from a single state legislature, not Congress. This sparse evidence of legislative action is insufficient to bar a claim for disgorgement of slave profits by these defendant corporations.
The Court also contended that the historical reach of 400 years of enslavement rendered the matter incapable of resolution by "judicially discoverable and manageable standards." Dismissal69-71, citing Kelberine v. Societe Internationale, 363 F.3d 989,995 (D.C.Cir. 1996). In this context, the Court misconceived the nature of the plaintiffs' claims, being impressed too heavily by the historical sweep of American slavery while ignoring the relatively narrow and discrete legal issues actually presented by the complaint, to wit: that the defendants who financed and traded in and employed slaves, thereby earning and retaining profits, are liable to disgorge such profits under traditional principles of equity, a set of claims that fall well within traditional judicial responsibilities. Hence, the "magnitude of the events" underlying the claims, Dismissal70, is no bar to justiciability as the asserted liability is remediable under traditional notions of equity, a "judicially discoverable and manageable standard." Baker v. Carr, supra; Powell v. McCormack at 549.
As set forth below, the matter was improvidently decided before any plaintiff had any discovery or opportunity to calculate the defendants' retained earnings and profits from slave trading and financing. Such issues may well be determinable by conventional actuarial and accounting measures, but no inquiry was had by the Court as to the feasibility of such damage calculation. In its reliance on Kelberine the Court ignored the fundamental premise of that decision - that the events and damages took place "in a European area by a [foreign] government then in power," requiring the adjudication of "two hundred thousand [individual] claims for multifarious damages...." in a foreign jurisdiction, an inquiry the court found would be "too costly, to justify undertaking by a court without legislative provision of the means wherewith to proceed." Kelberine, 363 F.2d at 995. Unlike Kelberine, this is an American action involving American corporate defendants on American soil under American law, three of whom, Aetna, J.P. Morgan, and Bank of America (formerly FleetBoston), have already (even before discovery has commenced), publicly confirmed that they profited from American slave trading and financing and plaintiffs are entitled to seek discovery as to these corporate records before the court makes a finding as to whether there exist "judicially discoverable and manageable standards."
Additionally, the court's reliance on Kelberine is misplaced where that decision assumed that the large quantum of potential claims rendered the case unmanageable. In contrast to Kelberine, plaintiffs here do not seek to impose upon the court the task of adjudicating hundreds of thousands of individual claims, but rather to adjudicate the far narrower question of the value of the retained earnings held by the several corporate defendants from slave financing and trading, a procedure that is by no means beyond the court's ability using testimony based upon conventional actuarial and accounting measures.
D. The Court's procedural errors in assessing political question doctrine require remand.
The Court erred in the standard of proof used in applying the Baker factors concluding, "[w]here any one of the...Baker factors is implicated, the court should refrain from adjudicating the issue..." Dismissal56[emphasis added]. Baker made no such sweeping declaration but stated that "unless one of these formulations is inextricable from the case at bar, there should be no dismissal for nonjusticiability on the ground of a political question's presence." Baker v. Carr at 217 (emphasis added).
Thus, at the very least the matter should be remanded to the Court for a finding as to whether any of the Baker factors are "inextricable" from the case at bar, a far more stringent test for non-justiciability than whether any factor is merely "implicated," the test mistakenly used by the Court.
The Court's analysis of the decision in Kadic v. Karadzic, 70 F.3d 232 (2d Cir. 1995), also underscores the need for remand for further consideration of the political question doctrine. The Court noted that in Kadic the government had filed a Statement of Interest disclaiming the existence of a political question. Dismissal57n.26. The Court observed that "No such 'Statement of Interest' has been or could be sought in the present case," a statement that is without support since the trial court never sought or directed the plaintiffs to seek such statement from the government. To the contrary, if asked, the government may well disavow any interest in this case on the ground that judicial, rather than legislative, resolution is the easier path. It was error to infer a political question because of the absence of a statement of interest that was never sought or requested.
Kadic makes it clear that political question doctrine should not be "reflexively [invoked] to avoid difficult and somewhat sensitive issues" and that even where claims arise in a "politically charged context" they are not "transformed into political questions," 70 F.3d at 249, a formulation that plainly should be taken cognizance of here. On this further basis, the matter should be remanded to the Court.
CONCLUSION
For the foregoing reasons, it is respectfully submitted that this Court should reverse the decision below and remand the case to allow plaintiffs' claims of Unjust Enrichment and plaintiffs' claims for violation of consumer protection statutes to proceed to discovery.
Footnotes
1
Cites to SCAC reference paragraph numbers.
2
Cites to Dismissal Opinion reference page numbers in the Joint Appendix ("JA").
3
Lujan v. Defenders of Wildlife, 504 U.S. 555 (1992)
4
Lujan citing United States v. Richardson, 418 U.S. 166, 171 (1974)
5
Though it had the opportunity to do otherwise, the Supreme Court in Lujan v. Defenders of Wildlife expressly maintained the viability of Japan Whaling. Lujan, 504 U.S. at 566-567.
6
Laveta Casdorph, The Constitution and Reconstitution of the Standing Doctrine, 30 St. Mary's L. J. 471, 502 (1999).
7
"A Court is not at liberty to shut its eyes [to the truth]." Baker at 214.
8
Blackmun, Section 1983 and Federal Protection of Individual Rights Will the Statute Remain Alive or Fade Away, 60 N.Y.U.L. Rev. 1, 11 (1985).
9
The common law in every state whose interest touch this action is in accord Cassinos v. Union Oil Co., 14 Cal App 4th 1770; American State Bank v. Kupfer, 114 Ill App 3d 760; Cesena v. Du Page County, 145 Ill. 2d 32; Matter of Ahmad Mossavi, 756 A.2d 1076 (Chancery Div. 2000), London v. Joslovitz, 279 App.Div. 280 (The Court's power is as broad as equity and justice require.)
10
At least one commentator has suggested that Judge Norgle exaggerated the role of the 13th, 14th and 15th amendments as "reparations" enactments. Miller, Standing to Sue in Reparations Lawsuits, 20 Harv. Blackletter L.J. 91, 113, n.106 (2004).
11
Stanley I. Kutler, Judicial Power and Reconstruction Politics, 69-160 (University of Chicago Press 1968), Harold M. Hyman and William M. Wiecek, Equal Justice Under Law 355-385, 415-418 (Harper & Rowe, 1982); Hyman, A More Perfect Union, 224-244, 263-271 (Knopf; 1973), William M. Wiecek, The Reconstruction of Federal Judicial Power, 1863-1876, 13 Am. J. Legal History, 339-359 (1969).
12
A clear recitation of the Supreme Court's post-civil war history of "strangling" Congressional efforts to fully emancipate African-Americans is contained in Regents of the University of California v. Bakke, 438 U.S. 265 (1978) (J. Marshall, concurring).