Become a Patreon!
---
Abstract
Excerpted From: Margaret Hu, Digital Internment, 98 Texas Law Review Online 174 (2020) (Response) (59 Footnotes) (Full Document)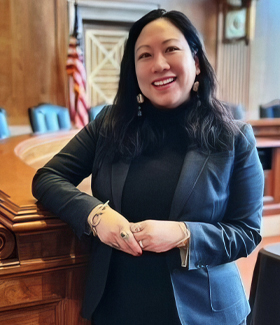 In Korematsu, Hirabayashi, and the Second Monster, Eric L. Muller explores whether Korematsu v. United States is dead post-Trump v. Hawaii, and whether by failing to strike down Hirabayashi v. United States, the "mother" of Korematsu and a "second monster" lives on. This brief response Essay contends that answering these questions first demands grasping how Trump v. Hawaii failed to fully address the program implemented by the Muslim Ban-Travel Ban: Extreme Vetting. Extreme Vetting can be characterized as a form of "digital internment" through a complex web of cybersurveillance, administrative-imposed restraints, and "identity-management" rationales that are referenced in the text of the Muslim Ban-Travel Ban Proclamation(s). This Essay concludes that coming to grips with whether Korematsu was resurrected by Trump v. Hawaii, and exactly how the reasoning of Hirabayashi remains a vibrant threat, depends upon confronting the full discriminatory impact of Extreme Vetting.
[. . .]
After the national shame of Korematsu, it is unlikely that the federal government would implement mass internment in the exact same manner as it did in 1942. Yet, how would a "national surveillance state," with the most sophisticated cybersurveillance tools at its disposal, animate similar objectives to those embodied by Executive Order 9066? The long and shameful shadows cast by Hirabayashi and Korematsu will continue to haunt Trump v. Hawaii. In Professor Muller's excellent essay, he argues that Hirabayshi must be explicitly overruled alongside Korematsu. He contends that Hirabayshi allows for the government to justify a wide range of potentially discriminatory initiatives under the justification of national security. Unfortunately, the wide range of discriminatory actions may already be taking place, even with the overruling of Korematsu in Trump v. Hawaii, and even if Hirabayashi is overruled in the future.
Are there critical distinctions between the mass internment of Korematsu and the mass surveillance of Extreme Vetting? Yes. But the national security pretext is the same. Justice Sotomayor stated: "Today, the Court takes the important step of finally overruling Korematsu ...." She explained:
This formal repudiation of a shameful precedent is laudable and long overdue. But it does not make the majority's decision here acceptable or right. By blindly accepting the Government's misguided invitation to sanction a discriminatory policy motivated by animosity toward a disfavored group, all in the name of a superficial claim of national security, the Court redeploys the same dangerous logic underlying Korematsu and merely replaces one "gravely wrong" decision with another.
The Court's recent disavowal of Korematsu, although unelaborated, implies recognition that the mass detention of the Japanese Americans and those U.S. residents of Japanese ancestry had been driven by racial animus based upon the verdict of history. We now need a test that is not dependent upon the verdict of history.
---
Associate Professor of Law, Washington and Lee University School of Law.
---
Become a Patreon!