Become a Patron!
---
Jon Jeter, Is getting a Black woman on the high court more symbol than substance?, Minnesota Spokesman-Recorder, March 26, 2022, https://spokesman-recorder.com/2022/03/26/is-getting-a-black-woman-on-the-high-court-more-symbol-than-substance/ (Last Visited: March 26, 2022)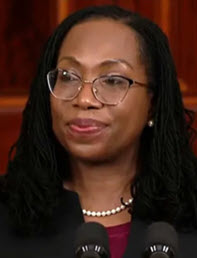 Many Blacks unenthused by illusions of racial progress
Vernellia Randall is herself a Black woman attorney and she simply couldn't bear to watch the Senate Judiciary Committee grill Supreme Court nominee Ketanji Brown Jackson during this week's historic confirmation hearings.
She caught just enough of the testimony, however, to glimpse GOP senators such as Lindsay Graham and Ted Cruz preposterously quizzing Brown Jackson—the first African American woman nominated to the highest court in the land—about her lenient sentencing in a child pornography case, her defense of prisoners at Guantanamo Bay, and her views on Critical Race Theory.
"I don't typically watch these kinds of hearings because they don't ask the questions I want to ask," the retired University of Dayton law professor told the Minnesota Spokesman-Recorder (MSR) in a phone interview.
"Critical Race Theory has nothing to do with the work of an associate justice of the Supreme Court. It was posturing [by the Republican lawmakers]; their questioning of her was blatantly racist. They asked her the most ridiculous questions."
And yet, Randall's scathing reproach of the lawmakers sitting in judgment of Brown Jackson does not mean that she supports the 51-year-old federal judge, who is widely expected to win confirmation from the Senate next month on a straight party-line vote.
What Randall finds troubling is Brown Jackson's tendency to rule against plaintiffs, mostly African American, in workplace discrimination suits. Of even more concern to her is Brown Jackson's endorsement by the Fraternal Order of Police.
"What will this actually do for Black people?"
That represents a huge red flag, Randall said, because it suggests that Brown Jackson supports the contested legal principle known as qualified immunity, which shields law enforcement officials from civil suits in cases where they kill or injure unarmed civilians who are disproportionately African American.
"Qualified immunity should be the issue for Black people," Randall said. "If we want to rid ourselves of this reign of terror against Black people, we need to get the police in court, that is the first step."
Continuing, she said: "We're interviewing [Brown Jackson] for a lifetime job, and so her views on qualified immunity and workplace discrimination are more important than her color. I am not so happy if she ends up supporting qualified immunity, which her record tends to suggest she will."
Randall's concerns reflect African Americans' growing disillusionment with "Black faces in high places" who have failed to materially improve their lives. Across the country, in social media posts, barbershops, beauty salons, and dining room tables, African Americans have expressed an astonishing lack of enthusiasm for Brown Jackson's nomination.
"What will this actually do for Black people?" a Minneapolis firefighter, Vincent Jackson, said in an interview with the MSR. "It's tangible for her but not tangible for Black people. Congratulations to her, but we've been here before and it seems we're stuck here loving and celebrating symbolism without tangibles."
A veteran of the U.S. Army and a journalist, Scotty T. Reid, 55, said in a phone interview with the MSR that he hasn't overheard a single conversation about Brown Jackson's nomination in Gaston County, North Carolina, where he lives. "I don't expect much from her, and I don't think anyone else does either," he said.
Most concerning for Reid and other African Americans interviewed for this article is a study by the Reuters news agency that found that Brown Jackson only ruled for the plaintiffs in three of the 25 race discrimination cases she heard as a U.S. District judge between 2013 and 2021.
According to Reuters, Jackson ruled against a U.S. Park police officer, a Bureau of Land Management employee, and a pharmacist at a Washington hospital, all of whom alleged racial discrimination because they are Black.
And in the most high-profile discrimination case, Brown Jackson ruled against a group of African American employees who sued the defense contractor, Lockheed Martin. She rejected a $22.8 million settlement proposal involving more than 5,500 current and former employees, all Black, on the grounds that there was no common pattern of discrimination.
"She takes a real procedural approach to discrimination cases," said Randall, " and gets rid of the cases on procedural or technical grounds rather than ruling for or against." In the Lockheed Martin case, for example, she could've directed the plaintiffs' attorneys to return at a later date after they had identified a more concrete pattern of racial discrimination.
"Although they did already have one fact in common," Randall said. "They're all Black."
Others have been more brutal, with one African American posting on Facebook Thursday that Brown Jackson was a "stooge for white supremacy."
Other legal scholars defended Brown Jackson. Kim Forde-Mazrui, director of the University of Virginia School of Law's Center for the Study of Race and Law, told Reuters: "Plaintiffs in employment discrimination cases lose a lot, so this strikes me as consistent with the pattern I would expect because they are notoriously hard to win."
In a letter to the White House dated February 4, however, Alabama's first African American federal judge, U. W. Clemon, lauded President Biden's decision to nominate a Black woman to the court, but said it should be someone other than Brown Jackson. "Based on her conduct in Ross v. Lockheed," he wrote, "I strongly believe that Circuit Judge Ketanji Brown Jackson should not be appointed by you as the first black female justice of the Supreme Court of the United States."
Randall said that Brown Jackson is representative of a political system that protects itself by using tokenism—a kind of bait and switch strategy—to confuse or appease Black demands for racial justice. Both political parties have exploited class fissures in the African American community to create the illusion of racial progress when opportunities for most Blacks are actually declining.
"I grew up during Jim Crow and that colors how I see 'firsts,'" said Randall. "But I also understand that representation doesn't produce change, representation produces representation, and that gets us nowhere."
---
Jon Jeter is contributing writer at the Minnesota Spokesman-Recorder, who has also served stints at the Minneapolis Star Tribune, Washington Post, among others.
---