---
Excerpted from: John Blake, The Clarence Thomas myth that refuses to die, Analysis by CNN (December 7, 2019) https://www.cnn.com/2019/12/07/us/clarence-thomas-white-conservatives-blake/index.html (Last Visited: Dec. 07, 2019) (2900 words+pictures).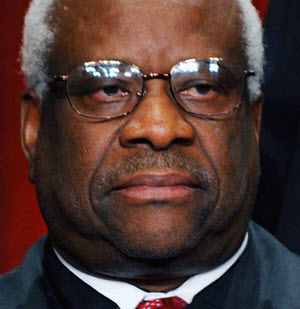 Clarence Thomas is now the most senior associate justice on the Supreme Court.
Thomas has employed his powerful position not to speak truth to power, but to tell power what it wants to hear, according to many black people. That's why Thomas has been called the "anti-Thurgood Marshall," or the antithesis of the Supreme Court's first black justice.
"If you're a black person who rises to a high level in politics or law, many folks in the black community expect you to use that position to better the living conditions of people who look like you or at the very least speak truth to power," says Perry of Howard University. "Clarence Thomas has done neither."
But unlike Marshall, Thomas won't be widely celebrated in the black community. There likely won't be any movement to build schools, erect statues or name roads after him. His name was barely mentioned in the National Museum of African American History and Culture when it opened in 2016 (the museum said it couldn't tell "every story" of black America).
Yet his stature will probably grow as the Supreme Court's new conservative majority asserts itself. We will continue to hear stories about Thomas' work ethic, his stern grandfather, the price he paid for telling black people to stand on their own.
These stories, though, are decoys that lead people away from a richer discussion of Thomas' legacy -- his impressive rise from poverty, yes, but also his contradictions, his scorn for integration, his belief that "There is nothing you can do to get past black skin."
Don't fall for the Clarence Thomas con.
---