Abstract
Excerpted From: Kevin R. Johnson and Amagda Pérez, Cruz Reynoso's Fight for Justice, 39 Chicana/o-Latina/o Law Review 39 (2023) (66 Footnotes) (Full Document)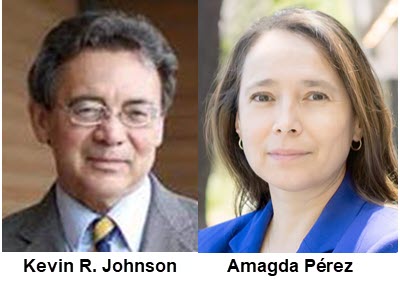 Many Latina/os view California Supreme Court Justice Cruz Reynoso with the same reverence that African Americans generally hold the late Thurgood Marshall, the first Black Justice on the U.S. Supreme Court. Both were trail-blazing civil rights figures who dedicated their lives to ending racial segregation in the United States before becoming prominent jurists who inspired generations across the nation.
From humble beginnings, Cruz Reynoso rose to towering heights in the legal profession and became a role model for Latina/os at a time when they were few and far between. The product of a working-class Mexican American community in Southern California, he attended segregated elementary and secondary schools, followed by community college at Pomona College, and U.C. Berkeley School of Law. Reynoso began his legal career in private practice by opening his own law office serving working-class Mexican Americans in the Imperial Valley, an agricultural community in Southern California near the U.S./Mexico border.
In the 1960s and the early 1970s, Reynoso fought on the front lines in the struggle for the rights of the rural poor, including but not limited to farmworkers, many of whom are Latina/o. In a time when big cities were the focus of the nation's so-called "war on poverty," Reynoso's devotion to assisting rural communities was ahead of his time. As director of a cutting-edge legal services organization, California Rural Legal Assistance (CRLA), he earned a national, if not international, reputation working for social change at the side of, among others, the legendary United Farm Workers leader César Chávez. Part of a national social movement, CRLA's advocacy for the rights of the rural poor was new, different, and considered by some to be radical. Consequently, his advocacy generated hostile resistance from the highest levels of the California government, including Republican Governor, and later U.S. President, Ronald Reagan. In the very first article of UCLA School of Law's brand new Chicano Law Review, Reynoso offered a first-hand account of the creation of CRLA and its struggle for survival in the face of organized and determined political opposition led by then-Governor Reagan.
Reynoso later served as a distinguished justice, first on the California Court of Appeal (Third District) (1976-82) and subsequently on the California Supreme Court (1982-87). He was the first Latino Justice on the California high court, a historical milestone in a state most of which was once part of Mexico. With conservative forces for partisan political reasons setting their sights on the removal of three liberal justices, a tumultuous political campaign culminated with the end of Justice Reynoso's tenure as a Justice on the Court. In that election, judicial independence lost out to partisan politics, with critiques about the Justices' criminal and death penalty opinions at the forefront of the campaign that resulted in their unceremonious removal.
Besides his pioneering civil rights and judicial work, Reynoso was a distinguished law professor. Before his appointment to the bench, he had been a faculty member at the University of New Mexico School of Law. After his removal from the California Supreme Court, Reynoso returned to teaching law and joined the UCLA Law faculty. Several years later, Reynoso became the inaugural holder of the endowed Boochever and Bird Chair for the Study and Teaching of Freedom and Equality--a most fitting and well-earned honor--at U.C. Davis School of Law where he ended his career. Adhering to tradition by going to his faculty office (in a suit) nearly every business day and many weekends, he remained incredibly busy during his so-called retirement that began in 2006.
Often lightheartedly explaining that his "justice bone" motivated his commitment to justice for all, Cruz Reynoso devoted his professional life to the promotion of justice and equality. Aside from his work as an attorney, jurist, and law professor, Reynoso engaged in many impactful public service activities. For example, U.S. President Jimmy Carter appointed him to serve on the Select Commission on Immigration and Refugee Policy, which carefully studied and recommended major reforms to the U.S. immigration laws. The recommendations led to Congress passing comprehensive immigration reform legislation in 1986, which was signed into law and included amnesty programs that provided a durable immigration status and a path to U.S. citizenship to millions of undocumented immigrants. Since that milestone legislation, Congress has been unfortunately unable to pass much-needed comprehensive immigration reform.
Moreover, while a law professor, Cruz Reynoso for more than a decade (1993-2005) served as a member of the U.S. Commission on Civil Rights, which investigates serious civil rights matters arising across the United States. During his time on the Commission, it investigated, among many other important civil rights issues, the alleged voter suppression in Florida that occurred during the razor-close 2000 presidential election, which ended controversially with the U.S. Supreme Court in effect declaring the Republican candidate George W. Bush to be President.
Although not one to pursue personal attention and professional accolades, Cruz Reynoso deservedly collected too many to list here. Some were local in nature such as the U.C. Davis Medal, the highest honor given by the U.C. Davis campus, with Reynoso being the first professor to receive the medal. One high-profile national honor stands out among his most impressive collection of awards. In 2000, President Bill Clinton awarded Reynoso the Presidential Medal of Freedom, the nation's highest civilian honor reserved for leaders who "have helped America to achieve freedom." In presenting the medal to Reynoso, President Clinton encapsulated Reynoso's amazing career to that time as follows:
Cruz Reynoso is the son of Mexican immigrants who spent summers working with his family in the fields of the San Joaquin Valley. As a child, he loved reading so much, his elementary school classmates called him "El Profe"--the professor.
Later, some told him to put aside his dreams of college saying bluntly, "They will never let you in." But with faith in himself and the values of our country, Cruz Reynoso went on to college and to law school, but never forgot his roots. He worked for the Equal Employment Opportunity Commission and led the pioneering California Rural Legal Assistance program. In 1976 he was appointed Associate Justice of the California Court of Appeals and rose to become the first Latino to serve on the State's highest court.
For years, Reynoso labored in the field of justice, serving as Vice Chair of the U.S. Civil Rights Commission, opening new doors for Latino lawyers, and teaching a new generation of students the world of law. Not long ago, the person his classmates once called "El Profe" was voted by his own students Professor of the Year.
Despite the many professional honors and achievements, one endearing characteristic of Cruz Reynoso must be highlighted: he was one of the most unassuming and humble persons anyone could ever want to meet. And his humility was genuine and sincere. He always treated all people with great dignity and respect. That included children, litigants, opponents, students, jurists, attorneys, faculty colleagues, and basically everyone with whom he came into contact. After resolving a contentious issue in the Imperial Valley, a frustrated political leader once proclaimed, "what you are is a gentlemen rabblerouser."
Deeply devoted to his family, community, and faith, Reynoso in many ways represented all the qualities that one could hope for in a revered historical figure. Not one to hold grudges, he, for example, philosophically attributed his removal from the California Supreme Court to simple politics. Anger at people was not part of his personal makeup. In contrast, anger at injustice most definitely was. We, our colleagues and families, feel most fortunate to have had Cruz Reynoso in our lives. Through exuding the characteristics of the truly ethical lawyer, he inspired his students, Latina/o lawyers, and the greater community. Demonstrating the reverence in which he is held, the Cruz Reynoso Bar Association in Sacramento today proudly bears his name.
This Article offers a capsule summary of Cruz Reynoso's amazing career devoted to the struggle for justice for all. Part I highlights his work at CRLA, a pioneering legal services organization that continues to thrive in its mission of protecting the rights of the rural poor of California. Part II considers Justice Reynoso's opinions as a jurist, which earned him the revered title of "The People's Justice." Part III reviews his many contributions, scholarly and otherwise, as a law professor and social justice advocate.
[. . .]
As a lawyer, activist, justice, and law professor, Cruz Reynoso championed justice for all. Throughout his career, he served as the conscience of the greater community. His deep and enduring commitment to civil rights comes through in all of his professional endeavors, including his work as an attorney, justice, law professor, and activist. Cruz Reynoso ultimately served as a role model for us all. The nation continues to benefit from his work, and his civil rights and social justice legacy live on.
---
Kevin R. Johnson is Dean and Mabie-Apallas Professor of Public Interest Law and Chicana/o Studies, University of California, Davis, School of Law.
Amagda Pérez is Executive Director of the California Rural Legal Assistance Foundation (CRLAF) and Co-Director of the UC Davis Immigration Law Clinic.