Become a Patreon!
---
Abstract
Excerpted From: Solomon Furious Worlds and Len Niehoff, Race and the First Amendment: A Compendium of Resources, 36-FALL Communications Lawyer 35 (Fall, 2020) (125 Footnotes) (Full Document)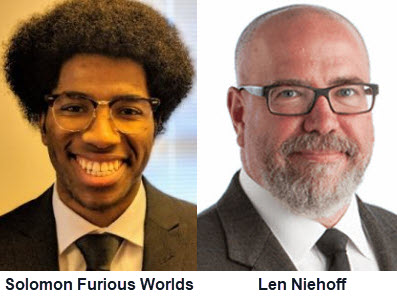 This article provides summaries of law review articles and books that consider the complex relationship between racial justice and free speech. It seeks to assist law students, legal scholars, judges, and practitioners to think more deeply about the intersection between these critically important values. It describes scholarship that views these values as complementary, but also scholarship that views them as conflicting.
This article discusses a few pieces that reflect the traditional view--that the First Amendment has historically provided and continues to provide an essential tool in the pursuit of civil rights and in the advancement and empowerment of racial minorities. But it places much greater emphasis on recent works that take a substantially more critical view of First Amendment doctrine. This more recent scholarship argues that First Amendment doctrine rests on faulty assumptions about how the world actually works, that it amplifies the voices of those in power, and that racists have weaponized that doctrine against people of color in harmful and horrific ways.
We intentionally chose this balance. We worked from the assumption that the readers of this publication would already know (and probably subscribe to) the traditional view. We want to introduce new perspectives that challenge the orthodox paradigm and urge readers to ask themselves whether they really believe that First Amendment doctrine has gotten things right. It would be profoundly ironic if First Amendment lawyers, of all people, were unwilling to participate in some pointed and provocative competition in the marketplace of ideas.
These works certainly break no new ground insofar as they explore the connection between racial justice and free speech. As early as 1965, Harry Kalven wrote in his book The Negro and the First Amendment about how the civil rights movement had shaped First Amendment doctrine and how expressive liberty had promoted racial justice. But today's scholarship explores fresh territory nevertheless.
In their 2017 book Free Speech on Campus, Erwin Chemerinsky and Howard Gilman noted that polls of college-age students showed that they no longer have the reverence for the First Amendment that prior generations embraced. The authors offered several explanations for this trend. Among them was that these students had not witnessed the important role that free expression played during the civil rights movement of the 1960s. Three years later, this once-sound assessment is almost certainly wrong.
In 2020, the slayings of George Floyd, Breonna Taylor, and Tony McDade shifted the ground underneath many of us. Their killings prompted massive demonstrations in the United States and around the world. Many people were already engaged in anti-racist movements sparked by prior killings of unarmed Black people. Suddenly, however, the role of protests in the struggle for racial justice had immediate relevance again and was no longer the stuff of history books, documentaries, and the dusty memories of Baby Boomers.
At the same time, the murders of Floyd, Taylor, and McDade called foundational questions about our social systems and structures. Over the summer following their deaths, cities saw months of continuous protests--some even had land seized by citizens frustrated by their government's inaction. Law students across the country demanded that their schools facilitate more robust discussion of the ways in which our laws and legal system perpetuate white privilege and oppress people of color. In the view of these students, every component of our legal architecture must answer to this charge, and the First Amendment does not get a pass.
This article is divided into two parts. The first part, written primarily by Solomon Furious Worlds, looks at timely law review articles that have considered these issues. The second part, written primarily by Len Niehoff, looks at recent books that have done so. We end this unique project with a brief two-part personal afterword.
[. . .]
The scholarship summarized above reflects a broad array of perspectives, from the traditional to the critical. During this time in our history, when events have called foundational questions about our social and legal structures, a closer look at existing First Amendment doctrine is required. The works cited provide an excellent introduction to the issues and viewpoints involved.
---
Solomon Furious Worlds is a 3L at the University of Michigan Law School who intends to lead a career as a public interest attorney--and, perhaps, a professor.
Len Niehoff co-chairs the Media & Entertainment law group at Honigman and serves as professor from practice at the University of Michigan Law School, where he teaches First Amendment and Media Law.
---
Become a Patreon!