Become a Patreon!
---
Abstract
Excerpted From: Dawn M. Hunter and Betsy Lawton, Centering Racial Equity: Disparities Task Forces as a Strategy to Ensure an Equitable Pandemic Response, 14 Saint Louis University Journal of Health Law & Policy 251 (2021) (123 Footnotes) (Full Document)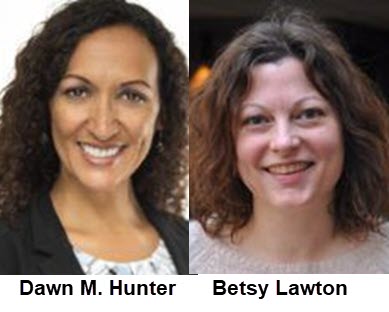 The COVID-19 pandemic has illuminated the toll that decades of structural racism, health inequities, and inequitable resource distribution in communities of color can take during a public health emergency. According to data collected by The Atlantic, White people in America are dying from COVID-19 at half the rate of Black people and twenty-five percent less than Indigenous and Hispanic and Latinx people. Black, Hispanic and Latinx, and Indigenous people are hospitalized at about four times the rate of White people. These inequitable COVID-19 outcomes are rooted in years of policies embedded in systemic racism and environmental injustices that contribute to higher rates of chronic health conditions and leave individuals more susceptible to the worst COVID-19 outcomes, increase work-related exposure at essential jobs that often lack health care or paid sick leave, and result in implicit bias and discrimination in health care settings. Systemic racism also leaves communities of color without the same level of access to conditions needed to be healthy--safe and stable housing, economic stability, affordable health care, clean air and water, high quality education, and healthy food. While reversing the health disparities resulting from centuries of racist policies will take time, the formation of COVID-19 health equity task forces has been a critical step for many states and localities acting to address the stark health inequities among communities of color during the COVID-19 pandemic.
This Article analyzes information gleaned from the authors' review of the documentation establishing task forces in twenty-five states (see Table 1) and a handful of cities and counties to address health inequities related to COVID-19, as well as recommendations and analysis provided by each task force. The authors' analysis summarizes relevant information about the process and legal mechanisms establishing the task forces and the reports and recommendations issued. This analysis also categorizes the task forces' recommendations into six key issue areas, identifies the top task force policy recommendations in each issue area (see Table 2), and discusses opportunities for task forces to translate recommendations into actions that advance health equity.
The analysis in this Article revealed that state and local governments and other organizations established task forces as one approach to prioritize equity in their COVID-19 responses, understand the root causes of health disparities, and identify strategies and interventions to reduce the burden of COVID-19 on vulnerable populations. By the end of April 2020, with the United States having just passed one million cases and nearly 60,000 deaths, fifteen states had announced or established COVID-19 health equity working groups (see Table 1); as did several cities, including Chicago, Oakland, and New York City; and counties, including Ramsey County, Minnesota, and Salt Lake County, Utah. The number of task forces continued to rise as cases and deaths mounted, with seven more states, major cities like Pittsburgh and Boston, and counties including San Diego and Santa Clara counties establishing task forces throughout May and June 2020.
Among the twenty-five states included in this analysis, most task forces were established by administrative action (initiated by the governor's office and/or the state health department). This number includes Utah and Massachusetts, each of which established two task forces--one administrative and one legislative. Four states established working groups by executive order: Michigan, North Carolina, Vermont, and Wisconsin. Wisconsin is notable because its Governor's Health Equity Council was established in March 2019, but its first meeting was on September 30, 2020, amid sustained increases in COVID-19 cases in that state. Indiana's task force was established by legislators in partnership with the state health department and other partners. The Massachusetts COVID-19 Health Equity Task Force was established by the Addressing COVID-19 Data Collection and Disparities in Treatment Act, signed into state law in June 2020.
Seven states--Colorado, Illinois, Indiana, New Hampshire, Tennessee, Utah, and Virginia--identified the state office of minority health as a taskforce partner or lead. State offices of minority health are located within state or territorial health departments and may be responsible for: monitoring and reporting on the health status of racial and ethnic minorities (and other vulnerable population groups); educating the public about health disparities and strategies to address them; building partnerships for community action; and ensuring the provision of culturally and linguistically appropriate services. Many of these offices are funded by the Department of Health and Human Services (HHS) Office of Minority Health State Partnership Grant Program, and may also receive state funding, but not all are equally funded or staffed. Based on their mission and position in health department organizational structures, these offices and their directors are uniquely positioned to lead racial equity work.
The approach to membership on these task forces varied widely, with some having as few as five members and others more than seventy. However, some commonalities were observed in the types of partners included, with the most common being: members from institutions led by and serving people of color, state and local health or public health departments, other state and local government entities, the faith community, non-profit or community-based organizations, higher education, and hospitals and health systems. It was also observed that some task forces included legal services organizations, law enforcement, elected officials, retail pharmacies and other businesses, insurers, or professional associations. Only four state task forces included an at-large or public member serving in their individual capacity (Colorado, North Carolina, Rhode Island, and Vermont). Of the seventeen states in this analysis that include tribal lands, nine task forces included tribal representation.
Some states that did not create state-wide task forces via legislation or administrative action took other approaches to address COVID-19disparities. For example, Washington and Oregon did not establish task forces, but they did use existing infrastructure to issue guidance or recommendations on racialdisparities in health outcomes. Minnesota has addressed COVID-19disparities through existing Department of Health programs and two task forces led by the governor's office. Finally, Arizona has the only state-wide task force established by a non-profit entity, the Women's Economic Institute, Inc.
In addition to statewide efforts, this analysis revealed that many cities and counties initiated local task forces. Some local efforts aligned with statewide efforts, whereas others addressed equity in communities in states without a statewide task force. The Chicago Racial Equity Rapid Response Team, led by the City's Chief Equity Officer, supplemented statewide equity task force efforts and unified several local hospitals and health centers around a declaration that racism is a public health crisis. Participant hospital and health centers also made commitments to provide health care to marginalized communities, invest in communities, build pipelines for people of color to join the health care industry, and evaluate institutional policies through a racial equity lens. In states without statewide task forces, cities and counties stepped up local efforts to address COVID-19 inequities. For example, the city of Oakland, California, established a public-private partnership to address COVID-19 health inequities and a COVID-19 Vulnerability Index measure to help direct resources to the most at-risk communities. In Kansas, the Wyandotte County Public Health Department created a health equity task force of community leaders to provide guidance on strategies to reduce COVID-19disparities.
Non-governmental entities and organizations also created task forces to address COVID-19disparities and the social determinants of health. These task forces often relied on philanthropic funding and prioritized collaboration between existing community organizations to achieve short- and long-term health equity goals. On a local level, the Buffalo Center for Health Equity's AfricanAmerican Health Equity Task Force utilized funding from the Erie County Medical Center to host a community outreach program and to provide health and behavioral health care to Black and Latinx communities in priority zip codes. The Community Foundation of Greater Flint created a Taskforce on Racial Inequities in partnership with academic, philanthropic, health, religious, and governmental organizations.
In Pennsylvania, the Black COVID-19 Equity Coalition brought together health professionals, researchers, public health practitioners, social scientists, and community funders across the state to address COVID-19 inequities and to create a "community oriented, primary, and preventative health care infrastructure." The Massachusetts Public Health Association's Emergency Task Force on Coronavirus & Equity developed a report card assessing equity in Governor Baker's reopening policies and issued policy recommendations related to housing security and safety, worker rights, police accountability, data collection, immigrant health and safety, equitable reopening, decarceration, and crisis standards of care. These efforts will require dedicated funding and ongoing support from partner groups as organizations engage in broad-ranging efforts to reverse the structural and social roots of health inequities.
[. . .]
Establishing a health equity task force, work group, or committee is one of the key policy interventions to inform the COVID-19 response, direct resources to vulnerable communities, and develop long-term strategies to address disparities in health outcomes. These task forces are positioned to influence policy development and the implementation of strategies that can lead to meaningful change. To do so, they need the authority to act or a direct connection to a source of authority (like a governor's office or a legislature), as well as resources to implement proposed interventions. One of the most important steps for policymakers going forward will be to formalize task forces and enshrine task force objectives in state and local law.
Some jurisdictions have taken these steps. Washington enacted a bill effective in June 2020 creating a state Office of Equity that is tasked with addressing many of the key issues noted in this analysis: applying an equity lens to agency decision-making, service delivery, policy development, and budgeting; strengthening community engagement and outreach; training to create a diverse, inclusive, and culturally sensitive workforce; establishing standards for the collection, analysis, and reporting of disaggregated data; and establishing performance metrics and other accountability strategies. Other examples include a Louisiana bill to establish the COVID-19 Health Equity Task Force, a New York bill to establish a racial equity, social justice, and implicit bias training program for all state and private employees, and the Massachusetts bill that created the task force included in this analysis.
At the local level, the Chicago Racial Equity Rapid Response Team, incorporated into the Chicago Department of Health, will transition to a focus on racial equity as part of the Healthy Chicago 2025 plan. The San Jose City Council accepted a set of thirty recommendations submitted by the Santa Clara County Health and Equity Task Force. At the national level, the Biden administration established a COVID-19 task force focused in part on protecting at-risk populations as well as on equitable vaccine distribution, echoing some of the state-level actions analyzed here. The administration has also identified equity as one of its top priorities, the significance of which cannot be overstated in advancing the movement toward racial justice.
COVID-19 health equity task forces are the latest in a long line of strategies designed to eliminate health disparities. States should consider how to use existing infrastructure and build on previous efforts as they create new plans to address racial and ethnic disparities in health outcomes. State offices of minority health exist in almost every state. Additionally, the ten HHS regions have been served in the past by Regional Health Equity Councils, which were independent, cross-sector coalitions implementing the National Partnership for Action to End Health Disparities. States should evaluate the successes and challenges of these and other prior efforts to address health disparities and consider strategies that recognize the people, agencies, organizations, and communities that have long been doing this work.
These task forces should also align with current initiatives to facilitate a robust and coordinated approach to achieving racial equity. For example, there is significant overlap between the jurisdictions that established a COVID-19 health equity task force and jurisdictions that declared racism a public health crisis in 2019 or 2020. Ohio has the largest number of localities that have issued declarations and has one of the most comprehensive set of recommendations issued by the Ohio Minority Health Strike Force, including a detailed Executive Response. As of the end of October 2020, more than 150 cities, counties, states, hospitals and health systems declared racism a public health crisis. These declarations recognize many of the same drivers of health inequities and include many of the same policy recommendations issued by task forces. The substantial overlap in recommendations highlights the importance of addressing the harms of racism on public health and the opportunity to use law and policy to reverse those harms.
However, establishing a task force is only one policy approach. States without a task force have also recognized the need to understand and address racialdisparities and have taken other actions, like incorporating equity into their overall recovery plan (California), commissioning studies of racial and ethnic health disparities due to COVID-19 (Texas), or taking a broad look at racial equity in general (New Mexico). What is perhaps most important is that these proposed actions are informed by the evidence of disparities and that there is alignment and coordination of efforts to ensure a robust response. One way to do this is through an enterprise-wide commitment to racial equity. A task force, office, program, or position dedicated to racial equity may be necessary, but is not sufficient, and Oregon and Ohio stand out as examples of states committed to institutionalizing racial equity principles and practices throughout state government. No matter the intervention, the impact on racial and ethnic health disparities will take time to realize, as measures of population health are slow to shift, and states are still grappling with responding to and controlling the spread of COVID-19.
Task forces made considerable, and often extensive, recommendations to achieve health equity. Future research should assess whether states with task forces were more likely to implement laws and policies to address the social and political determinants of health, and whether those changes lead to improvements in health outcomes for Black, Hispanic and Latinx, and Indigenous people and other vulnerable populations. Future research should also assess changes and investments in public health infrastructure, particularly around data collection, and assess whether these changes are associated with improved response and recovery efforts. Finally, it will be important to assess whether recommendations related to community engagement and inclusion lead to meaningful involvement of community members in decision-making processes and the elevation of community-identified priorities to improve individual and community health outcomes and strengthen community resilience. Racial equity cannot be achieved without the leadership, perspectives, and expertise of community members in shaping more equitable laws and policies.
---
Dawn M. Hunter, JD, MPH. Director, Network for Public Health Law - Southeastern Region.
Betsy Lawton, JD. Senior Staff Attorney, Network for Public Health Law - Northern Region.
---
Become a Patreon!