Become a Patreon!
---
Abstract
Excerpted From: Jim Hawkins and Tiffany C. Penner, Advertising Injustices: Marketing Race and Credit in America, 70 Emory Law Journal 1619 (2021) (184 Footnotes) (Full Document)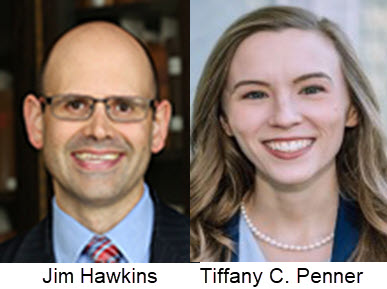 Advertising matters for racial justice, and no market reveals this reality more clearly than consumer credit. Lenders offering credit at extremely high prices, such as payday lenders, target members of racial minority groups. African Americans and Latinos use these ôfringe banksö at a disproportionately high rate. Mainstream banks, however, often omit minorities entirely from their marketing efforts.
Consumer credit played a central role in the civil rights movement. As credit became more important in society, ôaccess to fair credit emerged as an important platform from which to address persistent social and economic inequality.ö Sustainable, reasonably priced credit remains essential to modern economic life in America: ôThe ability to purchase a home depends, for most individuals, on access to credit, as does the ability to purchase a car, to obtain post-secondary education, or to start a business.ö In addition to helping acquire assets, credit allows people to deal with uneven income patterns and to survive financial emergencies. Pushing African Americans and Latinos outside mainstream banking services and into high-cost, high-risk products creates a second-class tier of banking.
America has a long history of economic exploitation of African Americans through slavery, sharecropping, and crop-lien agreements. Lenders historically segregated the market for debt based on race by redlining certain neighborhoods, and the effects of that history remain today. One result of this segregation is the high use of fringe banks by African Americans.
While there is consensus that African Americans and Latinos use fringe banks at a disproportionately high level, researchers have not entirely discovered why. Even after controlling for other socioeconomic factors like wealth, education, and credit scores, economically significant disparities remain between how majority and minority racial groups use credit. Economists have suggested that supply-side factors may provide the explanation. Yet, academics have largely neglected the effects of an important aspect of the credit business--how lenders market credit.
The small body of literature that addresses race and fringe banking almost uniformly overlooks the importance of advertising. Recently, a few papers have empirically assessed the relationship between race and marketing credit, mostly in the context of credit card offers sent through the mail. Examining credit card mailings to households, Song Han and coauthors found that ôwhite consumers are almost three percentage points more likely to receive an offer than otherwise identical nonwhite consumers.ö Simon Firestone's more in-depth analysis of mailings yielded similar findings:
Blacks were approximately 27% less likely to receive offers from credit card lenders during the sample period, even after controlling for variables such as credit history, household income, and local economic conditions. Hispanics were 17% less likely to receive an offer, after including controls. The discrepancy is robust to lender-specific regressions and the inclusion of a large number of explanatory variables.
Despite this preliminary analysis, however, these sources point to the significant need for research into race and marketing credit.
This Essay seeks to meet that need. We present evidence from two studies of lenders in Houston, Texas--one of fringe banks and one of mainstream banks. We found that payday and title lending advertising targets African American and Latino customers. For instance, while African Americans make up only 15.6% of auto title lending customers and 23% of payday lending customers, 34.8% of the photographs on these lenders' websites depict African Americans. Similarly, 77.3% of the advertisements at physical locations in our study targeted racial minority groups. However, mainstream banks often focus advertising on whites. For example, our review of mainstream lender websites featuring white, African American, and Latino models found that almost 30% featured no African American models. Almost 75% featured no Latino models. In contrast, only 3%--a single bank's website--did not feature a white model. Even after the outcry over racial injustice in 2020, banks did not appreciably increase the representation of people of color on their websites. This needs to change.
While other social justice reforms require complicated solutions or deep social and cultural transformations, reforming advertising laws is a relatively simple way to make an immediate and meaningful impact on the economic lives of minorities. Lawmakers have blueprints for stopping discriminatory advertising, but they have simply overlooked these reforms. Advertising that entrenches racial economic subordination needs to end in American credit markets. This Essay proposes two politically appealing ways that lawmakers could ensure more equitable credit markets for all Americans.
Part I introduces the fringe banking industry, including the dangers and drawbacks of the market. It also surveys the evidence that African American and Latino borrowers turn to this industry in greater proportion than other borrowers. Part II argues that advertising steers people of color away from mainstream banking and toward fringe banks. Here we present the methodology and findings of our two studies. Finally, Part III suggests that policymakers, as well as lenders, can change advertising practices to stop overuse of fringe credit by racial minority groups.
[ . . .]
A Houstonian looking for a loan online might go to three websites. The first one--a mainstream bank--has two white women pictured as customers. The next bank's website has five white men and one white woman. The final bank's website pictures a white female customer. If the Houstonian is white, she knows exactly where to go for a loan.
If she is Latina or African American, however, she may wonder if those banks are a good fit. If she clicks on a payday lender's website, however, there is a much higher chance she will see advertising in a language she speaks or that she will see people who look like her. If she is anything like the rest of us, this ôsocial proofö will be a subtle but powerful draw to visit the payday lender.
It does not have to be that way. The Fair Housing Act already provides the language policymakers could use to protect minorities from discriminatory treatment in advertising by amending the Equal Credit Opportunity Act. The Consumer Financial Protection Bureau, among other federal regulators, could use evidence from the pictures on lenders' websites to detect whether mainstream banks are failing to market their credit to African Americans and Latinos. The case law also supports sanctions if payday lenders are using pictures to target racial minority groups with high-cost credit. Regulators could also update the qualifying activities under the Community Reinvestment Act to encourage more diverse representation on bank websites. Even more simply, banks and payday lenders themselves could review their own websites for discriminatory treatment to stave off unfavorable legislation, litigation, or negative public opinion. These simple changes could mean more affordable credit for minorities. More importantly, they could usher in advertising that combats racial injustice rather than embodies it.
---
Jim Hawkins,alumnae College Professor in Law, University of Houston Law Center.
Tiffany C. Penner, J.D. Candidate 2022, University of Houston Law Center.
---
Become a Patreon!