Become a Patreon!
---
Abstract
Excerpted From: Catherine J.K. Sandoval, Patricia A. Cain, Stephen F. Diamond, Allen S. Hammond, Jean C. Love, Stephen E. Smith and Solmaz Nabipour, Legal Education During the Covid-19 Pandemic: Put Health, Safety and Equity First, 61 Santa Clara Law Review 367 (2021) (529 Footnotes) (Full Document)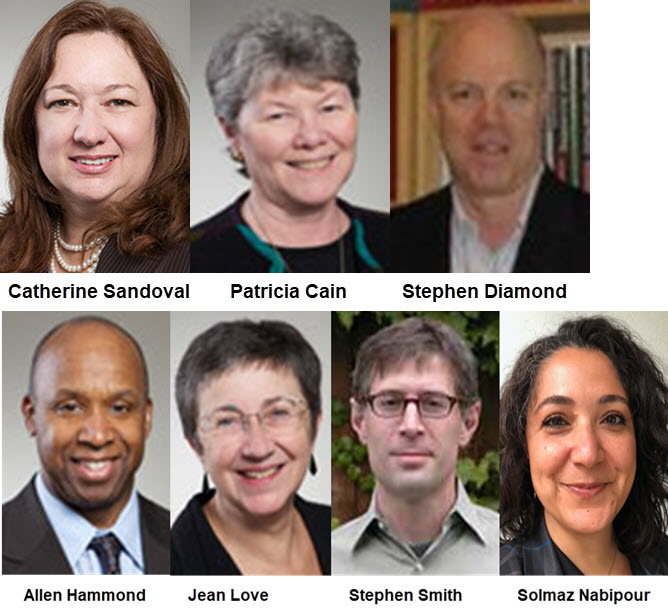 The COVID-19 pandemic has exposed safety culture and equity gaps in American legal education. This coronavirus pandemic challenges the model of in-person teacher-student pedagogy characteristic of American legal education since 1784. Legal education forms part of America's Critical Infrastructure, whose continuity is important to the economy, public safety, and national security of the United States. The Carnegie Report characterizes the legal profession as "fundamental to the flourishing of American democracy." Law schools train students to analyze legal issues, develop legal arguments, and engage with and represent clients in the legal system. Continuing access to legal education during this pandemic is essential to maintaining a healthy legal system and democracy.
Commitment to health, safety, and equity should form the cornerstone of ethical and effective legal education. This article proposes an ethical framework for legal education that centers diversity and inclusion as the foundation of robust educational dialogue and recognizes the inherent worth and dignity of every human being. Consistent with the ethical standards expected of lawyers and law schools, this article recommends American law schools develop a safety culture and prepare safety plans to put health, safety, and equity first.
The COVID-19 pandemic underscores the urgency of developing a safety culture and equity-based framework to guide twenty-first century legal education. The U.S. Department of Health and Human Services (HHS) declared COVID-19 a public health emergency on January 31, 2020. On March 11, 2020, the World Health Organization (WHO) declared COVID-19, also known as SARS-CoV-2, a pandemic.
Infections, hospitalizations, and deaths from COVID-19 escalated in many areas of the United States during summer 2020 as people under age forty-five, many of whom are in the largest age cohort for law students, led the surge in COVID-19 cases. By December 2020, the post-Thanksgiving COVID surge dwarfed the summer infection peak, resulting in hospitals reaching or approaching intensive care bed hospital and staffing capacity in many American communities. The 2020 holidays created a "viral wildfire," Dr. Robert Kim-Farley at UCLA observed, resulting in increased infection, hospitalization, and death prior to widespread availability of COVID-19 vaccines.
In December 2020, the U.S. Food and Drug Administration approved COVID-19 vaccines developed by Pfizer and Moderna for emergency use authorization. Initial vaccine rollout resulted in administration of just over two million COVID-19 vaccines by the end of December 2020, one tenth of the Trump Administration's goal for that month. At that pace, it would have taken ten years to vaccinate enough Americans to bring the pandemic under control.
President Biden's plan to deliver 100 million COVID-19 vaccine doses in his administration's first 100 days was achieved by March 12, 2021, leading President Biden to proclaim that all American adults would be eligible for COVID-19 vaccination by April 19, 2021. On March 31, 2021, Pfizer announced that its vaccine approved for people over sixteen years of age and older was one hundred percent effective for twelve to fifteen year olds. Moderna's vaccine, approved for those over eighteen, was in clinical trials as of spring 2021 to test its effectiveness on children. In late February 2021, the Johnson & Johnson one-dose vaccine was approved for emergency use and administration in the U.S.
Vaccination administration expanded in the U.S. in late 2020-2021 as more infectious COVID-19 variants such as the U.K., South African, Brazilian, Indian, California, and other variants continued to emerge and circulate. "Right now, we're in a race between the variants and the vaccine," Santa Clara County Health Officer Dr. Sara Cody said in April 2021.
Research continued in spring 2021 as to whether the COVID-19 vaccine deters virus spread. As vaccination expanded in the United States, COVID-19 cases were rising in some states in spring 2021, leading to coronavirus U.S. death rates comparable to June 2020 mortality levels, but down from the January 2021 height. As vaccine delivery proceeds with an uncertain timeline, it remains unknown whether COVID-19 will persist as an endemic virus or reemerge as a localized pandemic.
This article recommends that during the COVID-19 pandemic as defined by WHO and local, state, or national coronavirus public health emergencies, online education is the safest course for legal education and should remain an option for in-person or hybrid learning models. Law schools considering in-person or hybrid education should consider requiring COVID-19 vaccinations for campus participants. Some universities have announced COVID-19 vaccination requirements for fall 2021, with religious and health exemptions available. Exemptions and lack of vaccination requirements may result in some unvaccinated students, faculty, and staff participating in classes or campus activities, which may increase transmission risks as early studies indicate COVID-19 vaccination decreases transmission risks.
Law schools should adopt a people-centered, safety and equity-centric approach to decision-making about pedagogical methods and campus activities. Law schools must remain vigilant to health conditions on campus and in their community and extended campus network. Law schools must be prepared to switch to online education and work for some class members, faculty, or staff, and for the entire school or university depending on health and safety conditions, and equity and pedagogical assessments of hybrid education. During the COVID public health emergency, masks should be required for classes indoors, particularly where everyone in the room is not vaccinated, and until health officials approve larger gatherings. Partitions, ventilation, and other infrastructure investments are appropriate, along with promoting personal, building, and equipment hygiene.
This article's interdisciplinary analysis of scientific studies on COVID-19, and the limits of mitigation measures, concludes that gathering adults indoors in physical classes is a high-risk activity during this pandemic. infection risks serious illness, long-lasting complications, and death, and has preyed on America's inequities. African-Americans, NativeAmericans, Latinx Americans, older Americans, and those with certain underlying health conditions, including pregnant women, face increased perilous COVID-19 infection risks including higher levels of hospitalization and death.
This article theorizes that the hybrid educational model that blends in-person and online learning may cleave students, faculty, and staff by race, ethnicity, tribe, age, and health. Such a division undermines commitments to diversity and inclusion and First Amendment values that support educational dialogue. Law schools should monitor whether in-person or hybrid classes divide participants by demography, tribal affiliation, health, disability, or other factors, and take steps to promote diversity, inclusion, educational dialogue, and excellence. Assessment and training are highly recommended for online, hybrid, and in-person models, recognizing the challenges of the hybrid model where students are participating on different platforms. Faculty should also be allowed to offer office hours on-line as meetings in faculty offices pose challenges and risks--even when all participants are vaccinated and wearing masks.
COVID-19 is unlikely to be the last virus that threatens global health and challenges prevailing educational, work, and societal paradigms. "Pandemic influenza is not a theoretical threat; rather, it is a recurring threat," the HHS Pandemic Influenza Plan warned in 2017. Zoonotic diseases such as COVID-19, believed to have mutated in animals before infecting human beings, "represent up to 75 per cent of all emerging infectious diseases." Michael Ryan, Director of Emergencies at the World Health Organization, warned COVID-19 is not necessarily "the big one" and called for increased collaboration between the scientific community, government and the public as "these threats will continue."
This lengthy pandemic and the prospect of further viral contagions underscore the urgency of developing a safety culture in legal education. Law schools and universities must examine the role of technology and online resources as a substitute for--or a complement to--in-person education as we face public health and safety threats. Developing a safety culture that promotes ethical, inclusive, and effective legal education is critical to legal education's resilience and fulfillment of its educational and societal mission.
The ethical imperative of safety in legal education, and the relationship of safety to diversity, inclusion and education's First Amendment values have received scant scholarly attention. Safety has neither been the focus of the American Bar Association (ABA) Section on Legal Education and Admission to the Bar, nor an organizational principle that grounds Law School administration. ABA Standard 301 charges law schools with maintaining a "rigorous program of legal education that prepares its students, upon graduation, for admission to the bar and for effective, ethical, and responsible participation as members of the legal profession." Legal education and ethics training often fail to address the principle that "lawyers have responsibilities to the profession and the public that transcend the letter of the law." Most legal ethics programs focus on attorney conduct, including the attorney-client relationship, but skim over ethical issues at the root of valuing and protecting safety.
Safety is an organizational value grounded in the recognition of the inherent worth and dignity of every human being. The "basic concept of the essential dignity and worth of every human being--a concept at the root of any decent system of ordered liberty," underlies the first amendment's constitutional values foundational to education. Thomas Aquinas recognized dignity as a "value inherent to its possessor, i.e., it is not possessed by that being in virtue of their relation to other worldly beings."
Many law schools proclaim their community's health and safety a top priority, though they have not developed and articulated a safety culture. Yet, in an effective safety culture, safety is an espoused value that renders each person in an organization responsible for safety and empowers all to call attention to safety issues. Safety citizenship behavior "is an individual's safety behavior that supports the workplace's overall safety conditions and goes beyond safety compliance."
Leadership is integral to safety and is often "the primary influence on organizational culture and safety culture." As an example, Cindy Caldwell's analysis of corporate decisions leading to large-scale injuries, including death, concludes that "disasters were not causally linked to one bad decision, but instead were socially organized and systematically produced by bureaucratic social structures." "[P]rior to disaster, there is a long incubation period where the potential for disaster builds." Man-made disasters are "based on a failure of foresight to detect a drift from organizational norms." Failure to establish safety plans and to identify organizational values fuels safety risk.
COVID-19's safety risks prey on America's inequities. "Long-standing systemic health and social inequities have put many people from racial and ethnic minority groups at increased risk of getting sick and dying from COVID-19," the U.S. Centers for Disease Control and Prevention's (CDC) reported. Hospitalization for COVID-19 infection is more than three times more likely for Latinx Americans and NativeAmericans, and African-Americans than for White [non-Hispanic] Americans. Notably, "Latino and African-American residents of the United States have been three times as likely to become infected as their white neighbors," and "nearly twice as likely to die from the virus as white people."
Dr. Joia Crear-Perry observes that "exposure to racism," not race, is a health risk factor. disparate and devastating health and social consequences call on us to act as ethical educators and an ethical profession. Consistent with "data feminism" as conceptualized by Catherine D'Ignazio and Lauren Klein, it is "not enough to unmask and expose unequal power relations in data collection and data science; we must commit to righting and rebalancing the distribution of power."
COVID-19 stalks the world as we confront violence committed under the color of law by police and other institutions. Black Lives Matter affirmations, pledges to stop hateful conduct, and commitments to equity and inclusion reflect respect for each human being's inherent worth and dignity. Aligned with those values and commitments, law schools must act to protect the health and safety of each member of our diverse community and those with whom we are interconnected.
Law schools are not islands. This article conceptualizes law schools as hubs of Extended Campus Networks (ECNs) that convene people from many regions. Throughout the academic year, law students, faculty, staff, and their families interact with each other, with their communities, and extended networks. Refraining law schools as hubs interconnected to and serving our society challenges conceptualizations of law schools as insular institutions. This perspective also unveils viral transmission pathways in-person classes, meetings, and off-campus activities can propagate.
In-person classes that meet for an hour or more at a time, several times a day or week, form hubs conducive to virus transmission as participants meet in and out of class. Such networks support epidemiological "transmission clusters and pathways as well as virus introduction routes." Networks can "link infected hosts from the same epidemiological transmission clusters," undermining public health, safety, and education.
"Our paramount duty is and should be to ensure the health, safety, and wellbeing of our students, staff, local communities, and faculty," Peter Huang and Debra Austin urge in their article Unsafe at Any Campus: Don't Let Colleges Become the Next Cruise Ships, Nursing Homes, and Food Processing Plants. Law schools are charged with providing an ethical and rigorous legal education that trains students to serve the profession and the community.
As vaccination availability and administration increases, many law schools are planning to return to in-person teaching by fall 2021, recognizing that public health developments may derail those plans. The question law schools should ask is whether conditions have sufficiently changed to safely convene in-person classes and meetings.
Harvard Law School's analysis highlights concerns about the hybrid educational model that led it to continue online legal instruction in spring 2021. Harvard faculty observed that mask wearing required of those attending a hybrid classroom in person makes it more difficult for all participants--particularly for those participating online, to hear each other and see facial expressions. Hybrid "classes are not equally accessible to students who come from countries subject to a travel ban, who face other difficulties securing visas," as well as those "who have family or personal obligations or challenges that compel them to remain where they are now, or who suffer from underlying conditions that place them at high risk of serious illness should they contract COVID-19." The Harvard law faculty determined that "considerations of equity strongly favor continuing with online instruction" in spring 2021.
The factors that informed Harvard Law School's decision to hold classes online in spring 2021 may persist into fall 2021 and beyond as vaccination gaps, COVID health disparities, and more infectious COVID variants continue. Classes where students must wear masks will still make being heard more challenging and limit visibility of facial expressions. Individual student microphones may help in some classes but have yet to be widely adopted. Travel bans and visa limitations may continue to limit options for international students who are part of the law school student body. Underlying health and equity conditions still put many people, including communities of color, at higher risk. vaccination needs to reach a greater range of the American public including young adults who form a large portion of the law school cohort, communities of color, and those who have hesitated to receive the vaccine.
As vaccination, health, and equity gaps persist, law schools must exercise caution before returning to in-person or hybrid teaching, particularly while more infectious COVID-19 variants circulate. This article urges law schools and universities to adopt a safety culture, pandemic, and disaster preparation plans to save lives and protect the health of the communities we serve, consistent with our educational mission.
B. Organization of this Article
The COVID-19 pandemic calls for legal education to reevaluate its pedagogical model and values. This article proposes an ethical framework for legal education rooted in respect for the dignity and worth of each person and inclusive dialogue among diverse participants to prepare students to be effective, ethical, and responsible members of the legal profession and the community.
Section II examines legal education as a Critical Infrastructure service that prepares students to serve as ethical members of the legal profession and society, consistent with ABA standards. Section III evaluates CDC guidance for institutions of higher education and ABA standards that give law schools flexibility to address emergencies and increase options for online education. Section IV analyzes the science of COVID-19 transmission, viral mutation, the virus's disparate effects, and mitigation strategies. It examines COVID-19 infection rates among people under forty-five, the age cohort constituting the bulk of American law students. It incorporates the lessons of network theory to examine the role of in-person gatherings as the incubator of virus transmission.
Section V explores delays in COVID-19 testing and screening and examines the limits of strategies that trail and attempt to trace infection. Section VI explores physical factors at universities that may contribute to virus spread. Section VII highlights increased risks of poor COVID-19 outcomes for people with certain underlying conditions, several communities of color, and older Americans.
Section VIII analyzes online, hybrid, or in-person legal education models and argues that in-person or hybrid education during the Covid-19 pandemic will not be law school "as usual" It examines challenges to executing the hybrid model, and contends this model increases health and safety dangers, undermines education, and conflicts with ethical obligations and commitments to diversity and inclusion.
Section IX examines ethical decision-making frameworks using Santa Clara University's Markkula Ethics App as a construct to guide ethical analysis. This section proposes an ethical framework to guide legal education based on respect for the inherent worth and dignity of every human being, safety, and a commitment to diversity and inclusion that fosters the robust dialogue central to legal education.
Section X analyzes legal theories that center diversity as the foundation of robust dialogue and education. It highlights the demographic divisions hybrid classrooms may create. This separation undercuts the diverse dialogue law schools have long sought to foster to promote robust education.
Section XI discusses online education and virtual platforms that foster educational excellence and prepare lawyers for the contemporary legal profession. Section XII of this article concludes that online legal education is the safest option during this pandemic. It suggests a decision-making framework to determine methods for conducting legal education during the COVID-19 pandemic or declared health emergency. It emphasizes the need for safety and equity-centered decision-making to ensure that hybrid or in-person education does not undermine health, safety, and equity. It suggests assessments and training to ensure that law schools deliver safe, effective, ethical, diverse, and inclusive legal education.
[. . .]
Law schools should take steps to ensure equity including monitoring whether hybrid classes split students or faculty by demographics (race, ethnicity, tribe, gender, age, disability, health status). Law schools should adopt technology, training, and support to promote diversity, equity, and educational dialogue in classes and legal educational activities. We recommend that law schools focus on training faculty and students to increase the effectiveness of online teaching and learning, and address Internet and computer access issues and ISP policies that undercut educational equity. Training, assessment, and support are also essential if hybrid classes are used to ensure that pedagogical, diversity, inclusion, and equity objectives are met.
The "well-being of students, staff, and faculty is irreplaceable. Death is irreversible. During COVID-19, online higher education is socially responsible higher education," Huang and Austin emphasized. The safest course for legal education during the COVID-19 pandemic and health emergency is online education. Online legal education will save lives, protect health, and train law students to use online tools that are reshaping legal practice and society.
Accessible, diverse, and effective legal education requires planning for resiliency, inclusive technology, and pedagogy to meet twenty-first century challenges. This article urges law schools to develop a safety culture that prioritizes health, safety, equity, and well-being, respects the dignity and worth of every person, and values diversity and inclusion to support robust education.
---
Associate Professor of Law, Santa Clara University School of Law (SCU Law), This email address is being protected from spambots. You need JavaScript enabled to view it., Orchid ID: 0000-0001-5897-1983 (Correspondence author).
Professor of Law, SCU Law.
Associate Professor of Law, SCU Law.
Phil and Bobbie Sanfilippo Chair and Professor of Law, SCU Law
Professor of Law, SCU Law.
Associate Clinical Professor of Law, SCU Law.
Clinical Associate Professor of Anesthesiology, Anesthesiology Medical Director, Stanford Cancer Center at South Bay. Dr. Nabipour is also a second-year law student at Santa Clara University School of Law.
---
Become a Patreon!