Page 1 of 7
Become a Patron!
---
Abstract
Teri A. McMurtry-Chubb, "Burn this Bitch Down!": Mike Brown, Emmett Till, and the Gendered Politics of Black Parenthood, 17 Nevada Law Journal 619 (Summer, 2017) (336 Footnotes Omitted) (FULL ARTICLE)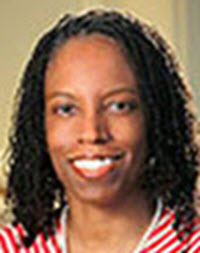 Mike Brown's eighteen year-old dead body lay on the weathered, cracked, pavement over-warmed by an August Missourian sun for four hours. In the moments after he shot and killed Brown, police officer Darren Wilson walked to his police cruiser and drove away from Brown's body, away from the six bullets he fired, bullets now lodged in Brown's head, arms, and neck, bullets for which Wilson would not be held accountable. Those sluggish, barely conscious hours continued to pass on August 9, 2014 drawing out of doors and indifference members of Brown's Ferguson, Missouri community. As the hours dripped from the humidity laden day, Brown's stepfather Louis Head stood holding a sign that read: "Ferguson Police Just Executed My Unarmed Son!!!" His expression was one mixed with disbelief, indescribable sadness, and an as yet imperceptible anger. Subsequent pictures from that day show Head in an embrace with his wife, Lezley McSpadden, Mike Brown's mother, in attempts to provide her support and care. Head would appear in another photo on August 9th with his hands up in surrender, the same position that witnesses say Brown assumed seconds before Wilson ended his life. More time passed until that terminal fourth hour when the medical examiner ("ME") for the city of Ferguson arrived on the scene to examine the body. The examination that followed was neither complete nor thorough; there would be no official pictures because the ME's camera lacked battery power. The ME was not only late, but also unprepared.
Late and unprepared were themes that would persist throughout the Ferguson District Attorney Robert McColloch's investigation into the killing. A grand jury decided three months later, and a few hours late, that a justice system used to buttress a white supremacist police state would waste no resources to determine why another Black son's body lay dead in the street by the actions of another white cop. Ferguson, America, and the world were unprepared for the social media attention, protests, and grassroots mobilization that followed. Within the gaze of the media, the courts, and the country, lady justice insisted on willful blindness and post-racial comfort. Fixed in her unseeing eyes, Louis Head decided to engage Lady Justice's undamaged sense of hearing. When McCulloch announced the grand jury decision not to indict Darren Wilson for Mike Brown's death, Head uttered the words: "Burn this bitch down!" Out of a father's grief was this expression of rage to make desolate what could offer his family no solace. For these words, the District Attorney would investigate whether to charge Mr. Head with incitement; Head was accused of inciting the riots that made Ferguson burn.
Fifty-nine years previous, on another August day later in the month, a fisherman would discover the water-engorged body of another Black son. On August 28, 1955, Roy Bryant and J.W. Milam lynched fourteen-year old Emmett Till for allegedly whistling at Bryant's wife, Carolyn Bryant. The two weighted Till's body with a seventy-five-pound cotton gin fan and dumped him in the Tallahatchie River in Money, Mississippi. The Tallahatchie would divulge their gruesome secret several days later. After narrowly avoiding a hasty Mississippi interment of her son's remains, a failed attempt by Mississippi authorities to thwart further investigation into Till's murder, Mamie Till secured transport of her son's body back to his hometown of Chicago, Illinois. Once at the funeral home that would prepare her son for services, Mamie Till not only insisted on seeing her son, but also on leaving his body as it was for the funeral services in full view of the mourners; Ms. Till wanted an open casket. Out of a mother's grief, she articulated her reasons for wanting Emmett viewed as he was brutalized: "[I want] all the world to witness [what they did to my boy]." Her words brought worldwide attention to violence against Black people in the Jim Crow South and mobilized Black America to action. The public spectacle of Emmett Till's murder and funeral, the trial and acquittal of Bryant and Milam that followed, and the overt and escalating oppression of Black people in the former Confederacy reached a tipping point on December 1, 1955, when Rosa Parks refused to give up her seat on a Montgomery, Alabama bus; an act that began the Montgomery bus boycotts. Mamie Till's words marked the beginning of one of the largest grassroots movements to date to secure Black civil rights.
Mamie Till's words incited a movement, while Louis Head's words invoked the threat of prosecution for the crime of incitement. By declaring that she wanted "all the world to see [what Bryant and Milam did to her boy]," Mamie Till was able to access political Black parenthood from a space of Black motherhood and direct public attention to political action against white supremacists for the murder of her son. However, the parallel space of Black fatherhood was not available to Louis Head as an access point to political Black parenthood, parenthood that gives authority to bring attention to violence against Black children. In uttering the words "Burn this bitch down," Louis Head was arguably voicing his frustration and anger over not being able to protect Mike Brown as a father, but to opposite effect. A system that would seek to criminalize his grief and deny him a public expression of Black fatherhood to political ends is the subject of this article.