Become a Patreon!
---
Abstract
Excerpted From: Cathryn Costello and Michelle Foster, Race Discrimination Effaced at the International Court of Justice, 115 AJIL Unbound 339 (2021) (36 Footnotes) (Full Document)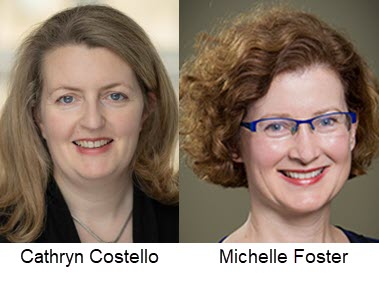 This essay examines the interpretation of the core international treaty dedicated to the elimination of racial discrimination, the International Convention on the Elimination of All Forms of Racial Discrimination (CERD), and in particular how the prohibition on race discrimination applies to the treatment of migrants. This essay is timely, as CERD has travelled from the margins of human rights law to the center of the hottest interstate lawfare. At the time of writing, the first ever interstate dispute before any UN treaty body is before the CERD Committee, and CERD has been invoked in several interstate cases before the International Court of Justice (ICJ). Unfortunately, this crucible of adjudication has not marked an increase in principled interpretation. This essay critiques the recent admissibility ruling of the ICJ in Qatar v. U.A.E. for its marginalization of the prohibition of race discrimination, in particular the failure meaningfully to consider how nationality discrimination may constitute prohibited race discrimination.
CERD contains a provision permitting states to distinguish between citizens and non-citizens. It thus accommodates the entitlement of states to control the admission of non-citizens. However, migration controls frequently distinguish between different groups of non-citizens, establishing stratified hierarchies of migration opportunities. These categorizations often reflect pre-existing global hierarchies, with strong echoes of empire and colonialism. Recent scholarship has re-centered race and other discriminatory grounds in migration studies. Ethicists' attempts to justify the right to exclude generally stipulate that exclusion must not be racist. Against this backdrop, what is puzzling is not the racialized nature of migration controls, but rather the relative lack of attention afforded to whether and when they are legally racially discriminatory.
Discrimination on Grounds of Race and Citizenship in CERD
CERD defines "racial discrimination" in Article 1(1) as:
any distinction, exclusion, restriction or preference based on race, colour, descent, or national or ethnic origin which has the purpose or effect of nullifying or impairing the recognition, enjoyment or exercise, on an equal footing, of human rights and fundamental freedoms in the political, economic, social, cultural or any other field of public life.
This broad definition would appear capable of extending to a distinction, exclusion, or restriction in the field of migration control, including decisions about admission, exclusion, or expulsion, where such a distinction is made on the grounds of race, as broadly defined in Article 1(1) to include national origin. Article 5 further expands on the "human rights and fundamental freedoms" protected by CERD and includes, "[t]he right to freedom of movement and residence within the border of the State," and "right to nationality." The framing of CERD's obligations is in part explained by the powerful preambular words that the international community is "[c]onvinced that the existence of racial barriers is repugnant to the ideals of any human society".
However, Article 1(1) is conditioned by the following two provisions:
2. This Convention shall not apply to distinctions, exclusions, restrictions or preferences made by a State Party to this Convention between citizens and non-citizens.
3. Nothing in this Convention may be interpreted as affecting in any way the legal provisions of States Parties concerning nationality, citizenship or naturalization, provided that such provisions do not discriminate against any particular nationality.
On its face, Article 1(2) covers distinctions between citizens and non-citizens, irrespective of whether these distinctions also differentiate on other grounds. A better reading is that CERD permits distinctions based on nationality, but this does not give states carte blanche to discriminate on grounds of race. At least three reasons support that interpretation. First, it is well established that limitations or exceptions to human rights provisions should be read narrowly. Second, the Convention text indicates that it applies to non-citizens because every obligation is framed broadly to apply to "eliminating racial discrimination in all its forms"; rights are guaranteed to "everyone, without distinction as to race, colour, or national or ethnic origin," and the treaty includes the right to effective remedies which applies to "everyone within [a state's] jurisdiction." Third, a wider reading has been said to constitute a "'manifestly absurd or unreasonable' reading of" CERD, "not corresponding to its object and purpose."
The CERD Committee's General Recommendation XXX sets out that
differential treatment based on citizenship or immigration status will constitute [race] discrimination if the criteria for such differentiation, judged in the light of the objectives and purposes of the Convention, are not applied pursuant to a legitimate aim, and are not proportional to the achievement of this aim.
Unfortunately, this states a conclusion, but does not provide a reasoned justification for the interpretation put forward, nor a clear framework for analysis. As Tendayi Achiume notes, it leaves much in the "grey zone." The key missing issue is not the justification for the differentiation (legitimate aim and proportionality) but rather the legally prior question of whether and when differentiation against non-nationals may be indirectly racially discriminatory.
Migration controls are increasingly understood as racially discriminatory in scholarship and advocacy, and those subject to them call out the stigmatizing injury they suffer. There is also an episodic recognition of this fact before global, regional, and national human rights bodies. The conditions were thus ripe for the ICJ to intervene with authoritative, principled, and sophisticated reasoning on racial discrimination in the context of migration. Regrettably, in our view the Court took a wrong turn.
[. . .]
Human rights norms take shape in multiple fora, including domestic and regional ones. On this occasion, the global level has fallen short. The division in the ICJ in this case is striking, with its President among the dissenting judges. The ICJ's determination of mixed questions of fact and law at the admissibility stage and its misinterpretation of CERD suggest the ruling may come to be relegated to the annals of legal missteps. On the other hand, the CERD Committee has not articulated a convincing alternative approach or framework to determine these issues. CERD has a particularly important place in international human rights law, and indeed, the jus cogens character of the prohibition on race discrimination reflects a remarkable consensus on its wrongfulness.
If CERD is to play its rightful role in setting standards to root out racially discriminatory migration controls, we need a deeper explication of the relationship between race, and the other grounds that appear in CERD as part of its conception of race, namely "colour, descent, or national or ethnic origin," and a principled framework to assess indirect discrimination on grounds of race. The provisions of Articles 1(2) and (3) also require careful explication and can no longer be glossed over in the manner the Committee attempted in General Recommendation XXX.
Whether at the highest level of generality (establishing global lists of states whose nationals require visas) or the most localized level of enforcement (deciding which travelers to approach on a train platform to ask for proof of migration status), the categorizations inherent in migration control may be racially discriminatory, either directly or indirectly. International law has an important role to play in establishing the normative standards to assess when this is so, holding states to account and providing guidance on how to avoid racially discriminatory practices. This essay is a first step in a larger project to recenter the discussion of race in international legal scholarship on migration.
---
Professor of Fundamental Rights, Hertie School, Berlin, Germany; Professor of Refugee & Migration Law, Refugee Studies Centre, University of Oxford, United Kingdom (on special leave). Principal Investigator on ERC Grant RefMig, Grant Agreement 716968, which supported work on this symposium.
Professor and Director, Peter McMullin Centre on Statelessness, Melbourne Law School, Australia.
---
Become a Patreon!