Become a Patreon!
---
Abstract
Excerpted From: Nadia B. Ahmad, The Cliodynamics of Mass Incarceration, Climate Change, and "Chains on Our Feet", 49 Fordham Urban Law Journal 371 (February 2022) (184 Footnotes) (Full Document)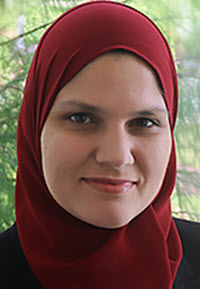 President Joe Biden stood at the podium during his address to the United Nations General Assembly (UNGA) in New York on September 21, 2021. He raised his hands in a classic power pose and said:
Instead of continuing to fight the wars of the past ... we are fixing our eyes on devoting our resources to the challenges that hold the keys to our collective future: Ending this pandemic, addressing the climate crisis, managing the shifts in global power dynamics, shaping the rules of the world on vital issues like trade, cyber and emerging technologies, and facing the threat of terrorism as it stands today.
In this sweeping statement, the President gave a nod to the "global power dynamics" shaping broader geosociopolitical changes in the world. He acknowledged the scope of the world's problems and argued for the prioritization of "rebuilding our alliances, revitalizing our partnerships and recognizing they're essential and central to America's enduring security and prosperity." President Biden's UNGA speech revealed a clear understanding of what is known in strategic management and business organization studies as the idea of complexity through mentioning global power dynamics in relation to changes in trade, technology, climate change, the pandemic, and terrorism. He added: "Our security, our prosperity and our very freedoms are interconnected, in my view, as never before. And so, I believe we must work together as never before." His speech was a welcome reprieve from four years of the anti-globalist fatalism of President Donald Trump's America First jingoism.
Still, President Biden's 2021 UNGA speech rang hollow as a xenophobic scene unfolded at the Southern Border as immigration officials, reporters, and police met Haitian migrants seeking refuge with violence and anti-Black racism. "When we go to the U.S., they closed all the access points. And we could not go to buy food," one Haitian migrant told CNN reporter Melissa Bell. In another instance Eddy Teverme, who was also deported to Haiti from the United States, said, "[w]hen we arrived in the U.S., the authorities put us on a bus and sent us to jail, and said we would be released in two days. They put chains on our feet, around our stomachs, and our hands. They put us in cars and took us to the airport." The accounts of these Haitian migrants are indicative of the experiences of thousands of other migrants who showed up at the U.S. border seeking entry and refuge. There have been so many people that even the reporters cannot bother to capture the names of the migrants' who they interview. The reporters profit off the migrants' stories, but they could not manage to get the names of their interview subjects. There were too many.
The migrants remain a nameless mass, faces in a crowd of Black bodies that are rejected entry into the United States. Just one month before, a magnitude 7.2 earthquake rocked Haiti--leaving at least 2,200 dead, 12,200 injured, and more than 650,000 in need of assistance. To date, this earthquake was both the deadliest natural disaster and earthquake of 2021. Approximately 754,200 people suffered from acute food insecurity in the three quake-affected areas. Driven by hunger, economic depravity, and sheer desperation, many migrants set out on perilous journeys--spanning seas and up to 12 countries for a chance at a new life in the United States. Without so much as an immigration or asylum application, the migrants were summarily returned to what is known as their country of origin. The migrants returned with no visa, no entry, and no immigration case numbers. Without these legal tools, the United States sought to render these people to be nothing more than numbers, numbers of people piling up at the border.
One of the migrants, Guerrier Antoine, said he traveled over a month through at least 11 countries from Haiti, "braving hostile authorities and violent bandits, being robbed of several years worth of savings, only to end up right back where he started: Haiti's capital Port-au-Prince, where he was born." He said, "[w]e left our families hungry in Haiti to go and look for work and a good life .... The path has been difficult. Every time we get close, misery catches up." "'When they talk about the USA, they say it is a country with justice. That's a lie,' Antoine said, sweeping his arm over his head as he emphasized the word 'justice."' The U.S. Department of Homeland Security promised to continue these repatriations on a daily basis.
As a result of the earthquake and other existing factors, 10,000 migrants, most of whom were Haitian, set up impromptu camps under a bridge spanning the Rio Grande from Del Rio, Texas to Ciudad Acuna, Mexico. The U.S. authorities removed at least 4,000 people from the site for processing in detention centers, while over 500 Haitians were deported right back to Haiti on four flights. Of the numbers showing up at the border, an almost equal number were turned back to their country of origin. The migrants were sent back with no process and no entry--just chains around their feet, stomach, and their hands.
On September 21, 2021, the variables of climate change and carcerality collided on the world stage. This Essay continues the discussion in my earlier article, Climate Cages: Connecting Migration, the Carceral State, Extinction Rebellion, and the Coronavirus Through Cicero and 21 Savage, where I access the unmapped linkage of mass incarceration and encagement as responses to climate change and the coronavirus. I coined the phrase, climate cages, to illustrate how public policy responses to atmospheric dynamics restrict mobility, worsen prison conditions, and increase carcerality. The crisis that Haitian migrants experienced in September 2021 at the U.S. border painfully depicts this phenomenon of climate cages based on displacement due to a natural disaster resulting in detention, chains, cages, and deportation. The governmental responses from the halls of Congress to the Oval Office are woefully inadequate in responding to the climate crisis because it restricts mobility and incarcerates "Black and Brown people to maximize available land and space for those who are either more affluent and/or of the more preferred race, religion, and national origin." In this milieu, the idea of corporatism is at play where, "a system of interest and/or attitude representation, a particular modal or ideal-typical institutional arrangement for linking the associationally organized interests of civil society with the decisional structures of the state." The consequences of corporatism also spill into the space of climate change concerns to silence environmental justice efforts and to further exacerbate adverse impacts of climate change on frontline communities. In other words, vulnerable communities, which are located in "sacrifice zones," are constructed by state actions to have less of a right to be here--in the United States or on the planet--and, therefore, require less of a need for a clean environment, including clean air, clean water, and energy access. U.S. immigration and carceral machines respond to the climate crisis with deportations, detentions, and increased incarceration. These solutions should not be the preferred strategy for climate change adaptation for a border crisis. The mistreatment of Black asylum seekers follows the rampant anti-Blackness in U.S. society that "kills, maims and incarcerates Black people in great numbers." The situation at the border is indicative of the "historical 'discomfort' of American political elites--whose prosperity derived from the enslavement and exploitation of Black people--with a Black-led revolution overthrowing colonial rule and slavery and establishing a republic so close to American shores."
President Biden's UNGA address acknowledged the idea of visionary thinking and mutual cooperation, but the actions of the U.S. Department of Homeland Security at the southern border on his watch painted an alternate reality. This Essay is an observation of that essential disconnect between the vision and the execution. This Essay proceeds in three Parts. Part I provides the background of the science of cliodynamics and why it is instructive for discussion on climate change and mass incarceration. Part II considers sociolegal patterns of mass incarceration in the United States. Part III assesses the climate change resistance movements and concludes with normative and intersectional solutions, including the Green New Deal, the Civilian Climate Corps, and the prison abolition movement.
The tsunami of the problems arising from the carceral state and extractivist economy will require a different vantage point. Most environmental and social justice advocates observe situations through a microscopic lens, buried in academic silos. Without stepping back to see the full, big picture, policymakers will also be lost in how to respond to the situation. The same way that astronauts stare down at the Earth, policymakers will have to carve out solutions with an ultra-wide lens. Seeing the intricate dynamics at play through systems theory will show how to better manage the global climate crisis. This Essay considers how the internal and external factors involving carcerality and climate change will lead to a worsening crisis of migration, criminalization, and dire climate change impacts. I offer observations on these systems so that others can establish the mechanisms to expand the scope of climate and carceral state responsiveness. Climate modeling and carceral rates can only provide snapshots of the looming crises, but examining the past and reassessing current predictions will show how swiftly and furiously policymakers, innovators, and scientists must work to broaden the scope of impact to frontline communities and delicate ecosystems.
[. . .]
Leading up to the November 2020 elections, President Biden's campaign sought to expand the electorate and turned to the youth vote to do so. More so, global warming continues to be an existential threat multiplier for security. Democratic campaign officials realized the climate plan was central to harnessing the youth vote. A youth-driven climate and environmental justice movement went from doing teach-ins and sit-ins to drafting policy. While some say the plan falls short as only a better-than-before policy, climate activists have moved on the major policy points.
Sunrise Movement's Co-Founder and Executive Director Varshini Prakash, who served on the Unity Task Force on Climate and Environmental Justice, tweeted: "All in all, I feel genuinely hopeful. Not because of a task force, or because of what I expect Biden to do or not do, but because of what our movement has already shifted and made possible." The tremors from the BLM and youth climate protests are reverberated in the 2020 DNC Platform and in Biden's policy proposals. President Biden has been slow to respond to calls for criminal justice reform while also increasing funding for policing and military coffers. President Biden has also resisted more aggressive climate change adaptation efforts, including the Green New Deal.
The thinking of law as centered around nature is crucial for seeing the connections for resiliency in dynamic systems. The land title and legal systems are designed for wealth maximization and fall to the principal idea of shareholder primacy to effectuate capital accumulation. Resiliency, focused on environmental justice, clashes with the goals of wealth maximization and capital accumulation. Resilience thinking developed from physics, psychology, ecology, and urban planning.
While some may criticize the numbers-based approach to history as a failure to understand the complexities of the field. I agree with Turchin that the numbers can provide data points and ways to access and predict the future. Turchin describes how the state, population factors, instability dynamics, and the issues of the elite are interconnected issues or variables. Instability in one or more systems can have cascading effects on the entire system. The numbers are the bold response to the urgency of the matter. The time to act on climate was yesterday. We have approached the point the no return, and there is no turning back.
---
Associate Professor of Law, Barry University Dwayne O. Andreas School of Law; Visiting Associate Professor, Yale Law School; B.A., University of California, Berkeley; J.D., University of Florida Fredric G. Levin College of Law; LL.M. in Natural Resources and Environmental Law and Policy, University of Denver Sturm College of Law.
---
Become a Patreon!