Become a Patreon!
---
Abstract
Excerpted From: Allyson E. Gold, Alicia Gilbert and Benjamin J. McMichael, Socially Distant Health Care, 96 Tulane Law Review 423 (February 2022) (199 Footnotes) (Full Document)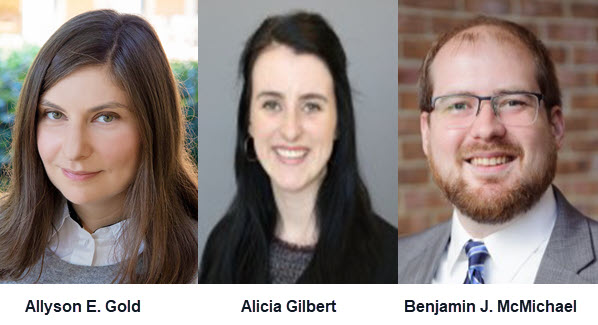 Before 2020, few patients or doctors would have considered surgery prior to an in-person consultation. But for Fred Thomas and his doctor, meeting "for the first time a few minutes before he operated" felt comfortable following several video and phone appointments. These telehealth appointments allowed Mr. Thomas to meet with an orthopedic specialist to discuss his neck and arm pain, culminating in a diagnosis and recommendation for surgical treatment. In addition to successfully treating his underlying health issues, the use of telehealth eliminated the need for Mr. Thomas to make multiple day-long trips to see a specialist, saving him time and transportation costs, while also reducing the risk of exposure to COVID-19.
Mr. Thomas is not an anomaly. As the pandemic forced hospitals and health care providers to suspend services and discontinue in-person treatment, many fully insured patients across the country were unable to access regular care for the first time. Suddenly, those who previously had readily available access to care had to do without. Responding to these challenges has spurred exponential growth in telehealth. In February 2020, before the World Health Organization declared COVID-19 a pandemic, less than 1% of Medicare primary care visits were provided using telehealth; by April 2020, nearly half of such visits were conducted virtually. As one health care analyst noted, "[i]t's fair to say that tele[health] was in its infancy before the pandemic, but it's come of age." The drastic increase in telehealth usage is the result of amendments to federal and state laws governing the practice.
At the federal level, three major changes facilitated the expansion of telehealth. First, the Department of Health and Human Services (HHS) and Office of Civil Rights (OCR) relaxed the rules under the Health Insurance Portability and Accountability Act of 1996 (HIPAA), affecting which health care delivery modalities could be used to provide care. Whereas before the pandemic, complying with HIPAA forced health care providers to use complicated health care-specific applications, the HHS and OCR changes permitted the use of familiar, easily accessible programs like Apple FaceTime, Skype, and Zoom. Second, the Centers for Medicare & Medicaid Services (CMS) amended their regulations to pay for telehealth services that were previously excluded from reimbursement. Third, the Department of Drug Enforcement Administration (DEA) relaxed a statutory requirement that previously mandated that patients meet with a health care provider in-person for a medical examination prior to receiving a scheduled prescription drug. Following the lead of the federal government, many states issued temporary relaxations to telehealth requirements through gubernatorial executive orders.
These pandemic-induced changes to federal and state law created a mechanism for continuity of care while mitigating the risk of exposure to COVID-19, but the pandemic need not limit the role of telehealth. In some instances, telehealth offers a benefit to health care providers that a traditional patient exam room cannot match: the ability to "assess a patient's living conditions and determine how they help or hinder the patient's health problem."
Moreover, virtual health care delivery can overcome barriers that have historically contributed to health disparities in rural areas and among patient populations of color. For these communities, barriers to health care neither began with the pandemic, nor will end when it has run its course. Access to care has been a persistent challenge for rural areas and populations of color, fueling disparities in health care and health outcomes. Among rural populations, this is the result of lower population densities, lack of accessible hospitals, and a dearth of providers. Likewise, disparities in health insurance coverage, bias in the health care system, and health care deserts contribute to disproportionately adverse health outcomes among nonwhite patients.
The pandemic itself underscores the severity of these health care disparities: the rate of hospitalization of Black COVID-19 patients is more than triple the rate of white patients, while the death rate of Black patients is more than double. Among Hispanic patients, the hospitalization rate is four times higher than white patients, and the death rate is more than double. Compounding this, once COVID-19 patients are hospitalized, biases within the health care system may result in scarce medical resources being disproportionately directed to white patients. "[O]ne of the biggest societal advantages" that telehealth offers is closing the access-to-care gaps that affect rural areas and low-income communities. Accomplishing this will require addressing existing regulatory roadblocks to ensure that using telehealth to increase access to health care is possible beyond the current health crisis.
This Article examines the growth of telehealth in response to access-to-care challenges posed by COVID-19 and analyzes the steps federal agencies and states can take to overcome persistent barriers to health care, even after the pandemic ends. In developing these points, this Article proceeds in three parts. Part II defines health care disparities and discusses access-to-care barriers experienced by rural areas and populations of color prior to the pandemic. In doing so, Part II notes how the pandemic exacerbated these pre-existing inequalities as well as interrupted health care delivery for populations who had previously enjoyed regular access to care. Part III engages with pandemic-induced changes to federal and state law in response to these access-to-care barriers. It details the steps taken by various levels of government to explore changes in the regulatory landscape in the wake of the pandemic. Part IV details structural and regulatory challenges to expanding telehealth beyond the pandemic and address health disparities.
Recognizing the benefits of continued use of telehealth, Part V proposes two mechanisms that will increase access to care even after the pandemic has abated. This Part first provides specific recommendations concerning the bipartisan Protecting Access to Post-COVID-19 Telehealth Act, currently before the House of Representatives. Second, this Part recommends that all jurisdictions implement a state compact or uniform law approach under which states adopt standardized statutory language to promote conformity in telehealth regulations across the United States.
[. . .]
The COVID-19 pandemic highlighted a longstanding, but fundamental, problem in the Americanhealth care system. Many people lack access to care. By that, we do not mean an inability to pay for care. We refer to the more basic, and more troubling, problem of an inability to access care at all. Inability to access care disproportionately affects rural communities and populations of color. Over a decade ago, the Affordable Care Act took steps to alleviate the inability to pay problem. In the wake the pandemic, the time has come to alleviate the more fundamental access problem. And telehealth offers a meaningful avenue of doing so.
Expanding access to telehealth requires much less of policymakers than did the Affordable Care Act. With that Act, Congress had to marshal billions of dollars in support of various initiatives. The Act as proposed here can expand access primarily by eliminating existing regulatory barriers. Providers are already ready, willing, and able to provide care via telehealth. The Act need only remove impediments to their doing so. Of course, funding various initiatives offers a better chance of success, particularly if funding is required to equalize reimbursement for telehealth services or the construction of telecommunications infrastructure. But simply removing existing barriers can solve many of the current problems.
To maintain the current federal-state balance in health care regulation, an ideal policy package would include an Interstate Telehealth Compact alongside the Affordable Care Act. The combination of these two policies could meaningfully address the racial, geographic, and socioeconomic disparities in health care. In other words, expanding access to telehealth offers a real chance to address some of the fundamental inequity in the health care system.
---
Allyson E. Gold, Associate Dean of Experiential Learning, Associate Clinical Professor of Law, and Director of Medical-Legal Partnership Clinic, Wake Forest University School of Law.
Alicia Gilbert, Juris Doctor Graduate, University of Alabama School of Law.
Benjamin J. McMichael, Assistant Professor of Law, University of Alabama School of Law.
---
Become a Patreon!