Become a Patreon!
---
Abstract
Excerpted From: Valena Beety and Brandon L. Garrett, Covid-19 and Criminal Justice, 11/16/2020 University of Chicago Law Review Online 1 (November 16, 2020) (Full Document)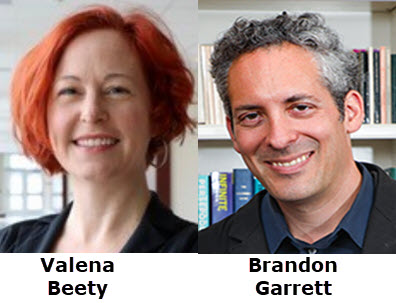 The COVID-19 pandemic has pushed the boundaries of our criminal legal system, testing the entrenchment of patterns in incarceration, policing, and surveillance. During a time in which new concerns arose about racial injustice and mass incarceration, prompting searching scrutiny, this pandemic created opportunities to rethink old ways of handling criminal cases. We thank our authors and their respective centers for contributing to--and the University of Chicago Law Review Online for hosting--this symposium, which explores both sides of the pandemic: the crisis itself and its potential to transform criminal justice.
The COVID-19 virus poses heightened danger to people in confined settings, and neither the nonbinding Centers for Disease Control guidance, nor the response of jails, prisons, and other custodial settings, was adequate to prevent rapid spread. The top infection clusters in the country were jails and prisons, and at least 1,450 incarcerated persons and correctional officers have died, with over 250,000 infected. The response of the criminal legal system to the rapid spread of COVID-19 in carceral settings was hugely ineffectual, as the COVID Prison Project has shown in data aggregated from state prisons. The result was deadly for both persons in custody and custodial staff, as well as for a wide range of communities. If there were any inattention to the close connection between public health and the criminal legal system before, now the intersection could not be more urgent.
[. . .]
From law enforcement, to local jails, to courts, to behavioral health providers, COVID-19 has called into question basic operation of our criminal system: who is held, where, under what conditions, and why were alternatives not considered at every step? We could not be more grateful to the editors and to these contributors for exploring these issues so thoughtfully. New thinking is much needed, because unfortunately, these challenges will remain pressing for some time--far beyond today's pandemic.
---
Become a Patreon!