Page 9 of 21
Fannie Lou Hamer (1917-1977)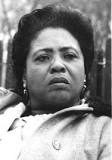 One of the most commanding and passionate voices of the civil rights movement, Hamer was so powerful, she had President Lyndon B. Johnson shook.
A former sharecropper, Hamer co-founded the Mississippi Freedom Democratic Party and helped establish the National Women's Political Caucus toward the end of her life, in 1971.
But she is perhaps most well-known for her 1964 speech, "I'm Sick and Tired of Being Sick and Tired":
For 300 years, we've given them time. And I've been tired so long, now I am sick and tired of being sick and tired, and we want a change. We want a change in this society in America because, you see, we can no longer ignore the facts and getting our children to sing, "Oh say can you see, by the dawn's early light, what so proudly we hailed." What do we have to hail here? The truth is the only thing going to free us. And you know this whole society is sick. And to prove just how sick it was when we was in Atlantic City challenging the [Democratic] National Convention, when I was testifying before the Credentials Committee, I was cut off because they hate to see what they been knowing all the time, and that's the truth.